14 climate change protesters arrested for occupying Gov. Healey's office lobby after hours
The Extinction Rebellion members aimed to pressure Healey to issue a moratorium on new fossil fuel infrastructure.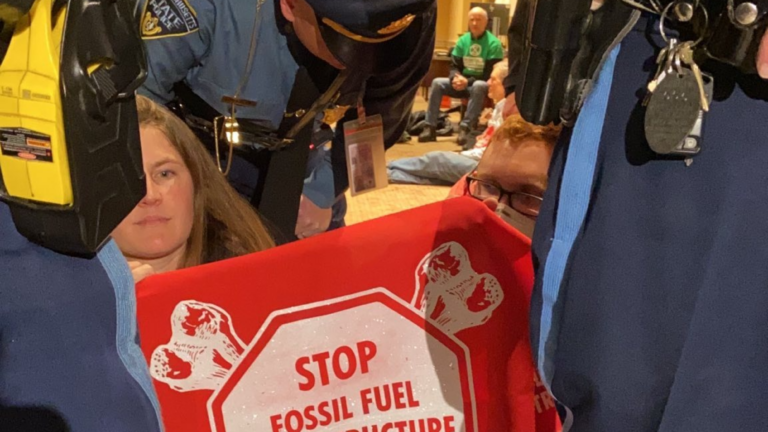 Fourteen climate change protesters who occupied Gov. Maura Healey's Office lobby after the State House closed at 5 p.m. were arrested Thursday.
The protesters, a local chapter of national activist group Extinction Rebellion, aimed to pressure Healey to issue a moratorium on new fossil fuel infrastructure and cancel all fossil fuel infrastructure projects under construction.
State Police confirmed that eight men and six women were arrested after they declined to be summonsed for trespassing. All were compliant with police.
"People are willing to be arrested for their beliefs," Susan Lemont, a spokesperson for the protesters, told The Boston Globe.
According to the Globe, the first group of protesters entered the State House around 2:30 p.m. as part of a tour group. By 3:40 p.m., some protesters were inside Healey's office lobby while others stood outside with signs. Most of the protesters held signs that said "Stop fossil fuel infrastructure now!"
Some proposed projects the protesters oppose include a fossil fuel plant in Peabody, a Springfield pipeline, and Eversource projects in Springfield and Longmeadow, according to the Globe.
"[Healey] needs to stand up and put some action behind the rhetoric she campaigned on about being a climate champion and stop the projects that are going up right now for gas power plants and pipelines," one protester said in a video posted to Twitter. "…We're not going to leave until the governor takes real action."
Around 5 p.m., Melissa Hoffer, Healey's climate chief, sat down and met with the protesters in Healey's office lobby. Hoffer declined to tell the Globe what she and the protesters discussed.
In a statement to the Globe, Healey's office reaffirmed her commitment to a swift transition away from fossil fuels.
"As we make this transition, we will center environmental justice communities that have been disproportionately burdened by the impacts of fossil fuels," the statement reads.
Healey was not in the State House at the time of the protest. She is in Washington, D.C. this week for National Governors Association Meetings.
Videos from the protest show the protesters doing several chants, including "Climate Chief Hoffer, don't delay, ban new fossil fuels today" and "Governor Healey, you make the rules. Time to ban new fossil fuels." Other videos show the group singing.
Though the State House closed at 5 p.m., the protesters were still sitting on the floor of Healey's office lobby a few minutes before 7 p.m. By 7:45 p.m., they had been arrested by State Police.
Extinction Rebellion has held many protests in Massachusetts.
In September 2021, members chained themselves to a pink sailboat outside former Gov. Charlie Baker's Swampscott house before being arrested. In September 2022, members were arrested after they blocked some of Boston's busiest streets.
Loading...