Environment
Mass. is taking the lead on New England's climate change-related emergency management
A new initiative will have first responders from around the region train together to prepare for emergencies as weather and climate-spurred incidents pick up.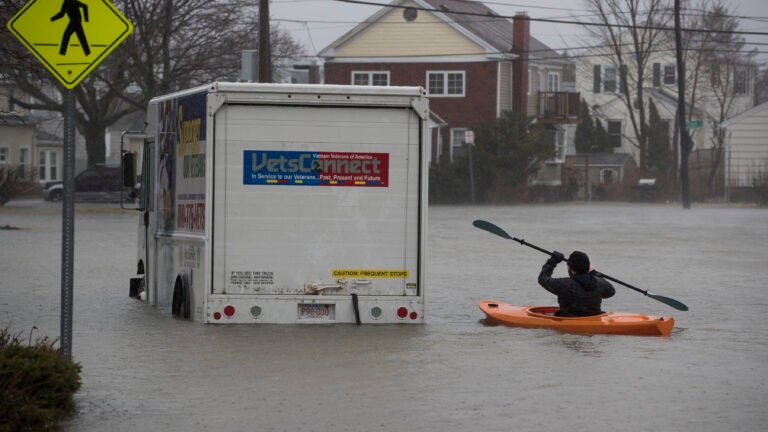 As New England battles coastal flooding, severe storms, intense temperatures, and other climate change impacts, Massachusetts is now at the helm of a regional effort to better prepare for and respond to climate-related emergencies.
Gov. Maura Healey on Thursday announced the formation of the Northeast Emergency Management Training and Education Center, or NEMTEC, to provide access to needed training for first responders on new and expanding crises, from human-made hazards to weather and climate incidents and infectious diseases, throughout New England's six states.
NEMTEC members include participants from Massachusetts, New Hampshire, Maine, Vermont, Connecticut, and Rhode Island. The Massachusetts Emergency Management Agency will lead the program.
State officials say the time is right to get the region on the same page: Over the past five decades, the number of disasters linked to climate change and extreme weather has increased five fold, according to the World Meteorological Organization of the United Nations.
"Today's rapidly evolving threat landscape, driven in part by climate change, represents an immense challenge for the emergency management community," Healey said in a statement. "When disaster strikes, emergency managers require the specialized knowledge and unique capabilities to adapt and respond effectively. I commend MEMA for its leadership on this regional effort."
Here's what to know about NEMTEC:
The center aims to provide training 'not otherwise … achievable by any one state, alone.'
According to the Healey Administration, courses and workshops available will span a variety of topics.
A list of upcoming classes, which begin Monday, includes courses on basic shelter operations, hazardous materials, and managing an emergency operating center, among other subjects.
"By working collaboratively with other states and offering a combination of virtual, hybrid, and in-person participation, we can ensure that professionals have direct access to the specialized training they need to succeed in their roles and keep our communities safe," MEMA Acting Director Dawn Brantley said in a statement. "MEMA is also committed to the universal accessibility of this program to ensure that emergency management professionals with disabilities and those whose primary language is not English have equal access to the program and have their voices and perspectives incorporated."
Program participants can anticipate updates to the course offerings as issues evolve to cover elements such as emerging technologies and the latest best practices for training and emergency response, officials said in a news release.
The NEMTEC webpage states the center's primary purpose is to "provide a current, relevant, and comprehensive training and education program across New England that would not otherwise be achievable by any one state, alone."
"Emergency preparedness requires continuous investment in the women and men who dedicate themselves to this vital mission," Jeanne Benincasa Thorpe, undersecretary of homeland security, said in a statement. "I would like to thank MEMA for its dedication to supporting the professional development of the emergency management community, and I look forward to NEMTEC's positive impact on the field."
'A lot easier': What officials around New England have said
Robert Christensen, preparedness and response chief for New Hampshire, told The Boston Globe NEMTEC could better equip New England's response to compounding threats, such as how first responders managed to address emergencies amid the rise of the COVID virus.
"How do you roll up on scene and deal with somebody who's having a cardiac arrest or administer CPR in a COVID environment?" he asked, as an example.
Christensen said the new program may make it easier to quickly tailor new trainings.
William Turner, state emergency management director for Connecticut, told the newspaper having the trainings close to home will be a benefit for his department. The federal trainings Turner often has to send staff to are usually far away.
"For FEMA or Homeland Security trainings, we often have to send staff out to Maryland," he said, "but having something like this in our own backyard … is just going to be just a lot easier."
Newsletter Signup
Stay up to date on all the latest news from Boston.com