Environment
First right whale mother and calf arrive in Cape Cod Bay for this year's feeding season
Porcia, the mother whale, is 21 years old.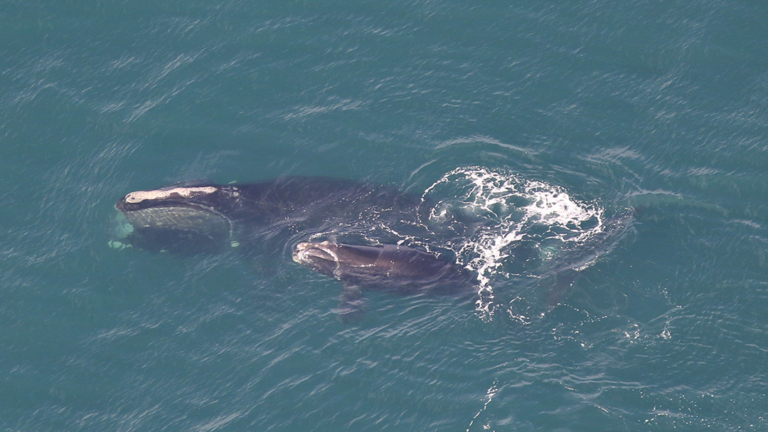 The first North Atlantic right whales to pass through Cape Cod Bay this year are reaching the coast of Massachusetts and beginning their spring plankton feeding season.
On Saturday, the Center for Coastal Studies' (CCS) right whale aerial survey team spotted the first mother and calf pair to arrive in the bay this year.
Porcia, the mother whale, is 21 years old. She was first seen with her calf in late December off the coast of Georgia, which is where right whales spend the winter and give birth to their calves, CCS said in a Facebook post.
Eleven new right whale calves were identified this year off the southeastern coast of the U.S., CCS said.
North Atlantic right whales are an endangered species. They have an estimated population of fewer than 350, an estimated population of breeding females of fewer than 70, and have had a below average birth rate the past few years.
"Each surviving calf represents another step toward the population's recovery," CCS wrote in the post.
Over the last week, the pace of right whale migration to Cape Cod Bay quickened, CCS said in another post. On Saturday, its right whale aerial survey team counted 52 whales in Cape Cod Bay.
Right whale protections in Cape Cod Bay
As fishing gear entanglements and vessel strikes are the leading causes of right whale deaths, the Massachusetts Division of Marine Fisheries has a seasonal 10-knot speed restriction in Cape Cod Bay from March 1 to April 30 for vessels less than 65 feet long, CCS said.
Additionally, the National Oceanic and Atmospheric Administration (NOAA) has a 10-knot seasonal speed restriction in and around Cape Cod Bay for vessels 65 feet or longer.
Twice this year already, additional restrictions have been put on boats to prevent right whale deaths. In early March, the Cape Cod Canal was closed for two days as three right whales swam through it.
About a week later, NOAA added voluntary speed advisories for boats traveling around Nantucket and Martha's Vineyard. At the same time, 24 right whales were spotted by the New England Aquarium's aerial survey team south of Martha's Vineyard.
In January, yet another right whale female of breeding age was spotted with a deadly fishing gear entanglement. But about a month later, a group of Massachusetts fishermen launched its latest attack on right whale protections by suing the federal government over a three-month closure of fishing grounds on behalf of right whales.
Newsletter Signup
Stay up to date on all the latest news from Boston.com