Environment
Scientists say climate change, rising water temperatures, responsible for right whale sightings
As rising water temperatures deplete food supply and jeopardize marine food chains, scientists say that right whales are more likely to be seen in Cape Cod Bay.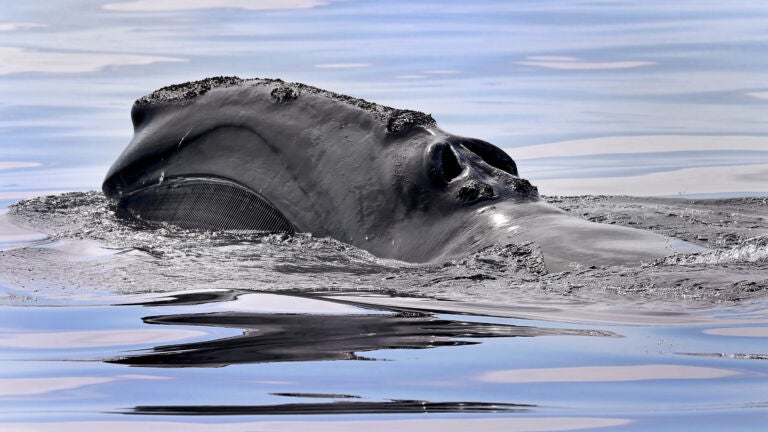 Scientists believe climate change and rising water temperatures have resulted in shifting migration patterns, leading to a noticeable increase in right whale sightings in Cape Cod Bay.
With an estimated worldwide population of about 340, researchers have often spotted pods of the endangered baleen whales near the Cape between December and mid-May. And while right whales often eventually migrate to the Gulf of Maine later in May, experts posit that their ongoing prevalence in the bay results from rising water temperatures, leading to decreasing food population.
"Warm water entering the Gulf of Maine has reduced the supply and growth of their primary food source," Dan Pendleton, a research scientist at the New England Aquarium told The Boston Globe. "The Gulf of Maine and the other traditional habitats are not used as heavily as they as they were for decades."
In March, the New England Aquarium spotted 24 whales off Martha's Vineyard. In early April, the Provincetown-based Center for Coastal Studies spotted nearly 80 right whales, and the Cape Cod Canal has taken cautionary measures to protect the passage of the whales on multiple occasions.
The whales feed on Calanus finmarchicus, a zooplankton often found in both the Gulf of Maine and Cape Cod Bay. But rising water temperatures in the Gulf have caused a decrease in phytoplankton productivity, jeopardizing the right whale's food chain and supply.
"It could be a bad thing that's telling us that they are coming here because they're not finding the food where they used to anymore," Christy Hudak, a research associate in the Right Whale Ecology Program at the Center for Coastal Studies told the Globe.
Scientists say the Bay — a shallower body of water compared to the gulf — has reportedly maintained its zooplankton levels, leading to increased right whale sightings. But it is unclear, due to the unpredictability of whale migration patterns, if they are there to stay.
"Warming water temperatures are affecting the zooplankton diversity, life stages, and distribution," Hudak wrote in an e-mail to the Globe. "In turn, the changes in the right whales' food resource will affect the right whales' health, migration patterns, and distribution."
Newsletter Signup
Stay up to date on all the latest news from Boston.com