Environment
Here's how Massachusetts ranks in comparison to other states when it comes to pollution
Massachusetts ranks highly when it comes to air and water quality, but that doesn't mean the state is without health problems caused by pollution.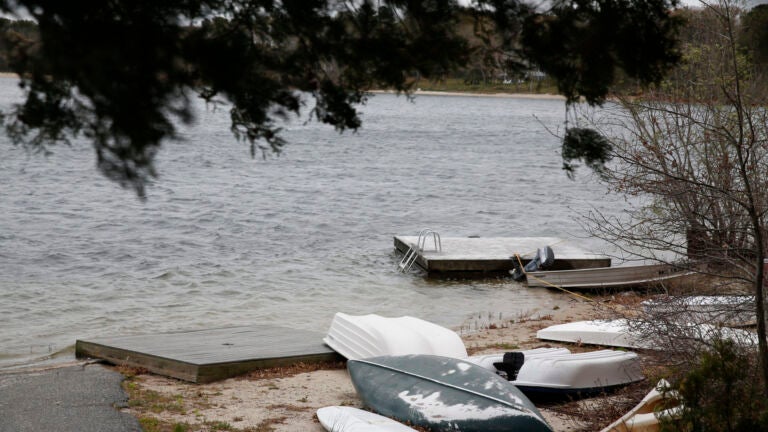 Bay Staters who celebrated Earth Day this past week will be pleased to know that Massachusetts ranks highly when it comes to water and air quality compared to other U.S. states.
A new study from QuoteWizard, an insurance quote website, found that Massachusetts is the fifth least-polluted state in the country.
The study's findings about Massachusetts
Massachusetts ranked especially highly when it comes to water quality. In 2022, the study found that no one in the state was affected by drinking water violations.
While 12 other states also achieved this feat, these states stand in stark contrast to states like New Jersey and West Virginia where 8.9% and 10.2% of the state's population was impacted by drinking water violations last year.
Massachusetts didn't fare as well when it came to air pollution, ranking 13th in the country for most "good" air quality days, the study found. Overall, the state's air quality was good for 90% of the year last year.
On the other end of the spectrum, states like California and Arizona had good air quality for only 67% and 68% of the year.
The study's findings about New England
New England states in general ranked highly in regards to air and water quality. The study named Maine and Rhode Island the third and fourth least-polluted states. New Hampshire, Vermont, and Connecticut ranked a little lower, coming in twelfth, nineteenth, and twenty first.
But ultimately, the study found that the differences in pollution between the New England states weren't drastic. Massachusetts, Rhode Island, and Maine had the best water quality, having prevented everyone in those states from being affected by drinking water violations last year.
But Vermont, which performed the worst on this metric, only had 0.3% of its population affected by such violations last year.
The difference in air quality between New England states was more pronounced. New Hampshire, which saw the highest percentage of good air quality days last year at 95%, experienced 10% more good air quality days than Connecticut, the New England state which performed the worst on this metric.
Massachusetts water quality
According to the Massachusetts Department of Environmental Protection (MassDEP), Massachusetts has some of the strictest water quality standards in the world.
Local water suppliers must perform ongoing tests for bacteria, lead and other heavy metals, herbicides and pesticides, and industrial solvents, MassDEP said. And not only are water suppliers required to notify customers if they find contaminants at levels above federal standards, but if the problem cannot be fixed immediately, that water supply must be taken out of service until it is resolved.
MassDEP lists the maximum contaminant levels allowed in Massachusetts for dozens of contaminants on its website. And if you're wondering how your particular water supplier is performing, Environmental Working Group, an environmental research non-profit, keeps track of drinking water violations by water supplier in Massachusetts.
Massachusetts air quality
A 2022 Boston College study found that air pollution killed about 2,780 people in Massachusetts in 2019 by contributing to health problems such as heart disease, lung cancer, chronic lung disease, and strokes. It also found that air pollution was responsible for 308 low-birthweight babies and 15,386 cases of pediatric asthma.
Notably, the study found that air pollution caused such health problems in every city and town in the state, regardless of demographics or income level. Even so, it found that the highest rates were found in the most economically disadvantaged and socially underserved cities and towns.
Additionally, all of these health impacts occurred despite the fact that air quality across the state exceeded the EPA's safety standards.
"We do not have the level of air pollution you see in China or India, and because it is mostly invisible today, people tend to forget about air pollution and we get complacent," Boston College Professor Philip Landrigan said in a release about the study.
The biggest contributor to this problem is greenhouse gasses, according to the study. The study found that more than 95% of air pollution in Massachusetts is the result of burning fossil fuels. These pollutants come primarily from modes of transportation, power plants, other industrial plants, and residential heating and cooking.
"Air pollution is something we can fix. We know the steps that need to be taken to reduce fatalities and the impact on our children and grandchildren," Landrigan said. "Now citizens in every city and town across the Commonwealth need to urge our elected officials to take those necessary steps."
Boston College's recommendations for how to improve air quality in Massachusetts:
Cities and towns should convert their fleets to electric vehicles, install solar panels on public buildings, preferentially purchase green electricity, prohibit gas hook-ups in new construction, and revise building codes to increase energy efficiency.
Massachusetts state government leaders should set targets and timetables for reducing air pollution.
MassDEP should add more air monitoring stations and publish an air pollution emissions report annually.
The Massachusetts Department of Public Health should create a public dashboard on pollution-related disease and death in each county, city, and town in the state.
To check the air quality in your town or city in real time, visit IQAir's air quality monitoring website.
Newsletter Signup
Stay up to date on all the latest news from Boston.com