Environment
As ships continue to strike and kill right whales, a top New England Aquarium scientist pushes for a solution
Lawmakers are debating a series of proposed changes that would massively expand slow zones for vessels along the east coast in the interest of saving endangered right whales.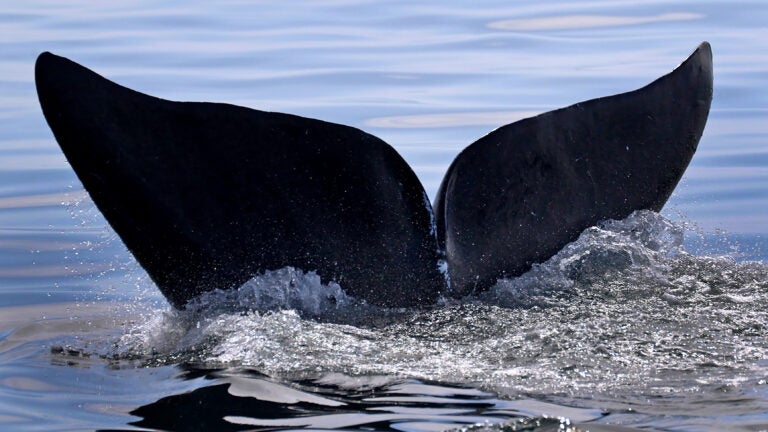 One of the New England Aquarium's top scientists testified before lawmakers in Washington, D.C. Tuesday, making the case for proposed laws that proponents say would be essential in saving critically endangered North Atlantic right whales.
"Even one human-caused mortality puts the species at risk of extinction," Jessica Redfern, the aquarium's associate vice president of ocean conservation science, told the U.S. House Committee on Natural Resources' Water, Wildlife, and Fisheries Subcommittee.
North Atlantic right whales are some of the most endangered whales on the planet. As of 2021, there are believed to be less than 350 members of the species left, and less than 75 reproductive females, Redfern said.
They are known to frequent the waters around New England. This year, researchers at the New England Aquarium have observed 102 individual whales near the region, amounting to almost one-third of the species' global population.
Their population has been significantly impacted by human activity, and conservationists are focusing a lot of their efforts on reducing vessel strikes. Females and their young calves are particularly susceptible to being hit by ships because they tend to rest near the surface.
The death of a female whale is made all the more devastating because it can equate to the loss of a generation of whales, Redfern said. One female that scientists have monitored, for example, gave birth to seven calves since 1982 and is responsible for at least 29 whales being added to the dwindling population.
"Females have this incredible reproductive potential… it's what gives me hope. If we can stop killing them, they can come back and we can prevent their extinction," Redfern said.
With the goal of protecting right whales, officials at the National Oceanic and Atmospheric Administration (NOAA) put forth a series of proposed changes to laws governing how fast vessels can travel in waters containing right whales.
Those proposed changes were the subject of Tuesday's hearing, with Redfern joining NOAA Assistant Administrator for Fisheries Janet Coit to advocate for the adoption of those changes. Representatives from the recreational boating and fishing industry also testified, telling lawmakers that the proposed changes would wreak havoc on their livelihoods and create unsafe conditions.
"NOAA's proposed rule would be the largest restriction of Americans' shared access rights to public waters, would put boaters at risk on the water, and decimate tens of thousands of businesses in coastal communities along the Atlantic seaboard," Frank Hugelmeyer, president and CEO of the National Marine Manufacturers Association said in a statement. "Marine mammal protection, economic prosperity and access to our cherished waters can coexist. It's a false choice to make Americans choose one over the other."
The proposed changes would update laws implemented in 2008 that created seasonal, mandatory vessel speed restrictions in certain areas along the east coast to reduce the risk of vessel collisions with right whales.
Currently, five speed restriction areas exist along the east coast, from Florida to Massachusetts. They are activated at various points of the year. One speed restriction area in Cape Cod Bay is enforced annually from Jan. 1 through May 15. Another, in waters to the north and east of Cape Cod, is enforced annually from March 1 through April 30.
The proposed changes would approximately double the area subject to speed restrictions along the east coast. Five new speed restriction zones would be established. The northernmost would stretch all the way from Massachusetts' North Shore to North Carolina, with an annual enforcement period of Nov. 1 through May 30. The changes would disproportionately affect the Northeast and Mid-Atlantic, NOAA said, since "substantial strike risk remains unaddressed" in these waters.
"Expanding the seasonal speed zones in space and time is necessary to ensure that these zones are better aligned with right whale habitat, cover areas where previous vessel strike mortalities have been observed, and buffer against climate-driven changes in right whale habitat," Redfern said.
Currently, if right whales are detected outside active slow zones, officials declare "dynamic" slow zones that remain in effect for 15 days. However, these are voluntary and NOAA has found that mariner cooperation fell "well short" of areas with mandatory speed restrictions. The proposed new rules would create a new framework for these "dynamic" zones that makes speed restrictions mandatory when they are declared.
The new rules would also affect which vessels are subject to speed restrictions. Right now, vessels less than 65 feet in length are not subject to the restrictions. But, according to NOAA, vessels between 35 and 65 feet still pose a serious risk to whales. The proposed changes would make speed restrictions apply to those smaller vessels.
Newsletter Signup
Stay up to date on all the latest news from Boston.com