Events
What we learned at HUBweek 2018
A dozen of the most compelling takeaways from the weeklong festival celebrating art, science, and technology.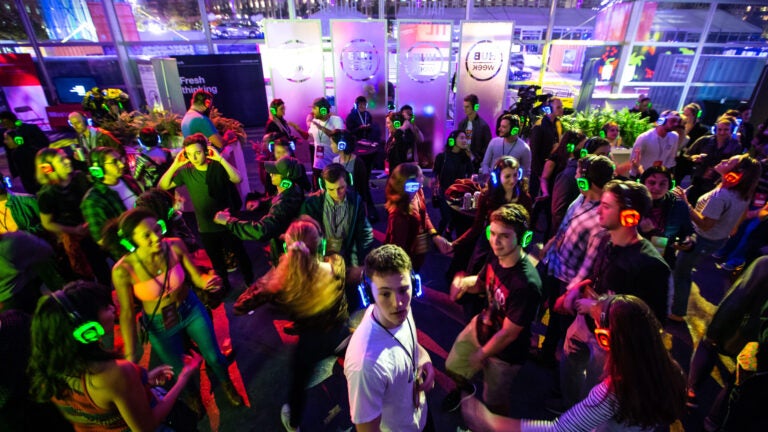 The 2018 edition of HUBweek, Boston's "festival for the future" brimming with art, science, and technology, concluded Sunday evening after a week of hundreds of activities, talks, demos, installations, and more.
In no particular order, here are a few of the most interesting things the Boston.com staff learned during the fourth installment of the annual event.
Society is heading for a 'tsunami and epidemic of Alzheimer's disease.'
The prevalence of Alzheimer's disease is headed toward epidemic levels, according to Reisa Sperling, a professor of Neurology at Harvard Medical School and the director of the Center for Alzheimer Research and Treatment at Brigham & Women's Hospital. One of nine people over the age of 65 have dementia, a symptom of the disease, and it is estimated that about 50 percent of people living into their 80s and 90s will develop Alzheimer's, she said. The Alzheimer's researcher believes progress is being made in the fight against the disease since experts can now "define the disease in the brain," allowing doctors to see it even before people develop symptoms. There isn't yet a treatment or therapy that can modify the disease, but Sperling said she's hopeful new trials aimed at tackling the illness earlier will yield results. — Dialynn Dwyer
The voting rights campaign of 1965 can still teach us a lot about overcoming political odds to create change.
Historian David Moss, a professor at Harvard Business School, challenged audience members to immerse themselves in the 1965 struggle for African American voting rights. Amid a vivid discussion of the historical background, Moss illuminated an underlying and hopeful message: Through the leadership of Martin Luther King Jr., a group that lacked both money and political influence was nonetheless able to affect democratic change. The shrewd strategy — using mass media coverage of shocking brutality to gain the nation's sympathy and spur political action — remains as relevant in 2018 as it did more than half a century ago. — Hayden Bird
Gen Z is the least curious generation alive.
For Dr. Stefan Oschmann, chairman and CEO of Merck KGaA, curiosity can be an individual's greatest asset. Why? As Oschmann explained, the only thing certain about the future is that there will be change, and in order to best facilitate success in the face of those changes, one must exhibit, well, curiosity. So, what does it mean to be curious? Per Merck KGaA, there are four dimensions: openness, inquisitiveness, creativity, and distress tolerance. In other words, curious individuals seek out unfamiliar experiences and perspectives, ask questions, think outside the box, and manage stress. Checking all the boxes can increase job satisfaction and overall wellbeing, Oschmann said, but he also cautioned the next generation may not be curious enough for what's to come. Oschmann reported Generation Z is the least curious demographic, and U.S. workers rate low on stress-tolerance measures — two marks that aren't encouraging when it comes to being comfortable with innovation and pushing forward, he said. — Nicole Yang
How we treat addiction is influenced by who the treatment was designed for.
Dr. Martha Kane, the clinical director for Addiction Medicine at Mass. General Hospital, said that most addiction treatment methods accepted by the general medical community were developed specifically for middle-aged white men. As doctors have begun to seek new ways to treat addiction, they've recognized that what's right for that demographic may not be what's best for adolescents or others. "You can imagine there are many things that young people experience in the modern era with the internet and social media that have nothing to do with what went on a decade or two ago with mostly white men," Kane said. One example given was the standard of sending addicts to an inpatient rehab center, which may or may not be the best treatment for a teenager who has rarely, if ever, been away from home. — Kevin Slane
SoulCycle's leaders found success, in part, by focusing on their working relationship.
Pay-per-class fitness boutiques weren't all that common when Julie Rice landed in NYC from L.A. and wanted to start something new. "Spinning wasn't a thing," either, she said. Rice and Elizabeth Cutler launched SoulCycle in 2006 anyway with $250,000, 30 leased bikes, and a few T-shirts. How'd the two get to the point, a decade later, where they could walk away from an indoor-cycling empire (and bank some $90 million each)? Among other things, Rice cited two critical hires: An executive coach who helped the cofounders continually work on their relationship "like a marriage," and a chief culture officer who codified their breakthroughs within the entire organization. "I think we really took the time to figure out how to work together and, as a result, develop a really healthy culture," Rice said. — Kaitlyn Johnston
A local app is working to bridge the gap between Boston students and food insecurity.
At "Technology and the Movement of Food," a small gathering of food and tech minds led by Gastropodcast host Cynthia Graber, panelists were quick to detail how technology-driven restaurants and food companies don't need to cater to techies or high-income diners. In fact, it's more impactful when they don't. Food For All's Lauren Betz shared how her company, which partners with restaurants to offer discounts on meals that might otherwise be thrown out, has found an following in college students experiencing food insecurity. While many assume that those who attend college have the means to also afford its meal plans, Betz explained that universities committed to a diverse economic student body haven't adequately adjusted the cost of meal plans and food in dining halls — a gap that food apps, like Food For All, can help bridge. — Erin Kuschner
Preventative medicine is the future.
To live in a world without disease, the focus should be on preventing the disease at the onset, rather than treating the disease once it already strikes, said William Hait, the director of global innovation at Johnson & Johnson. This concept of "immorbidity" investigates the causes of diseases and pinpoints those most at risk in order to try and stop — not mitigate — diagnoses altogether: "What if we could identify the diseases we are incubating and intervene before illness occurs?," he asked. Hait said his employer is working on developing products and processes to detect disease, comparing human health to the maintenance of a car. He also stressed the impact of behavioral science. Like driving a car, an individual's actions can increase their susceptibility to various complications, making both behavior and innovation critical. — Nicole Yang
To achieve gender equity, more women are needed in leadership roles.
Gender diversity in the male-dominated medical and scientific fields can change — if more women are in leadership roles, according to a panel of four women working in the region's medicine, research, and medical industries. The perception that there aren't enough qualified women for board positions is one persistent barrier, according to Betsy Nabel, president of Brigham Health. "I think that's malarky," she said, adding that numerous boards across the country are looking to recruit women.
"If a chairman of the board makes a concerted effort to get women on the board … that's great, but it's a two-way street," said Anna Protopapas, president and CEO of Cambridge-based Mersana Therapeutics, advising that women shouldn't get too caught up by other people's limitations. Women looking to enact change should "define your narrative," panelists said, and find mentors and sponsors who will invest in and advocate on their behalf. — Christopher Gavin
Even after decades in the limelight, Ruth Pointer still gets nervous before shows.
Musician Ruth Pointer of the Pointer Sisters told Panos Panay, the vice president of Innovation and Strategy at the Berklee College of Music, that the power performers have when holding an audience's attention is something she appreciates now more than when when she was younger. But, she said, she still gets nervous before her shows. "I think it's a good nervous," she said. "It's an anxiousness, an excitement that you have something to offer, and you want to do it right and you want to do it good and you want it to mean something to somebody. That's the way I feel." — Dialynn Dwyer
Four Parisians captured their lives with virtual reality cameras, allowing Harvard students to experience authentic French culture.
On their quest to teach culture to in a globalized world, Harvard University's Senior Preceptor in Romance Languages and Literatures Nicole Mills and "VR Guru" Rus Gant launched a project in which they hired four Parisians to capture their lives using virtual reality cameras. The footage created an experience akin to a video game: Their students could pick which Parisian to follow, the moment of their lives to shadow from an agenda, and what to focus on when they were dropped into a scene. Mills and Gant said their project is the first step toward creating a database that can be used with language learners at various levels, and, on a larger scale, it could enrich our understanding of other cultures. — Samantha Dooley
Whether asking Siri to look up song lyrics or talking with a friend, people speak the same way to artificial intelligence as they do to humans.
Obviously people know they're speaking to a machine, but, subconsciously, the brain processes things like emotions, whether or not the machine is friendly, and other aspects of conversation, in the same way, according to Gillian Armstrong, a technologist with Liberty Mutual Insurance. "That's true even if the technology isn't that good," she said. "That means that your brain activates all of the assumptions, biases, and extraction of social cues in the words and voices the computer uses in the exact same way you would for a human speaker." Armstrong said all of these questions came about while working on the company's digital assistant. It's very different than building a website, she noted. "We're creating computers that connect with people in ways they never could before," she said. "It changes the way we need to build our software." — Arianna MacNeill
A local 'unicorn' founder wants to grow roads. Literally.
Last year, Ginkgo Bioworks became Boston's latest "unicorn," a term for a company with at least a $1 billion valuation. The Seaport-based startup has dubbed itself the "organism company" for its work genetically engineering microbes. CEO and co-founder Jason Kelly said the company's current work ranges from partnering with beverage companies on zero-calorie sweeteners to reviving the scents of long-extinct flowers to create a perfume for fragrance companies. "Biology is also programmable," Kelly said. In the near term, Gingko has partnered with Bayer on a joint venture working to grow crops that effectively self-fertilize and cut down on pollution. But among his long-term aspirations for the field is to use biology to manufacture — or, more accurately, grow — everything from chairs to housing to roads. — Nik DeCosta-Klipa