Vroom Town: Scaled-down Laconia Motorcycle Week still drawing a crowd in N.H.
Some in the area and on social media have raised concerns about the crowds during the COVID-19 pandemic.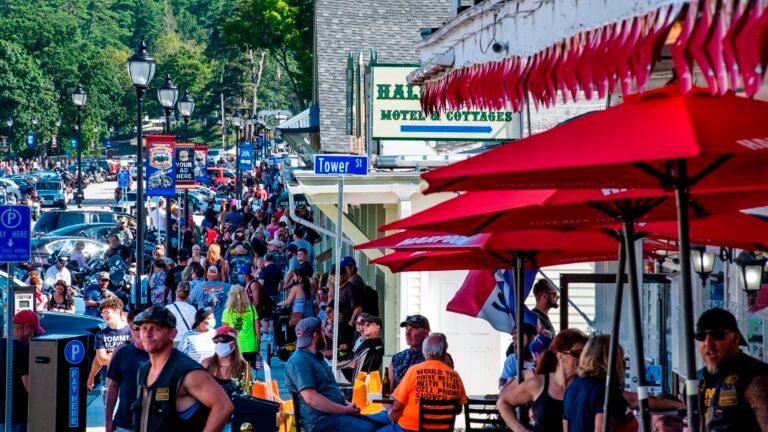 Postponed from its traditional June dates because of the COVID-19 pandemic, the 97th annual Laconia Motorcycle Week rolled into town a little later than usual. But as it got underway Saturday, cyclists and tourists seemed undeterred.
"The emphasis on this year's Laconia Motorcycle Week will be on safety," the event's deputy director, Jennifer Anderson, said in a statement. "While we recognize that New Hampshire is faring remarkably better than most in this pandemic, many riders will be coming from out of state and we want to ensure the public we are taking every precaution to protect their safety, such as promoting the use of face masks when not riding, regular sanitization of public surfaces through sanitization experts … and purposely planning for a toned down version of our rally to minimize large gatherings."
That planning includes Gov. Chris Sununu's recent mandate that masks be worn at gatherings of more than 100 people, the Associated Press reported. Sununu also said that liquor enforcement officials will be out in force throughout the nine-day gathering.
While indoor dining is allowed, standing at bars is not; customers must be served while seated. Some bar owners brought in new chairs to comply, but others, fearing crowds and the potential for fines or the loss of their liquor licenses, decided to shut down for the week.
"For the safety of patrons and staff it was prudent to forgo (opening)," Keith O'Leary, co-owner of the brew pub The Witches, told the Laconia Daily Sun, citing "the potential of them fining us, and possible closure."
Some in the area and on social media have raised concerns about the crowds, particularly as reports of COVI-19 cases have begun to emerge in the wake of the Sturgis Motorcycle Rally, which drew hundreds of thousands of cyclists and tourists to Sturgis, South Dakota earlier this month.
Here's a look at the first day of Laconia's event:
Material from The Associated Press was used in this report.
Loading...