Events
Here's when 'Open Newbury Street' is happening this summer
"It lends a really fun atmosphere for the whole street."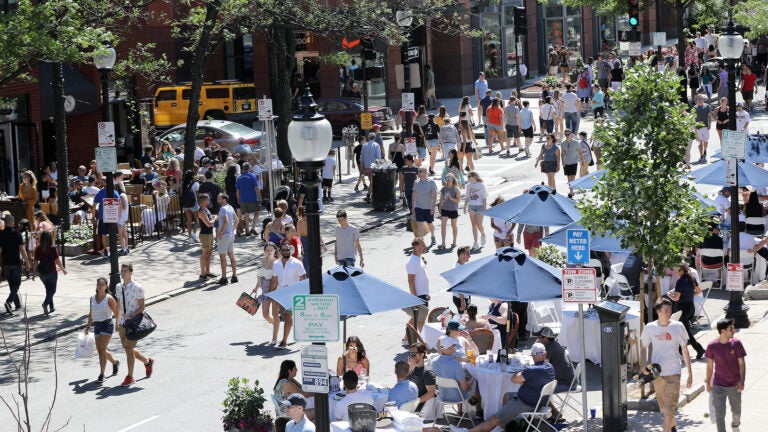 Grab some sunscreen, hop on the T, and get shopping.
For three Sundays in August, Boston's famous Newbury Street will become a pedestrian-only walkway, with businesses encouraged to utilize the street space for creative opportunities. For Open Newbury Street, the street will close to vehicles between Berkeley Street and Massachusetts Avenue from 10 a.m. to 8 p.m. on August 15, 22, and 29.
"I'm especially excited to kick-off Open Newbury Street as we look for ways to hold space for collective joy and imagination," Acting Mayor Kim Janey said in a release. "We look forward to supporting businesses by providing space for them to engage customers in creative ways. I hope residents and visitors will be able to experience all that Open Newbury Street has to offer."
Boston will also be taking notes – and feedback. Next month, the city will announce additional open streets events in multiple Boston neighborhoods throughout the early fall. Also, pending analysis and feedback, Open Newbury Street may be extended into September.
Though Open Newbury Street was a tradition before the pandemic, organizers hope it will give everyone an opportunity to enjoy businesses and the space safely.
"It lends a really fun atmosphere for the whole street — everybody is in a good mood, everyone is smiling, everyone is excited to see what merchants are doing," Kathy Palmer, President of The Fish & Bone pet supply shop, said in a release. "[Merchants] are excited to open up again: our stores are very small so it was hard to have capacity limits in the last year. Having the ability to bring your brand out onto the street in open air where everyone is safe and there's no fear of being too close, that really helps!"
The city is encouraging attendees to use MBTA routes to get there, in addition to biking and walking. People can participate on social media – and see what's going on – at the #OpenNewbury hashtag.
To accommodate the events, parking will be restricted on Newbury Street and adjacent roads with enforcement beginning at 5 a.m.
Newsletter Signup
Stay up to date on all the latest news from Boston.com