Finance
Money management tips for college students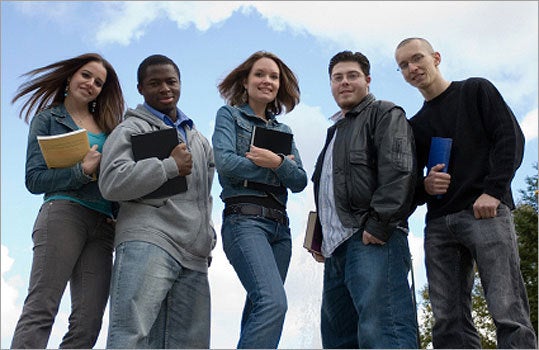 Attending college opens many new doors and opportunities. It can also present new challenges and responsibilities, one of which is managing money and personal information wisely, perhaps for the first time. Here's some tips from the Massachusetts Bankers Association to help college students get off to a sound financial start.

Protect your personal information: Dorms or off-campus housing can be a wonderful, shared experience. However, be concerned about "friends'' of your roommates or other people tramping through the place.

Use a locked drawer or file holder to hold your personal documents – like bank and credit card account numbers, passport, Social Security number, etc. Better yet, leave your Social Security card at home and, certainly, don't keep it in your wallet.

Don't store any account information on public computers, including college libraries, etc. Remember to log off e-mail and avoid doing online banking on public computers. This information can be used to steal your identity, open bogus accounts in your name, and run up huge credit card bills.

Protect your private information. Create sophisticated passwords using upper and lower case letters, numbers and symbols that are not your birthday, home address, or some other easily determinable information.

Budgeting: For students, establishing and managing a budget is always a good idea. A great way to start is to arrive at campus knowing all of your sources of income and the totals: money from a summer job, savings, financial aid, scholarship money, private loans, a campus job and, of course, parental funds. Then track and record all of your spending closely over the course of a month. Project outward to the end of the semester and see how expenses compare to your funds.

After reviewing your expenses, chances are you will be surprised that the little things add up to so much. Think twice about stopping at the coffee shop or ordering that late-night pizza when you can eat on your meal plan instead. If you are careful, there may be more money left over for important things like books.

Don't forget to budget carefully and realistically for entertainment. You may learn that not ordering a Netflix DVD, music, or video on iTunes, or going on an expensive weekend trip will help you make it through the semester. Here is a link to a good budget worksheet.

Credit cards, debit cards and other bills: As a student just starting out on your financial life, it's important to learn about credit. Using a credit card or a debit card (the credit function attached to an ATM card) can be a good way to establish a positive credit history that will be a benefit throughout life. In addition, you'll find that a credit card can be very valuable in case of emergency. Under new federal laws, if you are under 21 years of age and want a credit card you must demonstrate income, savings, or have a co-signer to obtain a card.

Learn about revolving credit and interest rates. They can be onerous if the student just charges away and overspends. A poor credit score could hamper your ability to buy a car, rent an apartment, own a home — or even get a job.

If you receive a card, it's very important that you check your statements carefully and report any discrepancies within 60 days to your card company to give you maximum protection against fraudulent activities.

Be sure to pay all of your bills on time and remember that cellphone bills and others can run up very fast.

Save all statements and receipts and review the statements thoroughly each month to be sure all charges are yours. Remember that you probably did not budget for paying credit card debt each month.

Obtain a free credit report: To protect your credit score (yes, you probably have one even if you are a freshman) it's a good idea to review your credit report once a year and look for inaccuracies. You can get it free once a year by going online.