Finance
Ways to cut heating costs, beat rising fuel prices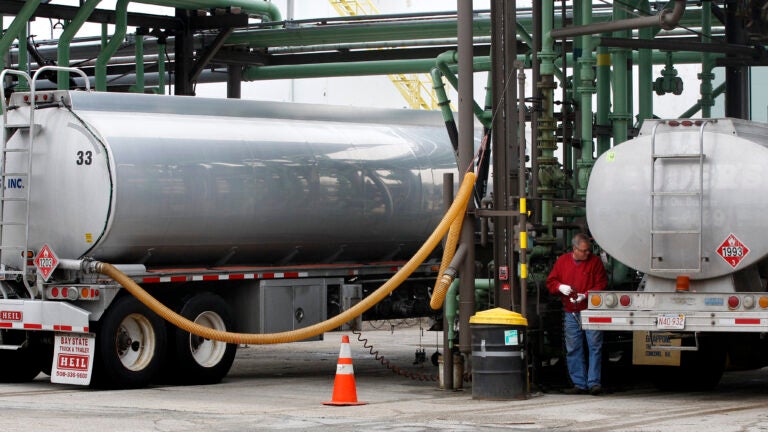 After two years of flat or lower fuel prices, government forecasts predict that many residents will pay more to heat their homes this winter, according to an Associated Press report. Natural gas, propane, and electricity prices are expected to rise, affecting 94 percent of US households. Heating oil users will catch a slight price break, but still pay near-record bills to heat their homes, the AP reported.

There are simple steps you can take to save money on your heating bills.

See our favorite tips for saving on heating costs.

Enroll in your utility's budget plan

Spreading your energy costs evenly over 12 months can help you maintain your household budget and make planning easier. With a budgeted payment based on your consumption history, you can avoid the shock of a high heating bill after the holidays, when heating demands are highest. If you can't hedge your fuel costs like this because you use fuel oil, try switching to natural gas. You'll see an immediate reduction in your heating expenditures, and take advantage of a cool 12 percent increase in efficiency.

Also, home heating and cooling upgrades don't have to break the bank. MassSave offers a zero percent, seven-year HEAT Loan financing plan that will allow Boston homeowners to upgrade their heating systems on a same-as-cash basis over seven years. Since most home heating systems will last at least twice as long as the loan term, it makes sense to take advantage of these loans (and rebates) to get lower operational costs right now. — Joseph C. Wood, Boston Standard Co.

Install a Wi-Fi thermostat

Installing a Wi-Fi thermostat will allow you to control your home heating using a smartphone application. In addition, some Wi-Fi thermostats, like The Nest, can learn your home heating and cooling preferences. The thermostats will help you learn how to save energy while you're at home, eliminate the need to remember to dial down your heat while you're away, and save money in the process. Depending upon your energy provider, you may be eligible for a $100 rebate on the purchase of a Wi-Fi thermostat, too. Another thermostat tip: don't let the temperature in your home fall by more than 5 degrees while you're away. You'll actually spend more money to bring your home back up to your preferred temperature when you return. — Joseph C. Wood, Boston Standard Co.

Seal and insulate your ductwork and pipes

Insulating your pipes can prevent sweating in the summer, but it also helps save energy in the winter. Don't forget to insulate your ductwork, too. Insulating your exposed ducts can make drastic improvements in the amount of heat that gets delivered to your living space, and reduce heat loss in places like basements and crawl spaces. — Joseph C. Wood, Boston Standard Company

Add insulation throughout your home

Adding insulation is a prime way to save money, reduce energy consumption and improve the comfort level of your home. MassSave will pay for 75 percent of the cost of adding new insulation, up to $2,000 each year. This will allow you to improve the insulation in your home affordably every year until you achieve your desired comfort level. Best of all, insulation doesn't break and you don't need to pull out the old stuff to add more. — Joseph C. Wood, Boston Standard Company

Heat what you use

A ductless heat pump system will allow you to apply heat directly to the rooms you use the most. Efficient ductless heat pump systems can provide supplemental heat where you want it most without requiring you to fire up the thermostat on the whole house.

If you have a steam heat system, add adjustable steam vents to your home to balance the temperature throughout the home. By controlling your radiators more carefully, you can reduce your energy consumption, improve your home's comfort, and avoid having to crack open a window or two in January. — Joseph C. Wood, Boston Standard Co.

Go outside for extra savings from your boiler

An outdoor reset control can help you fine-tune the operation of your boiler and reduce energy consumption by about 15 percent. By comparing the outside temperature to the temperature in your home, an outdoor reset control can fire up your boiler just enough to make things comfortable inside, while reducing unnecessary and inefficient system cycling. — Joseph C. Wood, Boston Standard Co.

Keep up with home maintenance

Don't skip on regular maintenance for your heating and cooling equipment. Water-based heating systems like steam and hot water setups are especially vulnerable to the effects of deferred maintenance. Don't think that your high-efficiency furnace will give you a pass on maintenance, though. As little as 1/8th of an inch of soot and dust on your heat exchanger can reduce your furnace's operating efficiency by as much as 25 percent. — Joseph C. Wood, Boston Standard Co.

Keep rooms clean

Remove obstructions (including furniture and drapes) from the front of your registers and grilles. Allowing air to flow freely will improve the comfort of your home and reduce the effort your system needs to make to heat your living spaces. — Joseph C. Wood, Boston Standard Co.

Lower water temps and humidify

It takes more energy to heat water in cold weather. You can lower the temperature of your water heater a bit and still get a hot shower, and use cold water to do laundry and rinse dishes. The ideal temperature for a residential hot water heater is 120 degrees, NStar said.

According to Joseph C. Wood of Boston Standard Co., maintaining proper humidity with a whole-house humidifier can improve your home's comfort level and help you fight the urge to crank up the heat. A home with proper humidity control feels warmer at lower temperatures because it slows the evaporation of moisture from your skin.

Home energy assessments

Customers looking to make their homes more energy efficient should start by assessing how much energy your home currently uses. MassSave offers home energy assessments at no cost. After you've figured out your energy consumption, start making energy-saving improvements.

Programmable thermostats

Pre-programmed thermostats set at energy-efficient temperatures can save about $180 a year, according to Energy Star. In the winter, keep your thermostat at 65 to 68 degrees when home and awake, and at 60 to 64 degrees while away or sleeping, NStar said.

Also, the Energy Department estimates that a resident can save 1 percent on their heating bill for every degree a thermostat is set back.

Air filters

A dirty air filter slows air flow, forcing your heating system to work harder and waste energy. People should check them periodically to make sure they're not so dirty that they interfere with your heating system's operation.

Oil co-ops

Consider joining a heating oil co-op. Groups like the Mass Energy Consumers Alliance are able to negotiate better prices for their customers. On average, members of heating oil programs save 15 to 30 cents a gallon.

Use the sun as a heater

Open drapes when you are getting direct sunlight from south-facing windows and then close them at night to keep heat from escaping.

Pay attention to your fireplace

Make sure the damper in your fireplace is closed when you aren't using it. NStar also recommends getting a fireplace insert for even greater efficiency.

Turn off vents

Shut off kitchen fans and bathroom fans as soon as they are no longer needed.

Use ceiling fans

Ceiling fans can help you lower air conditioning costs in the summer and keep you more comfortable in the winter, according to Energy Star.

During the summer, use the ceiling fan in a counterclockwise direction, NStar said. If you raise your thermostat by two degrees while a ceiling fan is running, you can lower air conditioning costs by up to 14 percent over the course of the cooling season, Energy Star said.

In the winter, you should reverse the ceiling fan motor and operate it at a low speed in the opposite direction. This produces a gentle updraft, which forces warm air near the ceiling down into the living space, Energy Star said.