Finance
Protesters March For Higher Wages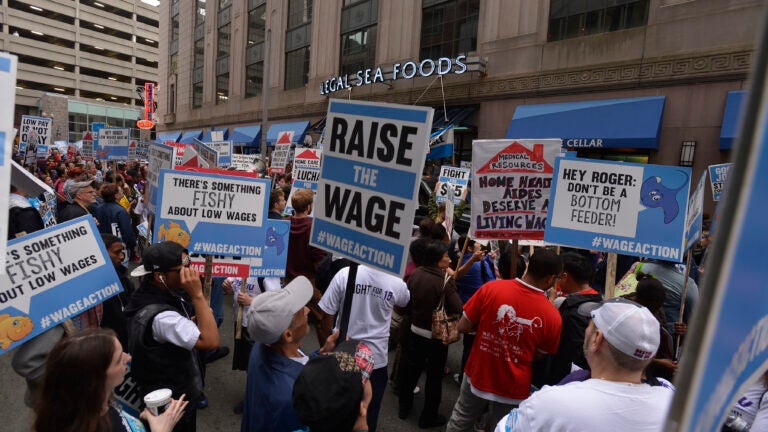 About 1,000 people converged on Copley Square yesterday rallying for increases to the minimum wage just as the state's legislature reached a deal to gradually up the minimum wage to $11 an hour over the next three years.
The protests, dubbed a Day of Action by organizers, united people from multiple industries, which ranged from academia to fast food services.
Felix Arroyo, who serves as Boston's head of Health and Human Services and who ran for mayor last year, spoke at the Copley protest, saying: "If you work, you shouldn't be poor,'' according to The Boston Globe.
The protesters, who were brought together by the national Wage Action Movement, chanted slogans, such as "we are unstoppable, another world is possible.'' They also clutched posters that read "fight for dignity, fight for $15,'' transforming some Downtown Boston streets into a sea of the blue and white signs.
No one was arrested.
Rallies in Springfield and Worcester were smaller that the one in Copley. While numbers for the Worcester rally are still unavailable, about 250 people attended the Springfield protest.
The protests occurred in the wake of a series of national rallies, in which fast food workers demanded higher wages.
The protests also came just as Massachusetts lawmakers had come to an agreement to raise the minimum wage to $11 an hour on Wednesday night, only hours before the protests were slated to begin.
Jeff Hall, spokesman for the Wage Action Coalition, said that protesters were encouraged that legislators have made progress towards upping the minimum wage. Yet he also drew a distinction between the proposed $11 and the more-generous $15 that the protesters had hoped for.
"There's a difference between a minimum wage and a living wage,'' Hall said.
He noted that the national fight for higher wages will "continue well beyond whatever increase to the minimum wage is signed into law in Massachusetts.''