Finance
Study: Several Supermarkets Cheaper Than Market Basket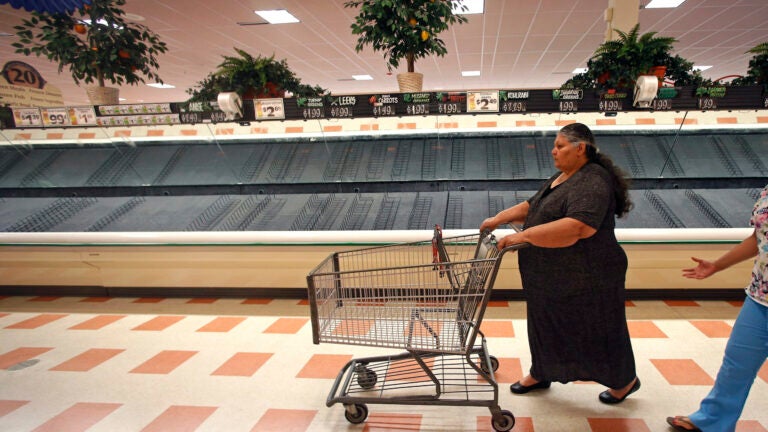 The prolonged struggle over the fate of Market Basket may not be as costly for the chain's customers as they fear, depending on where they do their shopping during the ongoing standoff.
Although Market Basket has long prided itself on offering the cheapest goods around, a new study has discovered that several other grocery stores in Massachusetts carry less expensive goods.
ALDI, Price Rite, and Save-A-Lot consistently offered lower prices than Market Basket, according to the study, which was published by Consumer World. The Globe reports that between the three companies there are 35 locations in Massachusetts. That compares to 42 Market Baskets in the state.
The authors of the study composed a list of basic foodstuffs—such as peanut butter, crackers, and ground beef—and then bought the items at each establishment, recording the price of each.
The total at ALDI was a full 17 percent lower than the one at Market Basket. Price Rite and Save-A-Lot were 10 and 9 percent cheaper than Market Basket respectively.
The findings suggest that customers can still find the same low prices that they did at Market Basket, although they may have to accept a less extensive selection of foods. Those three supermarkets often offer a far more limited selection than Market Basket, according to the Globe—a difference that might account for the lower prices.
Market Basket still offered the lowest prices among stores that carry more extensive selections. Stop & Shop and Star Market were both more expensive than Market Basket by about 17 and 31 percent respectively. Previously, New Hampshire Public Radio has found Market Basket's prices to be cheaper than Shaw's or Hannaford. (Hannaford is reportedly bidding to buy Market Basket.)
The experiment was conducted at local supermarkets—the Medford ALDI, the Revere Price Rite, the Chelsea Save-A-Lot, Market Basket, and Stop & Shop, and the Somerville Star Market.
Here's a look at how Market Basket keeps its costs low—even if they're not the lowest around.Check out more Boston.com coverage of the Market Basket saga.