Average Student Debt for Mass. Grads: $28,565 in Loans in 2013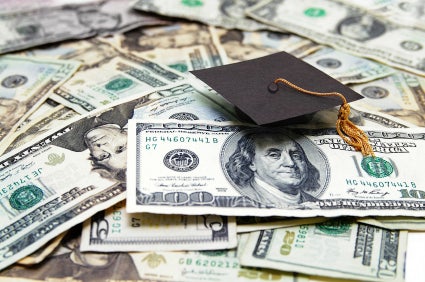 The amount of student debt taken on by bachelor's degree recipients of Massachusetts colleges inched up a small amount year-over-year, according to a new report released this morning by The Project on Student Debt, with the numbers differing quite a bit from school to school.
The annual report looks at graduating seniors at four-year public and nonprofit schools from the preceding year's class. This year's report looks at the class of 2013. It tallies the percentage of bachelor's degree recipients who took on student debt, and the average rate at which they did so.
Nationally, 69 percent of 2013 grads at nonprofit and public schools took on an average of $28,400 in debt. That's up about 2 percent (and $550) from the class of 2012, and represents a slower rate of increase from recent years.
At Massachusetts schools, 66 percent of 2013 grads took on debt, but at a slightly-higher-than-average rate of $28,565. Massachusetts ranked 14th highest in the country for the average amount of debt per borrower. New Hampshire, at $32,795, ranked first, and Rhode Island (4), Connecticut (6), and Maine (7) were also in the top 10. New Mexico, at $18,656, is the only state in which graduating student borrowers took on less than $20,000 in debt.
The average debt per borrower is up $105 for grads from Massachusetts schools compared to last year's report. The percentage of grads who took on debt—66 percent—is level from last year.
The numbers are based on data reported by colleges and universities, and not by students. It does not include graduate students—a significant caveat, as estimates have suggested that 40 percent of the nation's student debt is held by grad students.
The Project on Student Debt's report reflects what the average graduate from each college took on. That means the report doesn't offer a look at what the average student debtor living in Massachusetts has on his or her hands. Instead, it's a look at what sort of financing is needed to attend the many colleges and universities in the state. Also worth noting: not every college reports its data. But 53 from Massachusetts did.
As for the schools to generate the most student debt among graduates? Seven schools topped an average of $40,000 per borrower, all of which are smaller schools. Each had a higher-than-usual percentage of students taking on that debt. Most are considered mid-level schools, while Boston Architectural College—which generated the highest average debt in the state—is a highly-specialized school.
Becker College (Worcester, Leicester): $43,238, with 94 percent of 229 total grads taking on debt
Boston Architectural College (Boston): $50,520, 75 percent, 59 grads
College of Our Lady of the Elms (Chicopee): $41,813, 82 percent, 284 grads
Curry College (Milton): $42,356, 81 percent, 618 grads
Endicott College (Beverly): $40,090, 74 percent, 536 grads
Lasell College (Newton): $40,709, 86 percent, 325 grads
Wheelock College (Boston): $42,313, 93 percent, 180 grads
As for some of Greater Boston's most notable schools, the percentage of students taking on debt is lower. Harvard, especially, graduated a very small percentage of debtors, and those who did take debt on took on very little. One reason for that would be Harvard's financial aid programs, which are considered generous in helping low-income students afford their education. On the other hand, many students at these colleges may have the benefit of family money, also helping to keep these numbers low. And on a third hand, the types of students to wind up at a Harvard or MIT will often be the types to nab lucrative scholarships.
Boston College: $20,601, with 49 percent of 2,377 total grads taking on debt
Boston University: $37,694, 58 percent, 4,071 grads
Harvard University: $12,560, 26 percent, 1,803 grads
MIT: $17,891, 41 percent, 1,042 grads
Tufts University: $24,266, 41 percent, 1,396 grads
Northeastern University did not report its data.
And finally, there are Massachusetts's public schools. While public schools are often touted as one way for students to keep their student debt levels low, most of the public colleges and universities are still producing graduates with more than $25,000 in debt over the course of four years. Framingham State, at $18,027 per borrower, is the lowest. The highly-specialized Massachusetts Maritime Academy, at $34,224, is the highest. Bridgewater State and Salem State universities did not report their data.
Fitchburg State University: $25,524, with 79 percent of 818 total grads taking on debt
Framingham State University: $18,027, 81 percent, 735 grads
Mass. College of Art and Design: $26,832, 72 percent, 341 grads
Mass. College of Liberal Arts: $28,109, 79 percent, 359 grads
Mass. Maritime Academy: $34,224, 84 percent, 284 grads
University of Massachusetts at Amherst: $28,999, 58 percent, 5,363 grads
UMass Boston: $26,078, 68 percent, 2,275 grads
UMass Dartmouth: $29,311, 81 percent, 1,241 grads
UMass Lowell: $28,482, 79 percent, 2,031 grads
Westfield State University: $25,515, 79 percent, 1,151 grads
Worcester State University: $25,286, 72 percent, 923 grads
Amherst College ($15,466, 29 percent, 625 grads), Franklin W. Olin College of Engineering ($16,092, 13 percent, 76 grads), Massachusetts College of Pharmacy and Health Sciences ($14,618, 78 percent, 819 grads), Wellesley College ($14,030, 49 percent, 604 grads), and Williams College (12,474, 29 percent, 526 grads) were other Massachusetts schools not already listed above to report average debt for borrowing grads of less than $20,000 in debt.
You can check out the full Mass. database here.