Food News
Boston inspector orders Dumpling Cafe to close temporarily due to health violations
The restaurant was ordered to close without a prior hearing because its hot water tank had broken, so no dishes or hands could be washed at a safe temperature.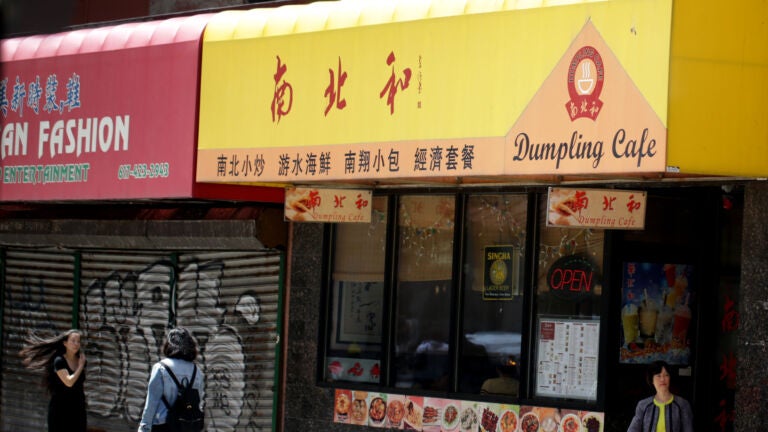 A Boston health inspector ordered the emergency closure of a popular Chinatown restaurant Monday after the inspector discovered the restaurant had no hot water.
According to the inspection report, Dumpling Cafe did not notify the city Health Department that their hot water tank was broken. Without hot water, neither dishes nor hands could be washed at the proper temperature.
The inspector ordered the Washington Street restaurant to close until the Health Department can confirm hot water has been restored, the report said. The restaurant must now request a hearing with the Health Department.
Dumpling Cafe could not be reached for comment Wednesday evening.
Other health violations
The lack of hot water was far from the only health violation the inspector found at Dumpling Cafe. The report said the restaurant was also storing produce in boxes that had previously held raw chicken and could be contaminated with chicken blood.
Additionally, the inspector found a dead rat under the dishwasher, and there was a buildup of food and debris around the cookline and grease trap in the kitchen, the report said.
The Health Department last inspected Dumpling Cafe on Jan. 31, 2023. At that time, the inspector found that the restaurant was storing produce in old chicken boxes, that grey water was seeping into the basement of the restaurant, and that there was rat feces in the basement.
The restaurant wasn't forced to close, but the Health Department required it be re-inspected soon. It took four re-inspections over the course of two and a half weeks for the restaurant to pass without violations. The repeated failures were primarily because employees kept preparing food in the basement while the grey water was still seeping in.
Storing food in boxes that formerly held raw chicken seems to be an ongoing issue for Dumpling Cafe. As far back as August 2021, inspectors found that the restaurant was storing cooked chicken in former raw chicken boxes, and in February 2022, inspectors found the restaurant storing produce in them.
Other restaurants recently ordered to close
Dumpling Cafe's closing comes just days after two locations of Los Amigos Mexican Grill were ordered to close.
At the Brighton location, inspectors found mold on the walls and ceiling of a walk-in unit, as well as a complete lack of sanitizing equipment at food prep stations. At the West Roxbury location, inspectors found rat feces on multiple items of food and elsewhere around the restaurant.
The Health Department inspected the restaurants after multiple cases of food poisoning were linked to the Brighton location. Two people who say they contracted salmonella after eating at that location are now suing Los Amigos, which is a small local chain.
Newsletter Signup
Stay up to date on all the latest news from Boston.com