Food
Dunkin' Donuts will start selling cold brew iced coffee nationwide next week
The company describes the sweeter flavor as "reminiscent of dark chocolate."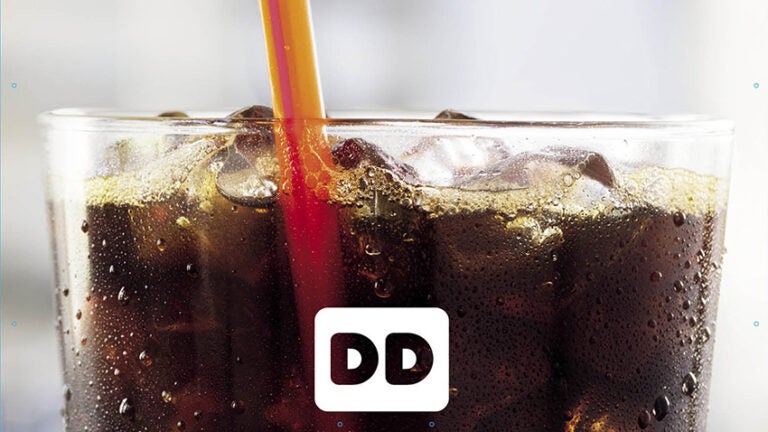 Dunkin' Donuts announced earlier this summer it would release its own cold brew iced coffee this summer. And now we know when.
Following a limited release in recent months, the Canton-based coffee chain announced Tuesday it would go nationwide with cold brew next Monday, August 1.
For those unfamiliar with cold brew, it is an increasingly popular type of iced coffee that is brewed by steeping the coffee grounds in cold water over an extended period of time—as opposed to brewing hot coffee and then cooling it. The slower, less intensive brewing process results in a less acidic, less bitter flavor.
Dunkin' Donuts says its cold brew process, using a specialized coffee blend steeped in cold water, results in a iced coffee with "an inherently sweeter flavor reminiscent of dark chocolate."
In a press release, the company noted that the flavor profile "lends itself to being enjoyed black," but can be customized according to preference (looking at you, "extra-extra" devotees).
A Dunkin' Donuts spokeswoman told Boston.com that the company recommends franchises to sell cold brew at a 50-cent premium to regular iced coffee, which goes for roughly $2.60 (including tax) for a 24-ounce medium in New England.
Chris Fuqua, Dunkin' Donuts senior vice president of brand marketing, global consumer insights and product innovation, said the cold brew launch represents "a bold new option" in the coffee chain's expanding lineup of coffee beverages.
Whilst doubling-down on the super-sweet coffee on which Dunkin' Donuts has built its brand —most recently with new sweetened candy bar flavor swirls—the cold brew release represents a continuation of the company's efforts to appeal to coffee connoisseurs. The chain added macchiatos to its espresso beverage lineup last fall and released dark roast coffee in 2014 as it looked to expand into the West Coast, traditionally Starbucks territory.
The addition of cold brew is another step onto Starbucks turf—culturally, if not regionally. And at a slightly lower price point.
Cold brew has recently surged in popularity in the United States, with sales reportedly increasing 339 percent from 2010 to 2015. After it originally took off at local coffee roasters, Starbucks began selling its own cold brew (which costs just under $4 for a 24-ounce cup) last summer.
Dunkin' Donuts, which says it's the number-one retailer of iced coffee in the country, began testing cold brew in a few, small New England markets this spring. In June, it officially launched it the New York and Los Angeles areas.
Fuqua said in his statement Tuesday that "initial results" from its limited cold brew release suggest "fantastic appeal to our guests."
"We are excited to make it available at our restaurants throughout the country," he said.