Food
A local burger chain still has beef with Chipotle over its 'Tasty Made' burger brand
Tasty Burger's CEO says he refuses to let Chipotle "steamroll over us."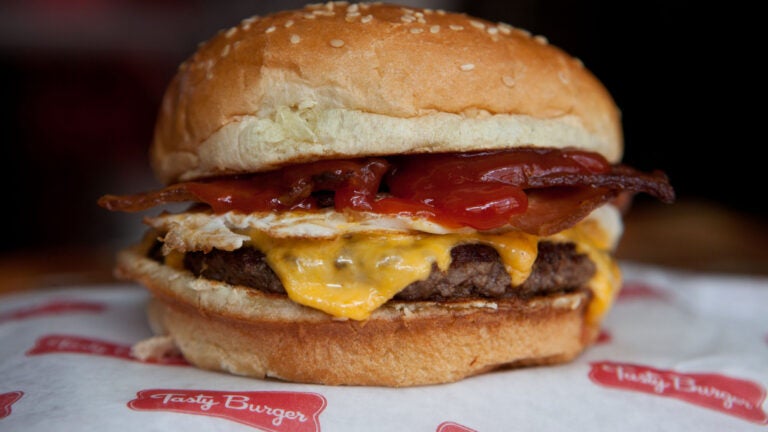 A local burger chain still has beef with Chipotle.
Boston-based restaurant company Tasty Burger announced Thursday that it has filed a consolidated notice of opposition with the U.S. Patent and Trademark Office against all trademarks related to Chipotle's planned burger brand, Tasty Made. Tasty Burger claims that the similarities between the two companies' logo and brands will cause confusion among customers.
Back in August, Tasty Burger CEO David DuBois said the company would "aggressively protect" its trademark against Tasty Made, releasing a side-by-side image of the two companies' logos while calling their battle "a David and Goliath scenario."
The first Tasty Made restaurant is set to open in Lancaster, Ohio, on Thursday.
DuBois again evoked the David and Goliath metaphor Thursday, saying in the press release that his company owed it to its customers and to small businesses across the country to fight back against "a powerful corporate aggressor."
"With substantial confusion consistently occurring on a widespread level, and with an impending Tasty Made store opening, it is impossible to ignore the fact that Chipotle has decided to simply do as they please," DuBois said in a statement. "Frankly, as a $12 billion Goliath, Chipotle knows full well an independent business like Tasty Burger only has two choices: stand the ground and weather the storm both financially and legally, or let them steamroll over us.
 
"As long as Chipotle continues to flout the concepts of fairness and decency on their path to minimize and confuse our customer base, we will continue to fight them through all avenues available to us," DuBois's statement concluded.
When reached for comment, Chipotle Public Relations and Communications Manager Danielle Moore said that the company is confident it is on firm legal ground, and asserted that Tasty Burger's continued complaints are a method of generating publicity.
"There is no trademark conflict between our name and the Tasty Burger name," Moore said in an email. "The US Trademark and Patent Office (USPTO) has approved all Tasty Made trademark applications for registration on the primary register. We do not believe that Tasty Burger has any basis for a claim or objection to such approval. We view no confusion or conflict here.
"While we did discuss Tasty Burger's concerns with them, such discussions led us to believe that Tasty Burger is simply using this as a way to build awareness for their brand and has no valid legal basis to challenge our trademark," Moore continued. "As we have repeatedly said, we believe both brands can co-exist in the marketplace."
Tasty Burger does have a registered mark with the U.S. Patent and Trademark Office. But unlike Tasty Made, which is applying for inclusion on the primary register, the mark for Tasty Burger is on the supplemental register — meaning it's not particularly distinctive.
According to the Trademark Office website, "Supplemental Register registrations do not receive the same legal advantages and presumptions of Principal Register registrations," meaning it would be harder for one company to prove another company is infringing on its trademark.
"A trademark is put on the supplemental register if it describes an ingredient, quality, characteristic, function, feature, purpose or use of the specified goods and/or services, and it is has not achieved any acquired distinctiveness," said Brendan Shortell, an associate at the Boston-based law firm Lambert and Associates who handles trademark litigation and prosecution. "In the case of Tasty Burger, essentially, the PTO is saying that tasty burger describes a good tasting burger offered at the Tasty Burger restaurant and is not distinctive enough to register on the principal register."
The process surrounding a consolidated notice of opposition could take at least a year to be fully settled and would be handled like a traditional federal court case, Shortell said.
Chipotle is free to continue to use Tasty Made in the meantime, though the chain runs the risk of a lawsuit if the TPO were to later rule that Tasty Made infringes on Tasty Burger's trademark, Shortell said.
"Chipotle isn't required to have the mark registered," Shortell said. "But by producing marketing materials and opening a store, they run the risk of being sued for infringement, which would be a separate case."