Food
Dunkin' Donuts is rolling out what essentially is a Thanksgiving leftovers sandwich
But only in New England.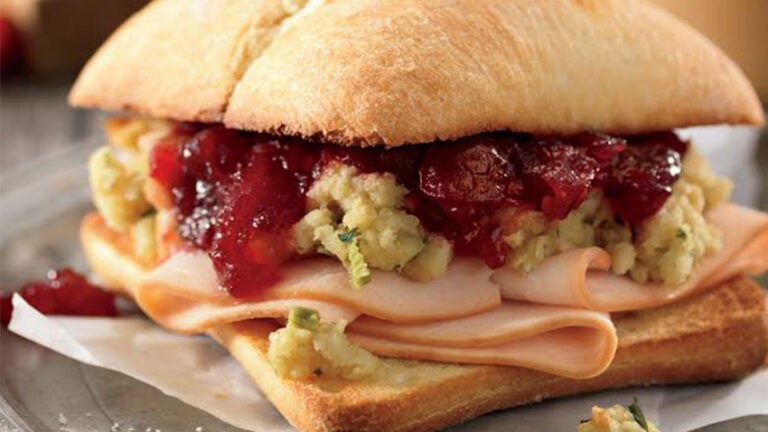 'Tis the season of continual seasonal creep.
As Tuesday marks the first day of November, Dunkin' Donuts announced the annual return of their holiday foodstuffs lineup, including a New England-exclusive twist.
For the first time, the Canton-based coffee chain said Tuesday it's launching their "Turkey Feast" sandwich, an apparent ode to the Thanksgiving leftovers sandwich.
Dunkin' Donuts' take on the popular sandwich (which possibly has Cape Cod roots) includes "savory stuffing, Ocean Spray Cranberry Sauce and turkey on an oven-toasted Ciabatta roll." Beginning Tuesday, it will be available only at participating locations in New England, the company said.
Dunkin' Donuts apparently isn't the only national chain to catch on to the merits of sandwiching traditional Thanksgiving foods.
Subway recently introduced a sandwich combining turkey and cranberry mustard sauce (albeit without any stuffing). D'Angelo's and Panera have been selling a turkey-cranberry-and-stuffing sandwich for years, to varying degrees of acclaim. However, it's unclear if any of the chain creations stack up to Mike's City Diner's monstrous Pilgrim sandwich.
To circle back, Dunkin' Donuts isn't limiting its appreciation to the flavors of Thanksgiving. The chain also launched two new festive doughnuts nationwide Tuesday.
The first, the "Candy Cane Crunch Donut," is a yeast doughnut with vanilla-flavored buttercream filling, topped with white icing and crushed candy cane pieces.
The other is a "Boston Kreme Croissant Donut," another variety of Dunkin' Donuts' riff on the 2013's unofficial food of the year. They describe the second-level food portmanteau as "a glazed croissant donut filled with Bavarian creme and finished with a chocolate icing drizzle."
Lastly, Dunkin' Donuts said Tuesday it is introducing a new coffee flavor swirl for the holidays: Crème brulée, which may sound familiar to patrons of another prominent coffee chain. Dunkin' Donuts says their take features "the rich and creamy taste of crème brulée with a deep, caramelized sugar finish" and can be included in any of their coffee or espresso drinks.
Inexplicably, 2016 will be another year that the company does not revive its gingerbread flavor swirl. Sigh.