Food
Maine festival's winner of the 'World's Best Lobster Roll' is… from Utah?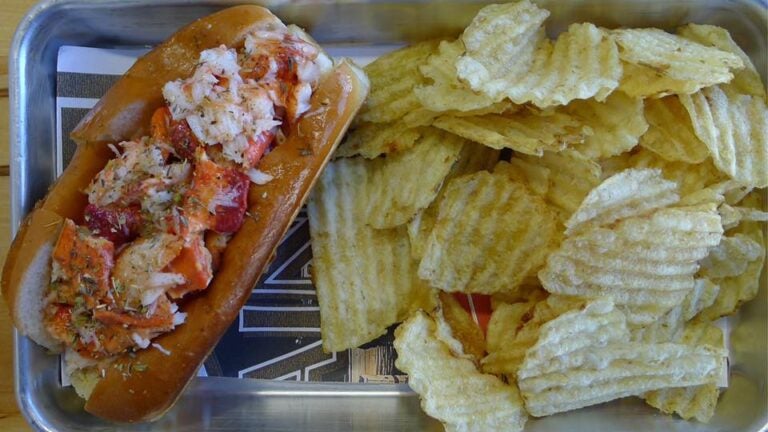 New England takes a lot of pride in its iconic regional cuisines. So residents might be surprised that the winner of Portland, Maine's first-ever lobster roll festival is from a state known more for its skiing than its seafood.
When all was said and done (and eaten), Freshies Lobster Co., a Park City, Utah company, was bestowed the title of "World's Best Lobster Roll" during Saturday's festival, which was organized by Down East magazine.
Freshies was determined the winner after several rounds of judging, including a popular vote by 250 VIP attendees and then by a five-judge panel to pick the best roll among three finalists, Down East Editor in Chief Kathleen Fleury told Boston.com.
According to Fleury, the panel of judges — comprised of a number of food writers and a lobsterman — were "looking for overall taste, texture, and satisfaction."
"[It] was such a well-balanced lobster roll, " Roadfood.com's Michael Stern, who was one of the festival's judges, told The Bangor Daily News in a Facebook Live video. "The meat was great, the bun was great, the seasoning was great. It was just kind of perfect."
Stern, who said he had eaten "thousands" of lobster rolls during his lifetime, said that Freshies' landlocked location did come into consideration, but noted that the owners were originally from the New England area. Indeed, according to the company's website, Freshies owners Ben and Lorin Smaha are from Cape Elizabeth, Maine and Lebanon, New Hampshire, respectively.
"That was a point that we debated," Stern said. "Can a lobster roll from Utah really win? But we had to eliminate all that stuff and said 'What is the best lobster roll?' We really figured that was it."
Fleury said the original field of 12 contestants "ran the gamut of traditional to exotic."
"The rolls were all different styles — round bun, mayo, no mayo, maple syrup, chives, spices," she said.
According to Freshies' website, their roll is made with a toasted New England-style hot dog bun, fresh lobster, seasoning, and both mayo and hot butter.
Lorin Smaha told a local TV station in Utah last year that their lobster meat is cooked and processed in Maine, before being vacuum-packed and shipped overnight to Utah.
"It's fresh — never frozen — meat," she said. "It's delicious."
Smaha also said that the company even has their regional-specific buns shipped in overnight from theNew England area. Freshies operates both a brick-and-mortar and food truck in the Park City area.
"Lobster rolls are a very personal thing," Fleury told Boston.com. "But in general the judges were looking for the tastiest combination of bun and lobster meat!"