Food
Here's how the Amazon takeover has changed Whole Foods — so far
Here are a handful of notable changes Amazon has made to Whole Foods so far.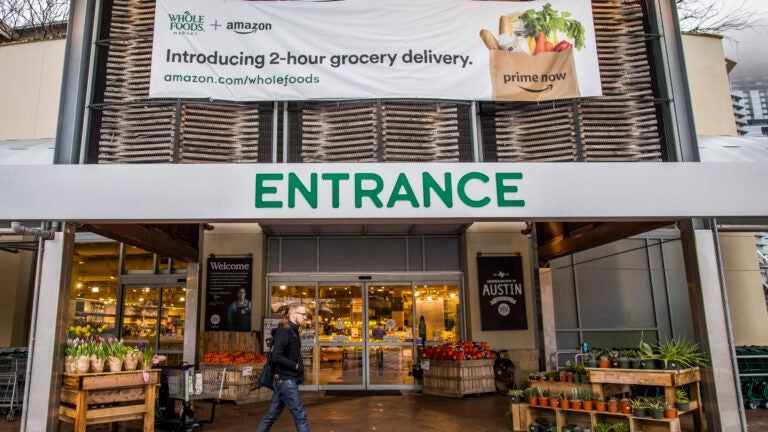 Some signs are subtle, such as the "Whole Foods + Amazon" one near the bananas. Others are more obvious, such as the kiosk with Amazon devices for sale.
It has been six months since Amazon took over Whole Foods, a $13.4 billion deal that made the internet retailer a major player in the world of brick-and-mortar retailing. For the most part, the 470 stores are still the same upscale, expensive healthy food emporiums that they have always been.
Amazon has grander ambitions as well. The company's executives are busy devising ways to connect its Prime membership program, which offers benefits like fast and free shipping and video streaming, with the stores.
The company has said that Prime will eventually become the Whole Foods customer rewards program. It recently took a baby step in the direction of weaving together Prime and Whole Foods by giving Prime members 5 percent back on Whole Foods purchases made with an Amazon-branded Visa card. Whole Foods has signs about the offer all over its checkout stands.
Some of the changes Amazon has made are experiments limited to a few locations. Others, like price cuts on grocery staples, are widespread and a sign of more to come, its executives say.
"We're determined to make healthy and organic food affordable for everyone," Jeff Wilke, chief executive of Amazon's worldwide consumer business, has said.
Here are a handful of notable changes Amazon has made to Whole Foods so far.
Home delivery
In February, Amazon allowed people to buy thousands of different items from Whole Foods and have them delivered by Prime Now, a speedy Amazon delivery service that uses contractor drivers in their personal cars. The service, available only for Amazon Prime members, offers free two-hour delivery of orders and one-hour delivery for $7.99 on orders over $35. (Driver tips are optional.)
Amazon introduced Prime Now delivery for Whole Foods stores in Austin, Texas; Cincinnati; Dallas and Virginia Beach, Virginia. The company said it would expand the service to rest of the country this year. Inside the Austin store, Prime Now orders in brown paper bags wait on shelves and in refrigerators for drivers to come pick them up and spirit them to customers' homes. A banner at the entrance to the store promotes the delivery service.
(Some) price cuts
A few days before Amazon completed its acquisition of Whole Foods, it announced a series of price cuts on grocery items, a move to change the perception of the chain as "Whole Paycheck." It slashed the price of a dozen Organic Valley large brown eggs by 27 percent and cut the cost of a 16-ounce jar of 365 brand crunch almond butter by 13 percent. For Thanksgiving, it made turkeys cheaper, and for Valentine's Day, it dropped the price on roses.
Still, much of the selection in Whole Foods stores still carries premium price tags. Studies by analysts have shown that overall prices on typical Whole Foods shopping expeditions have decreased only slightly. Whole Foods said there was more to come. "We've done quite a bit," Brooke Buchanan, a spokeswoman for the market, said. "There's still so much more we have planned."
Gadgets
The most conspicuous sign of Amazon's agenda inside Whole Foods is the kiosks containing Amazon electronics that now lurk near store aisles. Not far from the Honeycrisp apples and bulk bins of granola, shoppers can now pick up an Echo, Fire TV or Kindle.
In a handful of Whole Foods stores, including in Denver and Chicago, Amazon has opened big electronics stands called pop-up shops, which are staffed by Amazon employees who can answer questions about the devices. The pop-up shops, which are at dozens of shopping malls around the country, give shoppers an opportunity to try the devices in person, something they cannot do when they browse online.
Amazon order pickup
For years, Amazon has been installing banks of lockers inside and around supermarkets and other buildings, giving people who order items on Amazon a secure place to pick up their packages. The lockers can also be used to return items ordered on Amazon.
Since the Whole Foods deal closed, Amazon has put its lockers inside all of the chain's stores. In some stores, the lockers are smaller and tucked among the wine and other goods. The Austin store has a huge bank of lockers near a set of escalators.
Bolstering private label foods
So far, much of the changes have gone in one direction: Injecting a little Amazon into Whole Foods. But there is a little Whole Foods getting added to Amazon, too.
Amazon has sought to bolster Whole Foods by making the chain's private label products available through its various online outlets. Whole Paws, the grocer's pet food brand, and 365 Everyday Value, its line of foods for budget shoppers, can now be purchased through Amazon.com and AmazonFresh, an existing grocery delivery service run by the internet retailer.
Amazon even dedicated an area of its automated convenience store in Seattle, Amazon Go, to Whole Foods private label goods.