Food
Dunkin' Donuts is taking their 'donut fries' nationwide
Look out, America.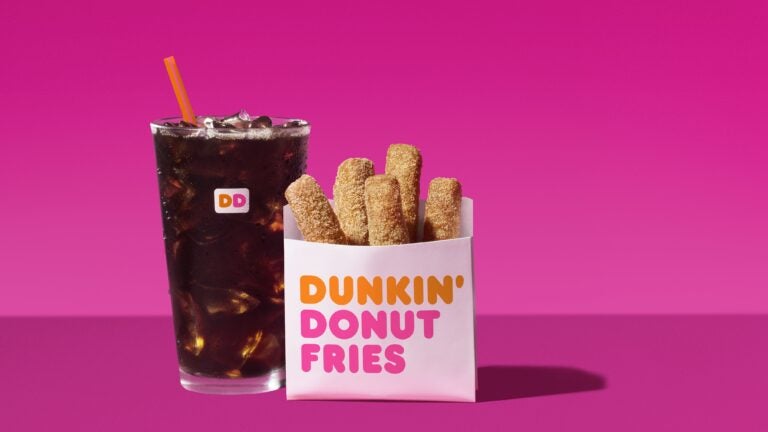 Apparently that test run in Boston went pretty well.
Dunkin' Donuts announced Wednesday that they're launching "donut fries" nationwide. The churro-like creations will be sold for $2 at participating restaurants for a limited time beginning Monday, the Canton-based company said.
Dunkin' Donuts describes their sugar-covered riff on the traditionally potato-based starch as "a fun, easy-to-eat way to enjoy the delight of donuts while on the go any time of day." Apparently, regular doughnuts didn't already satisfy that description.
According to the company, the donut fries are made of pieces of croissant-style doughnut dough, tossed in cinnamon sugar, and "served warm with just the right amount of crisp." Each order includes five individual fries.
Dunkin' Donuts tested a number of eccentric snack items in the Boston market earlier this spring. However, donut fries were the only product from the group that the company says it is now releasing nationally.
"There was a strong consumer response towards bringing Donut Fries to all Americans during the initial test, and we are excited to make this unique donut treat available nationwide this summer," Tony Weisman, the chief marketing officer of Dunkin' Donuts, said in a statement.
The company also announced the launch of a brown sugar-flavored version of its cold brew iced coffee for the summer, as well as two new doughnuts: the "Chocolate Coconutty Donut," which is filled coconut cream and coconut flakes and topped with chocolate icing and crumbled shortbread cookie pieces, and the "Shark Bite Donut," which is a doughnut with shark-shaped sprinkles.
Unfortunately, the company's famed donut breakfast sandwich is no longer on the menu to pair with their donut fries, which would have been quite a combo with which to start your day.