Food
A local brewery is popping up at Boston Public Market beginning this weekend
The beer garden is intended to be "a place for people to enjoy the last lovely summer afternoons."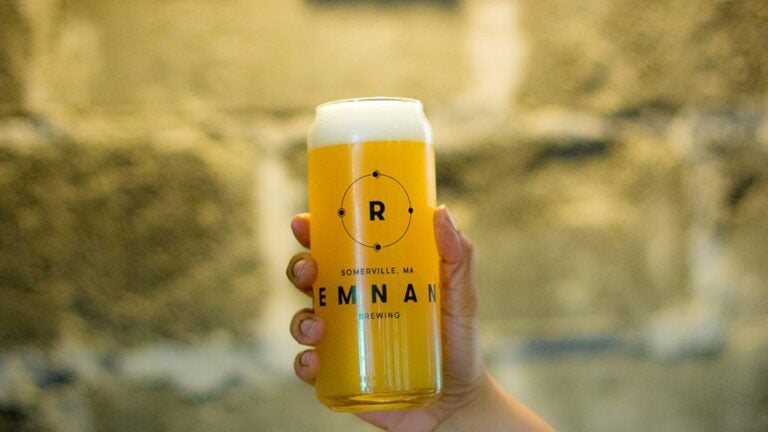 Yes, Boston is getting another craft beer garden.
Remnant Brewing, a microbrewery that opened this past spring at Bow Market in Somerville's Union Square, will be pouring hazy beers at the Boston Public Market every weekend through September. The new pop-up beer garden, which was announced last week, opens Friday at 5 p.m.
"While our mission is to be a local taproom and visiting destination, we couldn't resist the offer to work closely with another similar marketplace in the Boston community," the brewery wrote on social media.
General manager Brittany Lajoie said the public market provided a small space on the Atlantic Avenue side of the building, facing the North End, that includes five picnic tables.
Remnant, which will have two beers on tap and limited to-go growlers, will be pouring Dream Pop, a hazy, oat pale ale, and Exam Room 2, a New England IPA, this weekend. LaJoie said the next couple of days will be "a little unique" due to their participation in the market's fourth annual Fermentation Festival. So, on Sunday, the brewery will substitute Space Junk, a farmhouse sour beer, for Dream Pop.
"Our idea is to be a place for people to enjoy the last lovely summer afternoons on their way home from work," LaJoie told Boston.com. "The seating is all outdoors, and they have some lighting, music, and there will be food trucks alongside our beer garden as well."
They'll be open from 5 p.m. to 8 p.m. on Friday, noon to 8 p.m. on Saturday, and noon to 6 p.m. on Sunday every weekend through September 30.
"This is our first weekend, so we're ready to grab more kegs of whatever we can from the brewery to keep the beer flowing," LaJoie said.
The beer certainly has been flowingly lately in Boston, with new beer gardens spilling across the city this summer.
The Norwood-based Castle Island Brewing Co. opened a long sought-after seasonal location in Charlestown earlier this month. Everett's Night Shift Brewing also opened two new beer gardens on the Charles River. This past spring, Wachusett Brewing opened a beer garden next to City Hall, and Downeast Cider kicked off a summertime "drinkery" at Dewey Square on the Rose Fitzgerald Kennedy Greenway. And, of course, Trillium Brewing Company's beer garden on the Greenway returned for a second season. Plenty of options are just outside city limits, too.