Food
Dunkin' isn't bringing back a beloved holiday coffee flavor this year — and people are real mad online
The Canton-based chain is introducing two new seasonal flavors, if it's any consolation.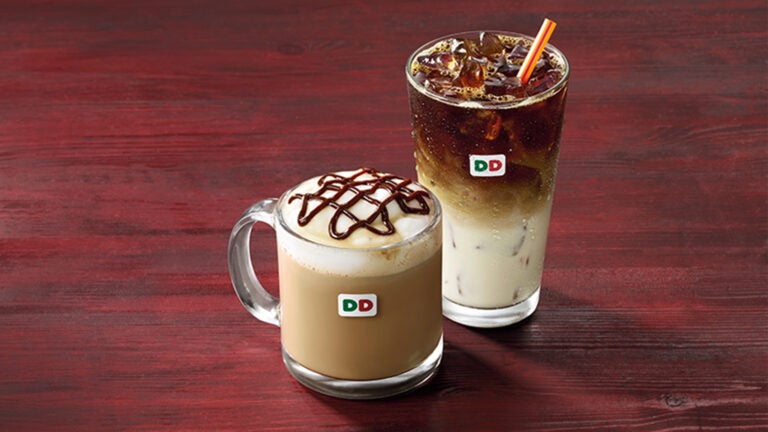 Dunkin' is planning to debut two new coffee flavor swirls this holiday season. But what's more head-turning is the festive flavor that won't be on the menu.
Sorry, peppermint mocha fans.
After rumors of the seasonal favorite's demise recently began spreading online, Dunkin' confirmed that the company has no plans to bring back the rich, chocolatey flavor swirl — at least this year.
While it's hardly the first time the Canton-based chain has discontinued one of its annual holiday flavors (remember gingerbread?), peppermint mocha — first introduced in 2004 — was a particularly long-running tradition. And its unceremonious end provoked some strong reactions from Dunkin' loyalists on social media.
A brief scroll through the recent mentions of "Dunkin' peppermint mocha" on Twitter reads like something of a tragedy, as eager excitement for the flavor's return turned to grief and anger last week, after a few Dunkin' employees leaked the news.
The only good thing about winter is Dunkin's peppermint mocha flavor

— Mack (@mack3763) October 31, 2018
Hey, @dunkindonuts – are you awake and do you have Peppermint Mocha back yet since it's 12:00:01 am on November first? Asking for a friend.

— Rachael Kaine (@forgetxclosure) November 1, 2018
Hey @dunkindonuts now that Halloween is over can you bring back peppermint mocha iced coffee pretty plz

— Ashley Patten (@_apatten) November 1, 2018
Just found out @dunkindonuts isn't bringing back peppermint mocha for winter. Devastated to say the least. How could you do this to your most loyal customer @dunkindonuts ????? ?

— morg (@morgancarol_) October 31, 2018
My Dunkin ain't getting peppermint mocha this year and it's the saddest holiday season ever now… ?

— Brendon Rothrock (@b_rothrock98) November 1, 2018
so @dunkindonuts is not carrying peppermint mocha this holiday season pic.twitter.com/Zd0bf42F55

— Brittany (Ms. Mollis if you're trashy) (@BurdsIVue) November 12, 2018
currently boycotting @dunkindonuts for ruining the holiday season by discontinuing peppermint mocha pic.twitter.com/oJ1tGgp0Iu

— Mackenzie Williams (@kenziewilliamss) November 13, 2018
Several users declared that Christmas — or, alternatively, winter — was now canceled, while more than a few others said the decision would force them to switch allegiances to Starbucks, which brought back peppermint mocha, among other holiday-themed coffee drinks, for the flavor's 16th year this season.
In replies to several upset fans, the coffee chain's Twitter account said they appreciated the "passion" and would "pass along" their feedback.
We appreciate your DD passion! We sometimes offer menu items for a limited time tied to key holidays, or as a seasonal offering! At this time, we don't have any plans to bring back peppermint mocha, but we'll make sure to pass along your feedback.

— Dunkin' (@dunkindonuts) November 9, 2018
One Dunkin' employee in Massachusetts, who had taken to Twitter to share the news and spoke to Boston.com on the condition on anonymity, said local franchises were informed a couple weeks ago that peppermint mocha would not be returning, but weren't given any explanation for the decision. The employee described their reaction as "heart break."
"We never found out why," the employee said. "It's up to corporate really what we carry every season for fancy donuts and swirls."
As the official Twitter account for the Dunkin's Cleveland-area restaurants recently revealed, the company is rolling out two other holiday flavors this year, including one brand-new swirl, cinnamon sticky bun. Tony Weisman, the brand's chief marketing officer, confirmed the forthcoming release in a statement Tuesday evening to Boston.com:
We're always looking to provide our guests with new, delicious coffee flavors. While Peppermint Mocha could certainly return in the future, this year we're excited to introduce a new Cinnamon Sticky Bun flavor and bring back the guest favorite White Chocolate flavor. Cinnamon Sticky Bun Coffee and Lattes inspire holiday cheer with the indulgent flavors of a warm sticky bun, including cinnamon with a hint of frosting. White Chocolate Coffees and Lattes combine creamy white chocolate and subtle vanilla flavors.
The Dunkin employee who spoke to Boston.com admitted that they did like the new cinnamon bun flavor, but added "it's no peppermint mocha."