Food
Why the most popular Valentine's Day candy won't be available this year
It all goes back to Necco.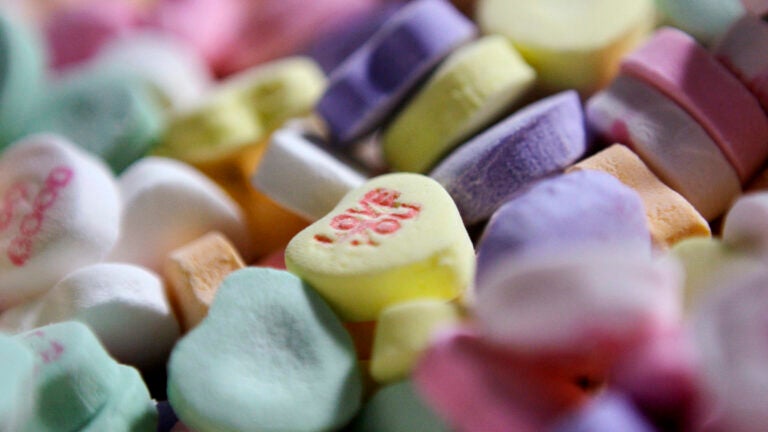 Valentine's Day will be a little less sweet this year without its most popular candy.
Sweethearts, the conversation heart candies inscribed with messages like "Be Mine" and "Crazy 4 U," won't be on the shelves this season, following the closure of New England Confectionery Company, otherwise known as Necco, last summer.
The 170-year-old Revere-based candymaker produced Sweethearts since 1886, reportedly churning out as many as 8 billion of the little sugar hearts each year. According the online bulk retailer CandyStore.com, conversation hearts became the most popular candy come Valentine's Day season in recent years, and Necco's Sweathearts owned 80 percent of the market.
But after declaring bankruptcy last spring, Necco abruptly shut down in July — laying off about 230 workers in Revere and subsequently selling off all of its different candy brands.
Sweethearts, as well the the company's iconic Necco wafers, were ultimately acquired by Spangler Candy Company, the makers of Dum-Dums lollipops and those orange marshmallow circus peanuts.
In September, the Ohio-based company announced it would be expanding its facilities as it added the two new product lines. However, that announcement came with a reluctant confession: Sweethearts would not be back in 2019.
"There are a lot of manufacturing challenges and unanswered questions at this point, and we want to make sure these brands meet consumer expectations when they re-enter the market," Kirk Vashaw, the CEO of Splanger, wrote in the September press release, which was deleted from the company's website Wednesday (but remains available via online archives).
"We look forward to announcing the Sweethearts relaunch for the 2020 Valentine season," Vashaw said.
The news of a Sweetheart-less Valentine's didn't appear to hit the public until earlier this week, after a CandyStore.com blog post predicted a drastic drop in conversation heart sales. By Wednesday, the news had gone viral, with multiple outlets declaring that "love" is "dead" or "cancelled" due to the unavailability of the little candy hearts.
However, Clair Robins, a spokeswoman for Candystore.com, says all might not be lost. While the owners of Sweethearts may not be selling them this year, Robins noted that the Illinois-based confectioner Brach's makes a similar line of conversation heart candies (though the company's recent Twitter mentions indicate that not everyone is satisfied with the alternative).
For those who are Sweethearts loyalists or "love the flavor and ethos of the brand," Robins said they could try to hunt down some of last year's stock online. That said, depending on the storage, the candy could expire or degrade, she noted. Alternatively, they could just wait until 2020.
"Me personally, I will be waiting for Sweethearts to come back," Robins said.