Food
Dunkin' is resurrecting a previously discontinued coffee flavor for St. Patrick's Day
Irish Creme is back.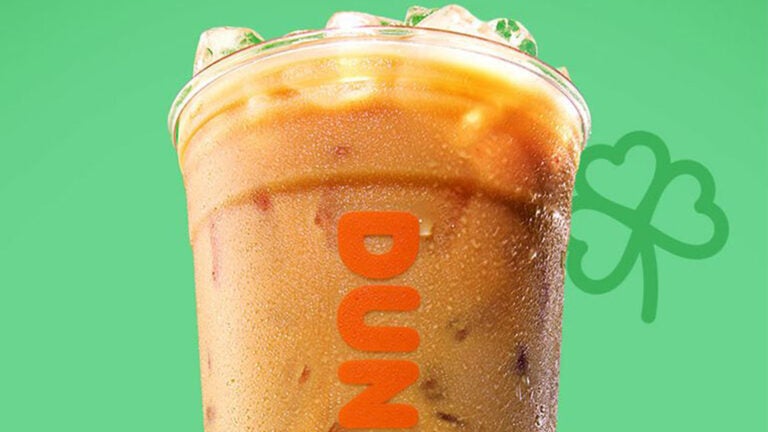 The wait is over.
For the first time in five years, Dunkin' is bringing back its vaunted Irish Creme coffee flavor swirl to sweeten this year's St. Patrick's Day. In a press release Monday, the Canton-based company said the liqueur-inspired flavor will be available at participating locations this March while supplies last.
Dunkin' debuted Irish Creme as a flavor to be added to its lineup of coffee and espresso drinks in 2013. However, it was unceremoniously discontinued in 2015 amid outcries from fans. At the time, Dunkin' said it "certainly might consider" bringing back the seasonal favorite. And in its announcement Monday, the company indicated that popular demand played a role in the return of Irish Creme, which it called "one of the most wished-for coffee flavors by the brand's fans."
The return of Irish Creme was even enough to placate certain customers stung by Dunkin's decision not to bring back its peppermint mocha this past holiday season.
announcement: i've forgiven this travesty because they brought back IRISH CREME!!!!!! ????? https://t.co/ldnEszmaTH

— andré? (@kassienj16) March 4, 2019
"March can be a long, cold month," Tony Weisman, the chief marketing officer for Dunkin' in the United States, said in a statement.
"What better way to give our guests an extra boost than by bringing back a beloved flavor of the season," he added.
For St. Patrick's Day, the company is also rebranding seven Dunkin' restaurants across the country Wednesday as "O'Dunkin'," at which the first 250 will be offered a free small hot or iced Irish Creme-flavored coffee or latte, while supplies last. It's currently unclear where the seven rebranded restaurants will be, but Dunkin' hinted Monday that it will be providing clues on its Instagram page.
Dunkin' is also bringing back its mint brownie donut — a square-shaped doughnut with mint brownie batter filling, light green colored icing, and crumbled brownie topping — for both the St. Patrick's Day and Mardi Gras seasons (Fat Tuesday is this Tuesday).
And through the rest of March, the company is switching its "happy hour" afternoon deal for $2 medium espresso drinks to a $2 medium iced coffee offer from 2 p.m. to 6 p.m. each day.