Food
Dunkin' is bringing back its fall menu a week early this year — with a new pumpkin drink
The Canton-based company is also rebranding eight stores Pumpkin' this Wednesday.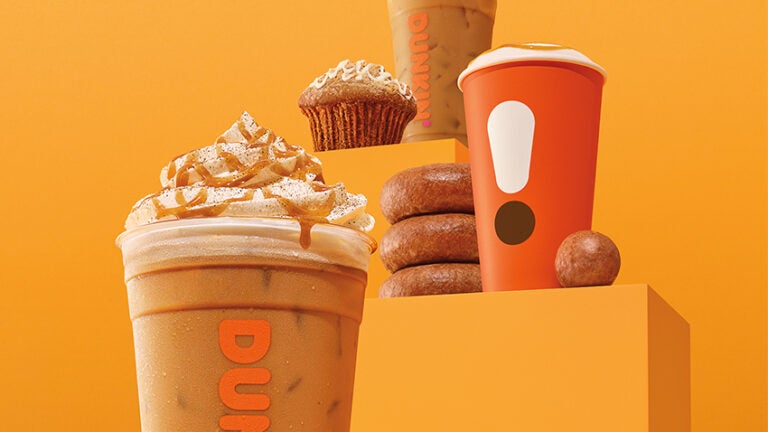 It's almost the middle of August, which means — love it or hate it — pumpkin spice season is back.
Undeterred by the summer weather, Dunkin' announced Monday that its fall menu will officially be available at restaurants nationwide by next Wednesday, Aug. 21, roughly a week earlier than in previous years and more than a month before the 2019 autumnal equinox.
According to the Canton-based company, the lineup includes the return of its pumpkin-flavored coffees, doughnuts, and muffins, as well as a few new seasonal items.
Building on this spring's release of their whipped cream-topped "signature lattes," Dunkin' is debuting a Cinnamon Sugar Pumpkin Signature Latte. Some might argue the name is redundant, since "pumpkin" drinks have, for years, predominantly consisted of cinnamon, sugar, and other spices, rather than pumpkin (and don't even get us started on "pumpkin" pie). But that's a conversation for another day, maybe one not in the dog days of summer. Available hot or iced, Dunkin's new espresso-based drink distinguishes itself from the chain's other sweetened pumpkin coffees and lattes by also adding cinnamon flavors, whipped cream, a caramel drizzle, and a cinnamon-sugar topping.
Dunkin' is also releasing new apple cider cake doughnuts and Munchkins this fall — but the real emphasis appears to be on pumpkin.
The company notes that sales for "pumpkin" flavored products increased 15.5 percent last year, according to Nielsen data, continuing a general years-long trend (ironically, sales for actual pumpkin spice fell more than 2 percent).
To really hammer home the point, eight Dunkin' restaurants across the country will be rebranded as Pumpkin' this Wednesday with new exterior signage and decorations. The rebranded Pumpkin' restaurants will also offer their first 250 guests a free small hot or iced pumpkin-flavored coffee, as well as free pumpkin-scented versions of their Munchkin lip balm.
For now, the company isn't saying which locations are getting the Pumpkin' treatment, though it did provide a hint: "The initial letters of seven of the cities and towns where the temporarily rebranded Dunkin's will be located spell out the word P-U-M-P-K-I-N-'."
And what about the eighth rebranded restaurant? In its Instagram story Monday morning, Dunkin' revealed the first location of a Pumpkin' rebrand would be at its 510 Southampton St. shop by the Andrews MBTA station in Boston.