Food
Necco Wafers are coming back, nearly exactly as they were before
The classic candy is coming back after a two-year absence.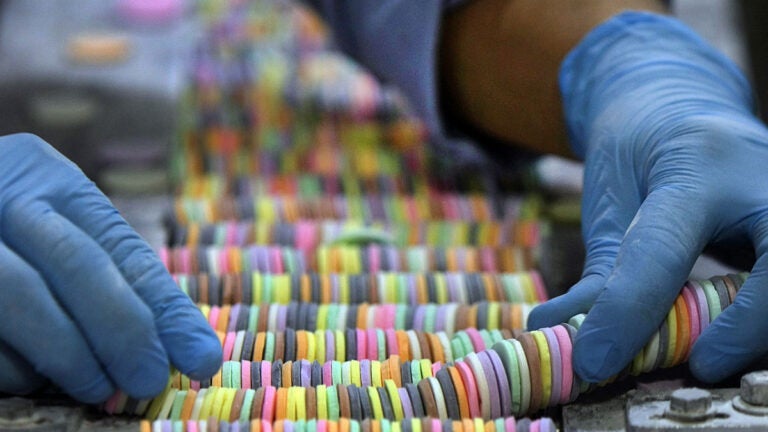 When reports circulated in 2018 that Necco and its famed wafers appeared to be heading to the big candy store in the sky, their most fervent fans stockpiled the iconic candy and readied for the beginning of the end.
But for those Necco survivalists out there chipping away at any remaining stash, there's now some good news to chew on: Necco Wafers will soon be back.
The beloved candy that once rolled out of the former New England Confectionery Co. factory in Revere is set to make a comeback following a two-year hiatus thanks to the Ohio-based Spangler Candy Company.
"Just when comfort food is experiencing a resurgence, Necco Wafers is back with that very kind of familiar, comfortable feeling we all seem to be craving," CEO Kirk Vashaw said in a statement. "We are delighted to bring Necco Wafers back into production and to share in their sweet return with fans old and new."
Spangler has resurrected the wafers, which date back to 1847, after purchasing the Sweethearts and Necco brands in 2018. Necco was put up for auction earlier that year and later closed its doors.
The midwest company says affectionados and sweettooths alike can expect essentially the same product they'd come to love all those years, from the flavors on down to the wax paper wrapper and recognizable logo.
According to Spangler, that means the eight classic flavors will grace store shelves again: lemon, lime, orange, clove, cinnamon, wintergreen, licorice, and chocolate.
If there's one caveat, it's this: Spangler says "true Necco Wafers connoisseurs may detect a richer cocoa flavor in the chocolate wafers due to a minor improvement made in the cooking process."
The wafers are expected to hit major drugstores in June, with other stores carrying them starting in July.
"We know fans have been waiting anxiously for the return of Necco Wafers and anticipate high demand," Vashaw said. "Our production lines will continue to run as fast as possible to keep stores in-stock."