Food
Where to find community fridges in Boston
These continuously stocked fridges in Boston provide mutual aid to residents of Boston facing food insecurity.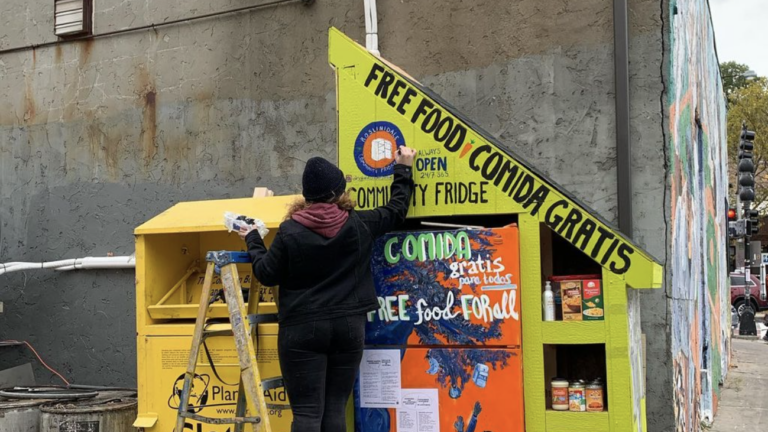 Last year saw an increase in food insecurity nationwide, as the pandemic ravaged communities already underserved. In response, a type of mutual aid sprung up in neighborhoods far and wide — community fridges.
These outdoor fridges, usually in a shed with shelving, are always open and always stocked with donations of refrigerated and pantry foods (and sometimes household items).
Fridges across the country operate on the motto "take what you need, leave what you can."
Arielle Goldhaber, an organizer with the Roslindale Community Fridge, explains that community fridges don't use a charity model, but rather a mutual aid model — one in which neighbors are constantly helping one another.
"The idea of sharing, not giving, changes the timeline of access to food and resources," explained Goldhaber. "Sharing is 'constant,' sharing is 'whenever possible,' sharing is 'this shouldn't go to waste,' sharing is 'someone else could use this.'"
Community fridges' most valuable facet is their accessibility, says Laura Graham of the South End Fridge. "They're available seven days a week, 24 hours a day," she said. "No ID is needed, unlike most food pantries."
Local community fridges are completely volunteer-run, and combat the issue of food waste along with food insecurity. But most crucially, they aim to be comfortable spaces for anyone to visit.
"More than food and supplies, we want to provide respect, autonomy, and flexibility for when life happens," said Goldhaber. "We do not aim to 'other' our neighbors who visit the fridge."
Below are a handful of community fridges in Boston.
Roslindale Community Fridge
1 Firth Road, Boston
For a little over a year, the Roslindale community fridge has been in the parking lot of the Roslindale Market. They accept volunteer signups through their Instagram page, and they also have a physical booth at the Roslindale Farmers' Market. They're currently hosting their second annual turkey drive, details of which can be found on their Instagram. They welcome both food and monetary donations — but no raw meat, seafood, or home-cooked meals.
South End Fridge
549 Columbus Ave., Boston
Since March 2021, the South End fridge has been operating from Columbus Avenue in front of Make Shift Boston. The fridge is monitored by volunteers three times daily, and they do accept raw meat and home-cooked meals, if the meat is stored in the freezer and the meals are labeled with ingredients and expirations dates.
Earthy Boston – Fenway Fridge
506 Park Drive, Boston
For almost exactly a year, Earthy Boston has operated in Fenway in front of Mei Mei Dumplings on Park Drive. Organized by @earthyari, the fridge features an adjacent pantry area and doesn't accept raw meat or homemade food, although they do welcome meals prepped by licensed kitchens that are clearly labeled.
Symphony Interfaith Fridge
70 St. Stephen St., Boston
Northeastern University Mutual Aid organized the Symphony fridge this year with the help of multiple spiritual organizations on campus, like Northeastern Hillel, Israel Campus Roundtable, and the Catholic Center at Northeastern University. They don't accept meat, seafood, or alcohol, while they do accept clearly labeled meals donated by restaurants.
Jamaica Plain Community Fridge
672 Centre St., Jamaica Plain
The community fridge in Jamaica Plain was one of the founding fridges in the Boston area, inspired by similar fridges in other parts of the country that sprang up in response to the pandemic in spring of 2020. They're one of the five Boston fridges partnering with Katsiroubas Produce, a supplier based in Hyde Park, to receive weekly produce deliveries.
Mattapan Community Fridge
1290 Blue Hill Ave., Boston
Opened last winter, the Mattapan fridge is located by Café Juice Up on Blue Hill Avenue, which provides the fridge's electricity. Besides the standard food items, they welcome other products like toiletries and household goods.
Somerville Community Fridge (Winter Hill and Union Square)
35 Prospect St. and 36 Sewall St., Somerville
Somerville has two fridges—one in Winter Hill on Sewall Street, and one by Union Square on Prospect Street. Along with food, pantry, and toiletry items, the fridges welcome donations via Givebutter, the link to which can be found on their Instagram.
Fridge in the Square – Harvard Square
45 Mt. Auburn St., Cambridge
Harvard's Fridge in the Square, originally in front of the Sinclair, was moved over the summer to a location on Mount Auburn Street, now sitting in a newly built shed/pantry. They prefer donations of pantry items like beans and bread, and ingredients like fresh produce or eggs, rather than fully cooked meals.
Coast Community Fridge – Riverside, Cambridge
5 Callender St., Cambridge
The Coast community fridge is operated by Cambridge City Growers, a group dedicated to food sovereignty and working to organize urban farming in the Cambridge area. This is one of the few fridges that does allow raw meat, but only in the freezer.
Bridge Fridge – Cambridgeport
157 Windsor St., Cambridge
Located at Cambridgeport's Goree Freedom House, the Bridge Fridge is operated by an organization called Community For Us, By Us, a collective of Black/Brown youth in Cambridge which aims to provide community aid.
All/Bright Community Fridge
243 Faneuil St. and 404 Washington St., Brighton,
The Allston/Brighton area has two fridges: one at Oliveira Deli Market, and one at the Brighton Congregational Church. They've been operating for over a year, and this Halloween, the fridges were stocked with special Halloween goodie bags (though they're usually brimming with fresh produce).
Brookline Community Fridge
7 Station St., Brookline
Located in a colorful shed in Brookline Village, this fridge is hosted by Brothers & Sisters Co. café. They're always looking for volunteers and donations like produce, pantry items, and prepared and labeled meals.
Newsletter Signup
Stay up to date on all the latest news from Boston.com