Food
How to safely get a cannoli through airport security
Because at least one person could have used this information before getting to Logan.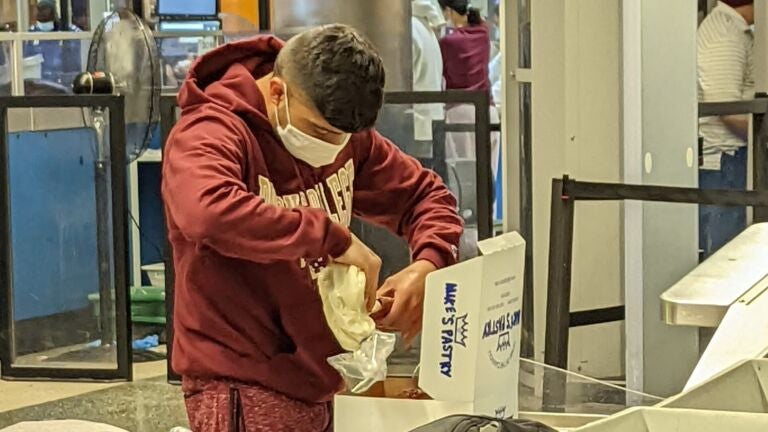 The debate over where you can get the best cannoli in Boston has been ongoing for decades. From Mike's to Modern to Bova's, everyone has their pick.
But the TSA doesn't care. As long as the cannoli are already filled.
That is what one traveler found out on Monday night, as he presumably tried to board a flight at Logan Airport with a bag of cannoli cream and empty cannoli shells.
Soon — likely after being informed by TSA officers that the large quantity of cannoli cream was prohibited on flights — he found a loophole to bring Boston's beloved Mike's cannoli aboard. If he filled the cannoli shells individually, then the ricotta filling would be dispersed into small enough values to carry on the plane.
"I had the perfect view," said Matt Catagnus, who was in the TSA line as the cannoli fiasco unfolded. "Right there — it's the Mike's pastry box, it's a kid from Boston College, and it's just so bizarre."
So rather than dumping the decadent pastries in a Logan Airport trashcan, the boy in the Boston College sweatshirt turned the TSA screening table into an impromptu bake line.
Catagnus captured the latter half of this incident on video around 6 p.m. as the cannoli man got to work individually piping cannoli after cannoli next to the TSA screening line.
"It was just one of those things like your brain takes a full minute to comprehend what's going on… as I stared longer, I realized that he's filling every single cannoli and gently arranging them back in the box," Catagnus said. "It was one of those moments where I'm like, 'This needs to be recorded.'"
According to the TSA's website, "creamy cheese" is prohibited from carry-on travel in quantities over 3.4 ounces or 100 milliliters. Solid cheese, however, is approved.
"The filling is more than likely ricotta cheese. We have rules for creamy cheese," Daniel D. Velez, spokesperson for the New England TSA wrote in an email. "More than likely he was told he couldn't bring the entire pouch full of creamy cheese through."
The traveler was likely carrying a "Mike's Famous Cannoli Kit" which can be purchased at Mike's Pastry for $50. The kit includes 10 cannoli shells, a choice of plain ricotta cheese or chocolate ricotta cheese filling, with chocolate chips, pistachio nuts, and confectioner's sugar as toppings.
While Mike's Pastry's website does not specify how much ricotta filling is packaged in the kit, Velez noted it is likely over the 3.4-ounce limit.
Other foods have similar rules where they are allowed in solid form but not in liquid form. Chocolate and coffee (beans are fine, brewed is not) are other examples.
Regardless, Catagnus' video quickly went viral on Twitter and Instagram on Tuesday night: As of Wednesday, the video has over 155 thousand views on Twitter.
By the time Catagnus left the security area, the traveler had filled at least six cannoli. The whole time, Thanksgiving travelers made their way around the makeshift bakeshop.
"That was almost also the zen-ness of it — just the river flowing around this kid," Catagnus said. "All just accepting this is happening."
While the traveler in the Boston College sweatshirt has yet to be identified — and the world may never know if his piped cannolis made it home safely — at least we learned something about traveling with cream-filled pastries.
"Everybody was a good sport," Catagnus said. "I hope that worked out for him."
The cannoli lovers of Boston hope so too.
Newsletter Signup
Stay up to date on all the latest news from Boston.com