Local
Supply chain problems affect new flavor of Girl Scout cookie
The impact should be temporary, but you might find Adventurefuls hard to get in certain areas of the state.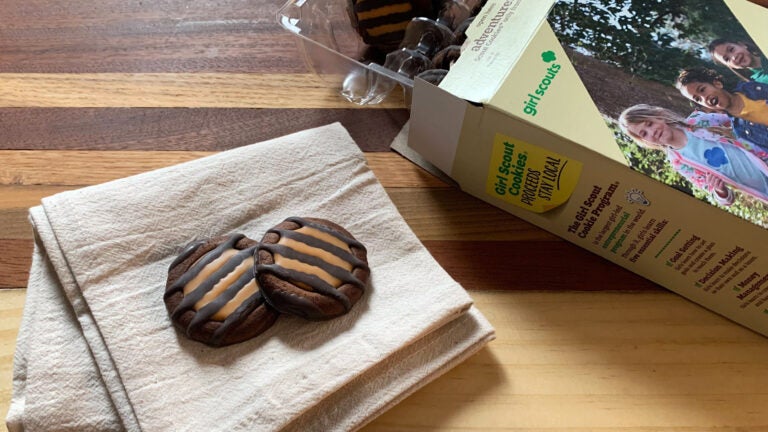 Reports of a supply chain shortage impacting Girl Scout cookie season caused some worry for fans of the beloved sweets, but there's no cause for concern says a spokeswoman for the national youth organization.
News broke earlier this week that some Girl Scout councils in other parts of the country were seeing the impact of a supply chain shortage facing one of the two bakers of the Girl Scout cookies.
In Massachusetts, that baker supplies cookies to the Central and Western Massachusetts Council. However, the organization said the problem should be temporary.
The national Girl Scouts organization partners with ABC Bakers and Little Brownie Bakers to supply cookies. In Massachusetts, the Eastern Council uses ABC Bakers and the Central and Western Council uses Little Brownie Bakers.
Like many other companies, Little Brownie Bakers is facing a labor shortage, explained Kelly Parisi, head of communications for Girl Scout of the USA.
The shortage pertains to the newest cookie flavor, called Adventurefuls. Since cookie-selling season began late last year, it's been a big hit and is getting good reviews from cookie consumers.
The cookie is described by the Girl Scouts as an "indulgent brownie-inspired cookie with caramel-flavored crème and a hint of sea salt."
While the two bakers create similar cookies in look and taste, they can choose their own names and packaging for the products. Both bakers sell Thin Mints, and this year both are offering Adventurefuls.
In an email sent to members Wednesday night, the council highlighted the popularity of the new cookie and the successful sales — as well as the unlucky result.
"Unfortunately, with success comes challenges; and our challenges relate to the newly popular Adventurefuls. Unfortunately, our baker is still experiencing supply chain issues with our newest cookie," the email read.
ABC Bakers was able to take over production of the Adventurefuls and fill in the shortfall, Parisi said.
However, in their email on Wednesday, the Central and Western Council notified members they were enacting a "temporary hold" on the product in order to ensure there are enough cookies to last for the season and to "mitigate a demand crisis."
The council is temporarily stopping customers from being able to order Adventurefuls for in-person delivery only through a girl's online cookie site.
Starting next week, troops also temporarily won't be able to pick up boxes of Adventurefuls to sell at cookie booths or in door-to-door sales. Adventurefuls can still be ordered online and shipped directly to a customer for a fee.
Sales of Adventurefuls are now capped at 7 percent of what they gave as their forecasted sales before cookie season began.
"Please understand that this is a temporary hold on Adventurefuls and GSUSA is working with our baker to get additional Adventurefuls," the e-mail read.
Parisi said Thursday that none of the other cookie flavors are impacted by the labor shortage.
"The only cookie that we had any issue — and a small issue at that — was the Adventureful," she said.
The other Girl Scout council in the state, Girl Scouts of Eastern Massachusetts, and ABC Bakers, are not facing any shortfalls, according to a spokeswoman.
"[We are] not being affected by the supply issues for the new Adventurefuls," Stacy Wilbur, senior director of external relations wrote in an email. "The cookies are doing really well in our market and account for about 11 percent of our cookie sales."
Parisi said new flavors always generate excitement, but agreed Adventurefuls are even more popular than expected.
"I think it's really struck a cord," she said. The flavor combination — brownie, caramel, and sea salt — is delicious, Parisi said — and customers respond to the playful, happy name as well.
Parisi said the Girl Scouts usually release a new flavor each year and the choice is made in collaboration with their bakers. Sometimes the release of a new cookie means another may have to be retired.
"We try to keep the varieties at a limited amount," she said.
The Girl Scouts of Central & Western Massachusetts consists of 8,500 girls and 4,100 adult members from 186 cities and towns. The council serves Berkshire, Franklin, Hampshire, Hampden, and Worcester counties and a small part of Middlesex County.
Newsletter Signup
Stay up to date on all the latest news from Boston.com