Food
Takeout restaurant Johnny Pomodoro opens in Charlestown
The homestyle menu includes comfort foods like pizzas, meatballs, and subs, along with seasonal salads and tons of gluten-free options.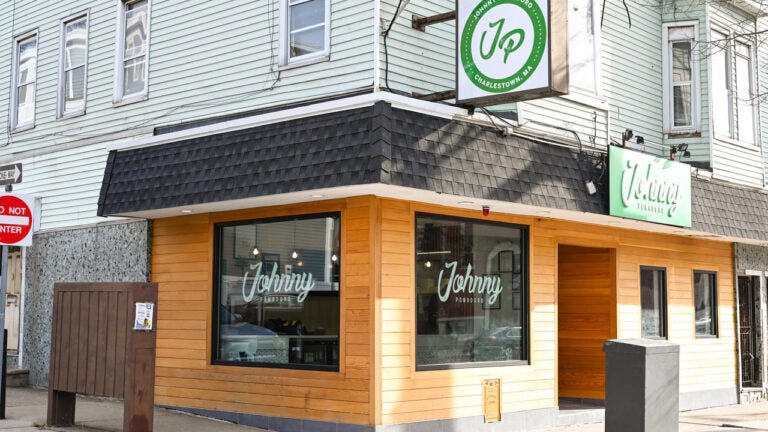 Chef Johnny Burke recently opened Johnny Pomodoro, a takeaway homestyle Italian spot in Charlestown. The restaurant takes over the former New Speedy Chen's location at 297 Main St.
Burke also owns and operates Johnny Burke Catering & Events, which used to run Johnny's Takeaway in West Roxbury.
The homestyle menu includes comfort foods like tray pizzas, meatballs, and subs, along with seasonal salads and tons of gluten-free options.
After working in the Boston fine-dining scene for over a decade for renowned chefs like Barbara Lynch, Burke officially launched his own full-service catering company in 2017. Johnny's Takeaway operated out of their West Roxbury spot from 2018 until recently, getting creative to stay open during COVID-19 shutdowns.
They had the advantage of the takeout boom during those indoor months of 2020. But "we were thinking, 'How can we get everyone to eat with us weekly?'" said Burke. "So every week we changed the menu."
Johnny's Catering launched new pop-up concepts every week—Johnny's Smokehouse, Johnny's Cantina, and Johnny Pomodoro among them.
"Johnny Pomodoro was the one we loved doing the most," said Burke. "It brought out the most clients and we loved cooking it," he said, so they started looking for a permanent spot for the operation.
When the team found out about the available space in Charlestown, "It just felt right," said Burke, noting that the neighborhood's small restaurant scene means they can be part of a community of customers whom they get to serve regularly.
Their Main Street corner location with soaring windows makes for a bright and inviting space—and they even added a third window on the corner of the building that wasn't historically there.
"If you're not stopping in, we hope we get a wave," said Burke.
"We do what I call grandma's-style tray pizzas," said Burke. They serve a kind of thick, rectangular Sicilian pizza, crunchy on the outside and fluffy on the inside. Burke's other favorites include their salads, which are large and seasonally inspired, and their cheesy garlic knots.
Their menu isn't huge, but it hits all the sweet spots—starters like meatballs, a few subs and pasta dishes, a handful of kids' offerings, and cookies for dessert.
They have an impressive gluten-free lineup, including mozzarella sticks, sandwich bread, and, of course, pizza. All of their pasta is gluten-free, and they keep one fryer and one pizza oven completely gluten-free to avoid cross-contamination.
Johnny Pomodoro is takeout only, with a bench inside for waiting but no formal seating. They're open for lunch and dinner daily, 11 a.m. to 10 p.m. seven days a week.
Burke says they plan to open up other takeout spots in the future, likely along the lines of Johnny's Cantina or Johnny's Smokehouse, so their team members have better job stability, said Burke, citing the craziness of the food service industry during the early COVID-19 days. Johnny's Takeaway was fortunate to stay in business those days, added Burke, and even more fortunate to hire some new employees who were out of work at the time.
He encourages folks to stop in and say hello if they're in the area.
"Charlestown's a really cool neighborhood and we're just excited to be a part of it," said Burke.
Newsletter Signup
Stay up to date on all the latest news from Boston.com