Local
The giant Home Depot skeleton is helping raise money for St. Jude Children's
The viral 12-foot-tall Halloween decoration has become the center of a grassroots fundraising operation.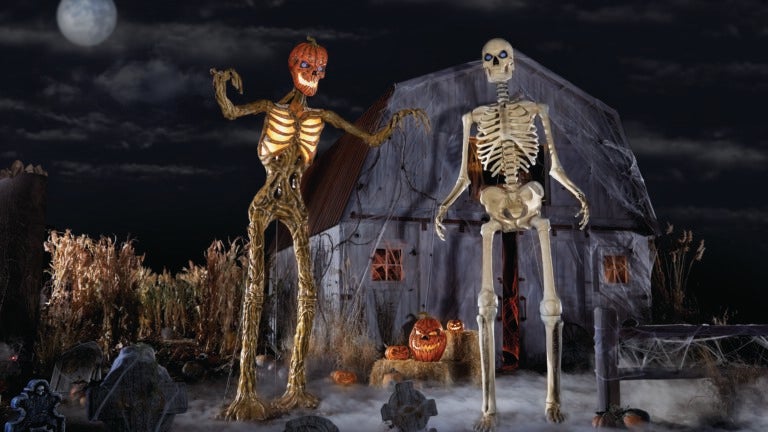 Lisa knew the skeleton was big.
But she only fully grasped how large the Halloween decoration was when she couldn't fit the boxed skeleton inside her Toyota RAV4.
"It's in a humungous box and I can fit amazing things in my RAV4," Lisa O'Connor from Billerica said. "But not this."
But O'Connor was determined to bring the 12-foot tall skeleton home after the now-viral decoration sold out instantly last year. For the entire month of August, she called her local Home Depot every week to see if the skeleton shipments had arrived. Now, it was Labor Day and an employee was helping her tie the giant skeleton to the roof of her car like a Christmas tree.
For over a year now, the 12-foot Home Depot skeleton has become a spooky sight for young kids and a viral sensation for adults. Across Massachusetts and the country, the giant skeleton is the prized possession of spooky lawn graveyards, local haunted houses, and Halloween fanatics.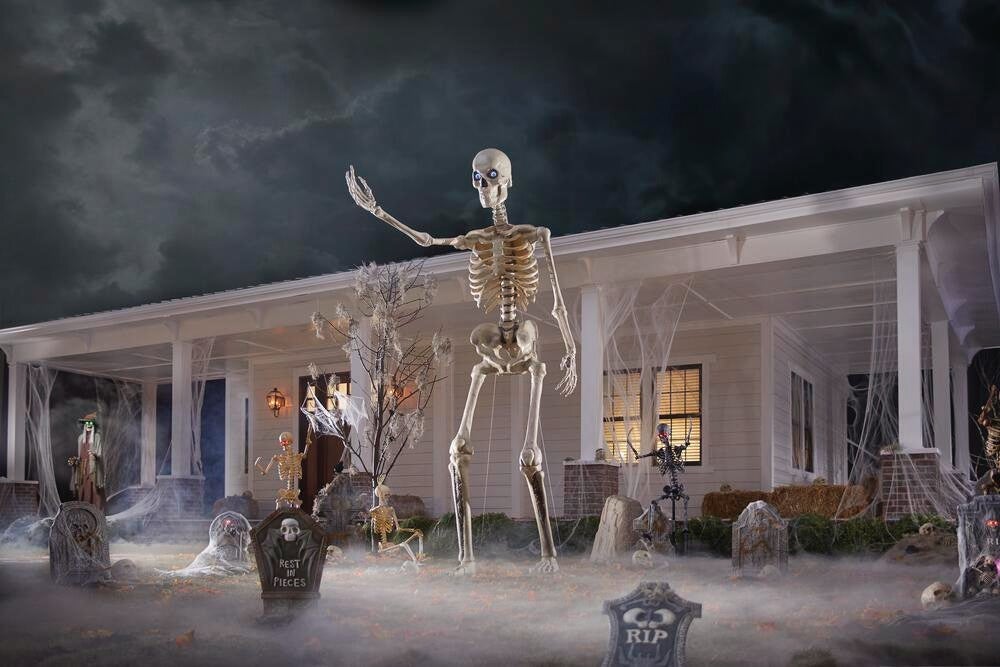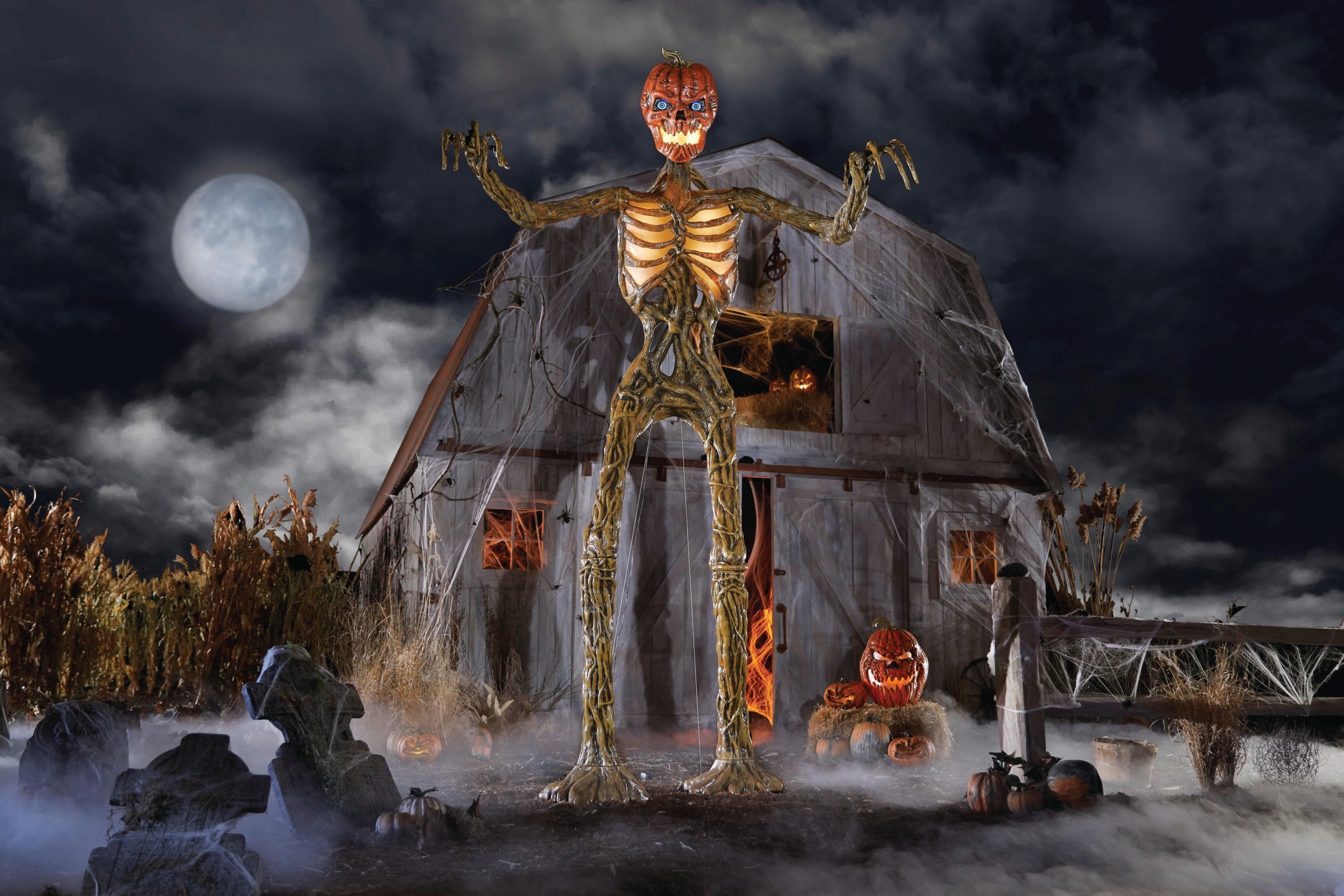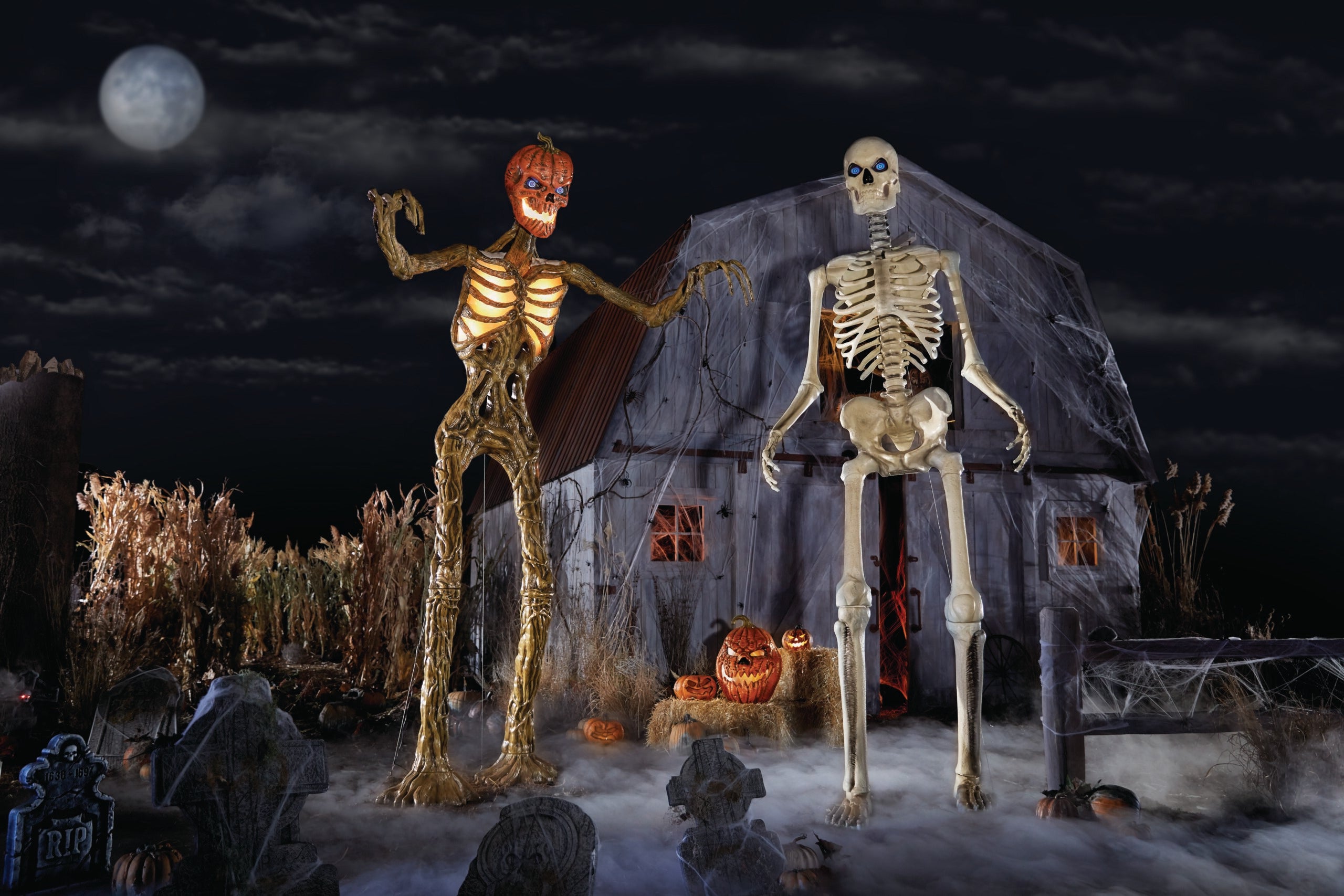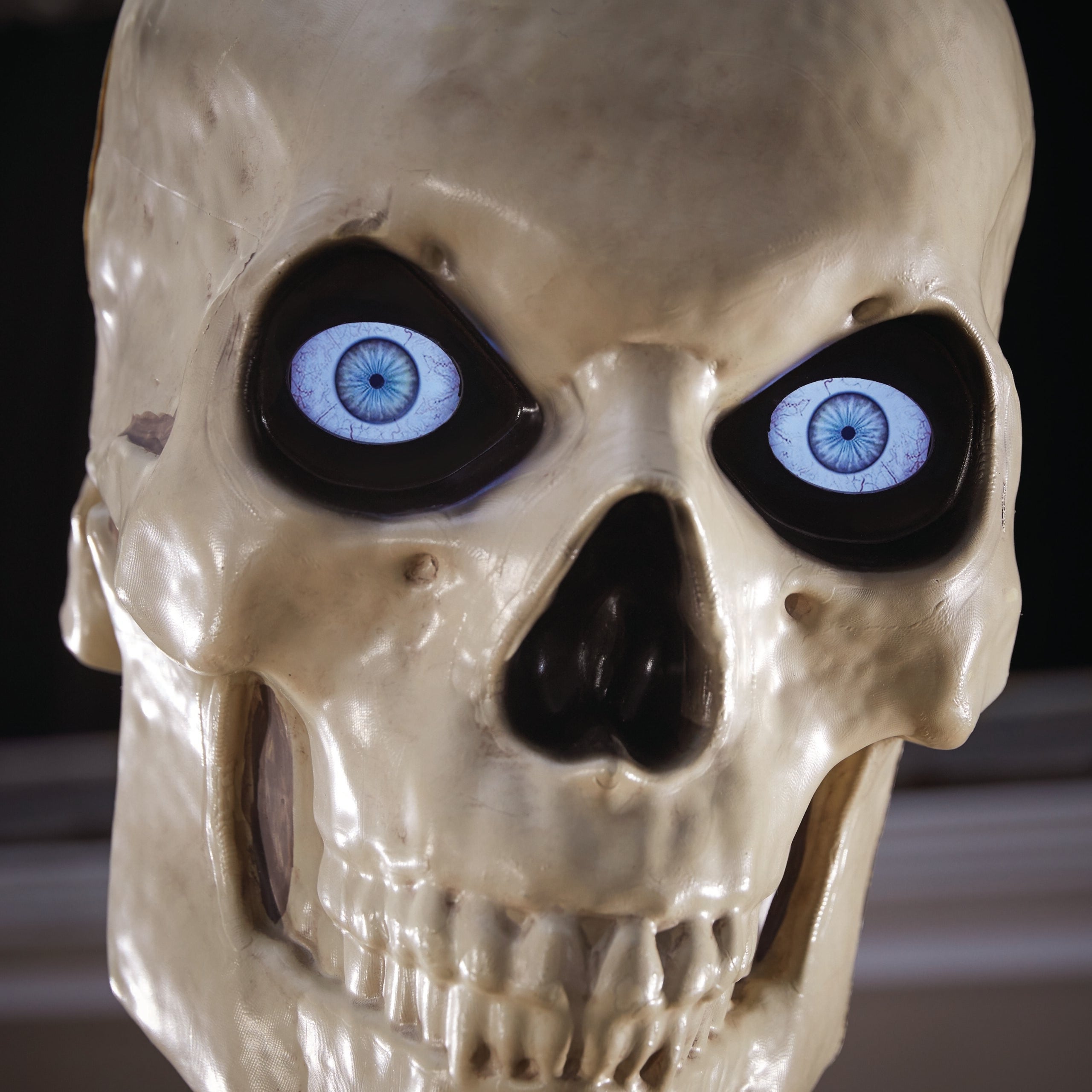 This year, a new fundraising element has been part of the creative displays, and what started as a single lawn fundraiser has spread across the country.
In North Carolina last year, Jeff Robertson set up his 12-foot skeleton — along with over 30 regular-sized skeletons — in an elaborate display for his kids that quickly got the attention of local media. Wanting to take the spotlight off himself and focus on something bigger, he made a sign asking viewers to donate towards St. Jude Children's Research Hospital.
"We talked to our kids about how we can raise some money so we can get more kids that are sick in the hospital out, and they can see cool stuff like this," Robertson said. "That night we started a fundraiser thinking we make maybe a couple hundred bucks, and then less than 30 days later, we had made $1,195."
Wanting to expand the "Skeletons for St. Jude" fundraiser, Robertson reached out to Jennifer Corcoran, the organizer of a popular Facebook group dedicated to finding and displaying 12-foot Home Depot skeletons.
People got creative with their fundraiser displays. Corcoran, who managed to get a second 12-foot skeleton this year, had a neighbor make giant custom "Dumb & Dumber" tuxedos for her skeletons.
In Massachusetts, O'Connor — after successfully transporting the skeleton home — set up an army of skeletons around her 12-foot skeleton (who she named Hank) and the St. Jude's sign. Chiropractor Dr. Jason Miller set up a fundraiser at his office in Attleboro where the top half of the 12-foot skeleton sits next to the bottom half to keep it from going through the ceiling tiles.
Nelson Bairos in Franklin, who regularly makes elaborate moving displays for Halloween, tinkered with his skeleton so that it can talk and move its head. He even uploaded instructions on how he did it so others could animate theirs as well.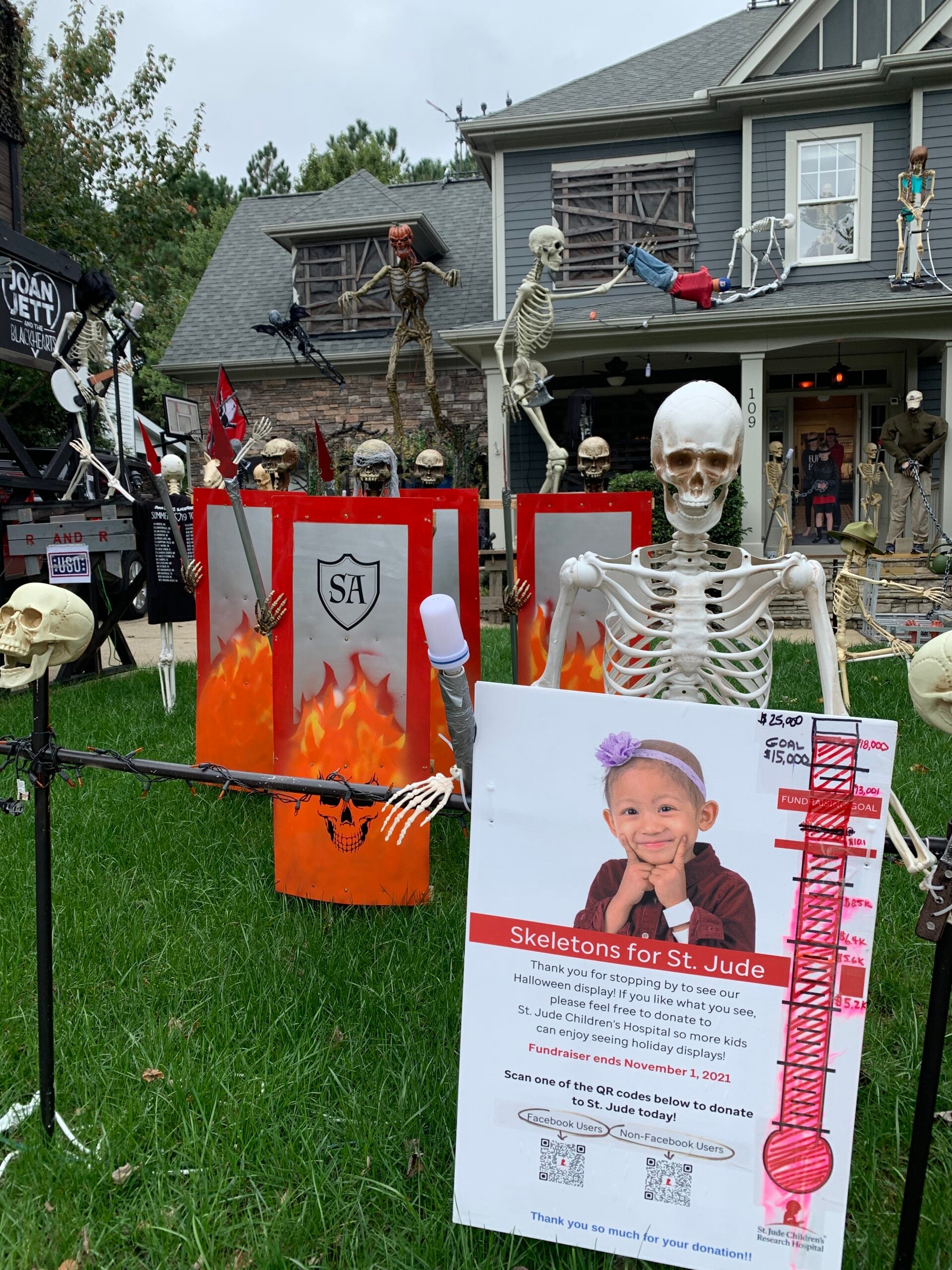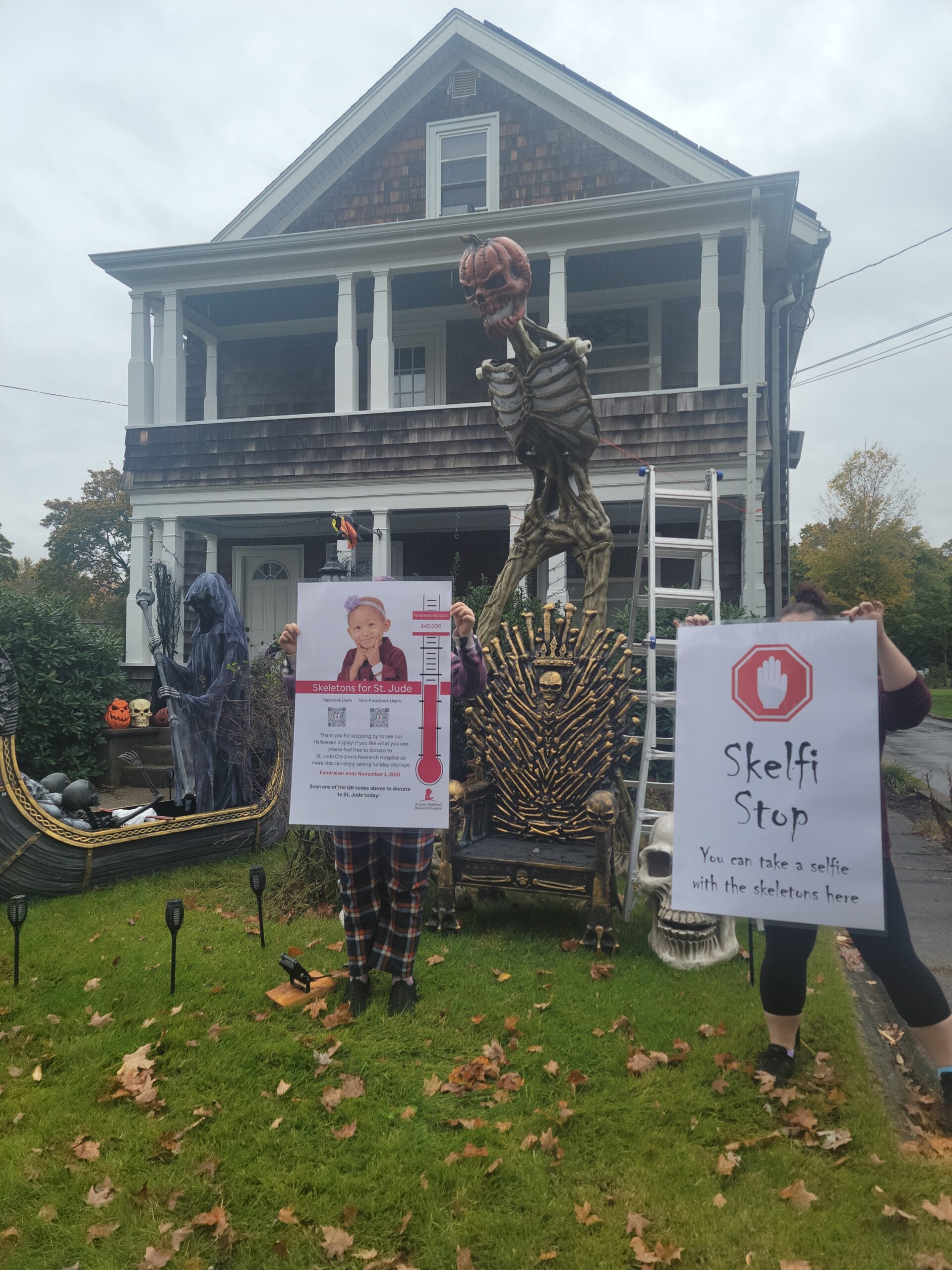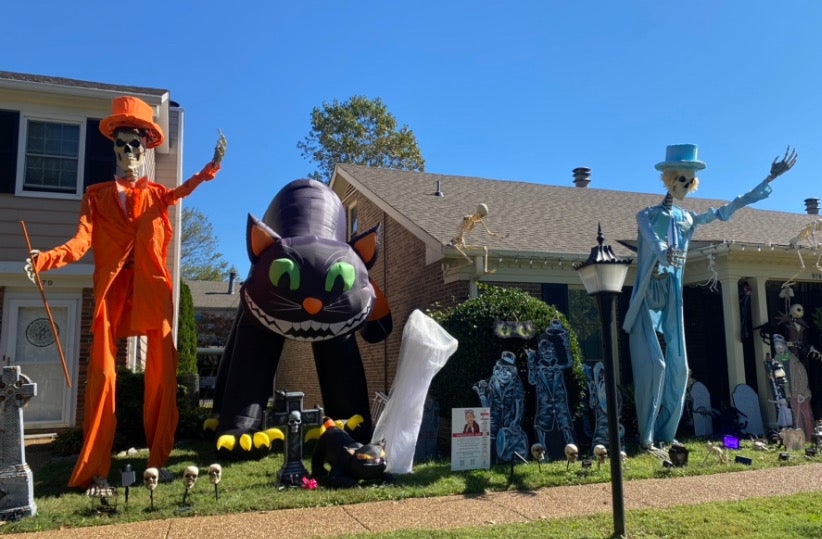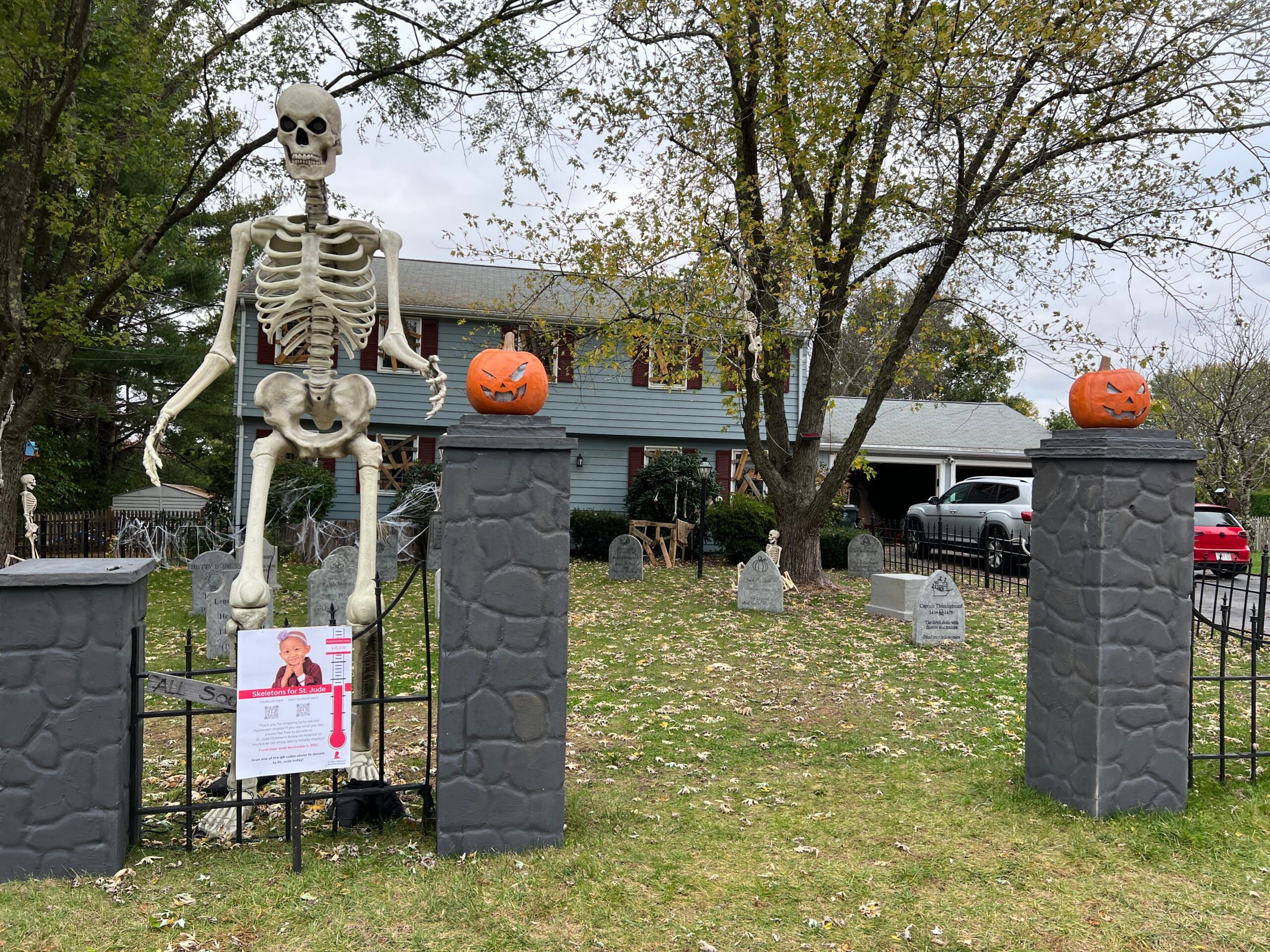 As houses in Massachusetts and across the country participated, the fundraiser quickly surpassed the $45,000 goal, inspiring Home Depot to get involved. The home improvement superstore matched the $45,000 goal.
Heading into Halloween weekend, the fundraiser has raised over $100,000 across more than 335 participating houses — from Alaska and Hawaii to Massachusetts. You can see all the participating houses in a virtual map set up by Robertson.
"What we try to do with all these items is we just want people to have fun with their friends and family," Lance Allen, Decorative Holiday Merchant at The Home Depot said. "Then they see our skeleton out there and one for a good cause like this, it was it was amazing to see."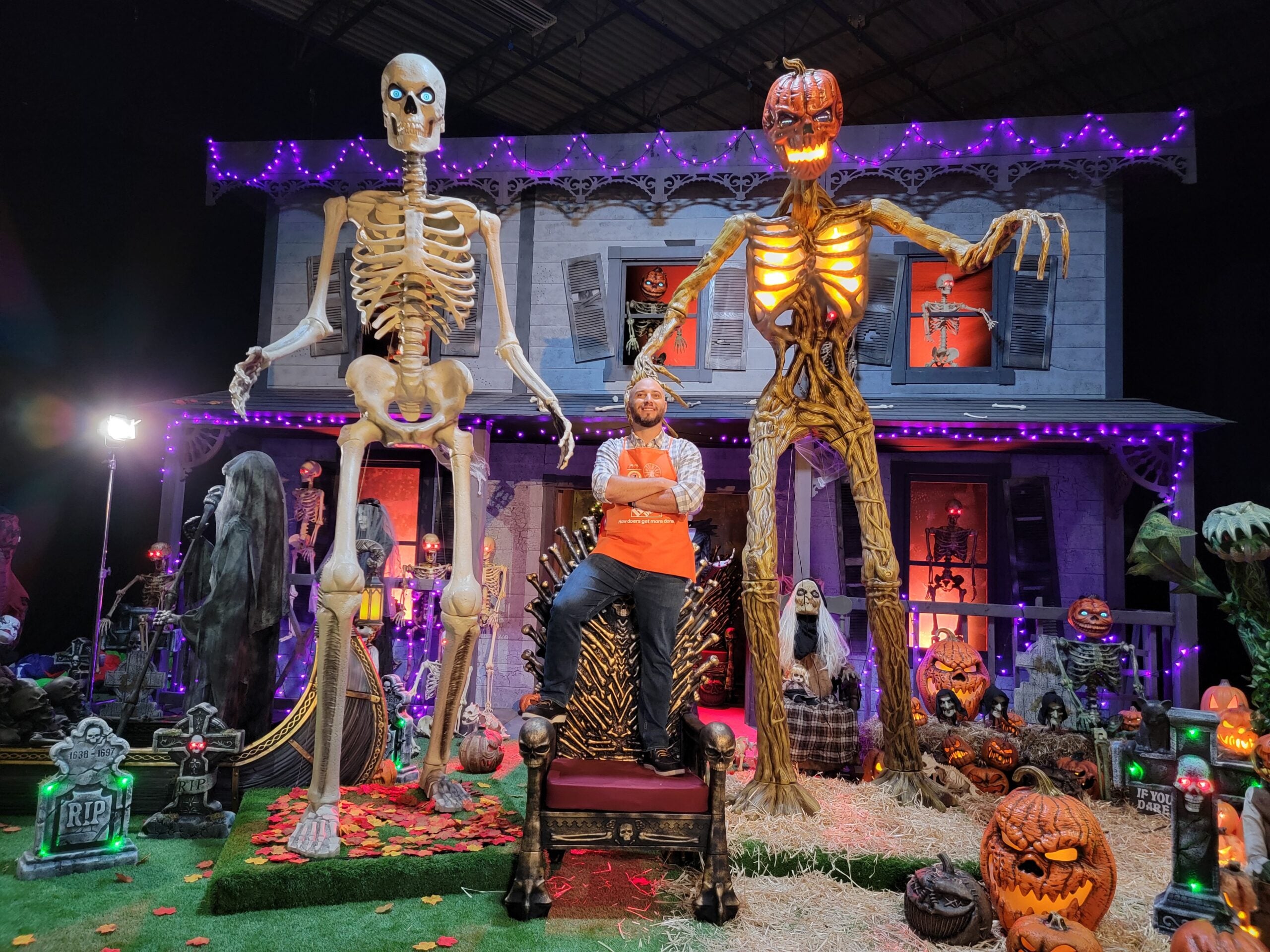 Allen was part of the team that created the 12-foot tall skeleton, which his team now refers to as "Skelly." The idea started when he saw a $1,000 giant skeleton at a trade show and wanted to make an affordable commercial option.
"It was like, 'let's make it as tall as two grown men standing on top of each other,'" Allen said. "That's where the 12-foot idea came."
Allen said he knew his 12-foot skeleton was special, but never expected the huge response on social media and across the country.
"What I love about all the Skeletons for St. Jude is just how I'm seeing it everywhere around the country," Allen said. "We've seen him out in LA, we've seen it in Ohio and Indiana, so I love how it's just pulled our customers and Skelly fans together around the whole United States."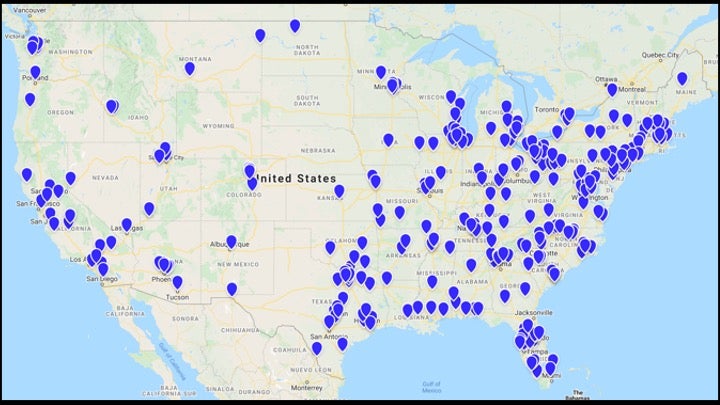 And while this Halloween season is approaching its end, the skeleton craze and the fundraiser look to continue in the future.
Locals like O'Connor and Miller want to make their displays bigger next year. Robertson and Corcoran plan to expand the fundraiser and track the funds raised at each house. While Allen couldn't say what towering lawn decoration will be around next year, he said they have already started the planning process.
Newsletter Signup
Stay up to date on all the latest news from Boston.com