Local
WATCH: A World War II veteran plays Taps for trick-or-treaters in Dover, N.H.
"I don't think I've ever heard a fade out like that. The look on his face was just priceless, it was almost like he was more excited to have them there than they could realize."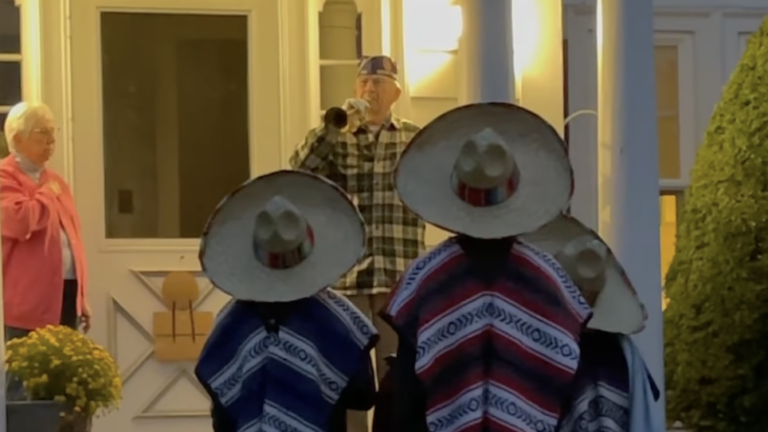 When trick-or-treaters rang the doorbell at Jane Ann and George Sherwood's home in Dover, New Hampshire Sunday night, the couple didn't have any candy to give out. But, to offer something, World War II and Korean War Navy veteran George, 94, serenaded the watching family with a haunting rendition of Taps.
The moment itself was sweet, but the story behind why George plays Taps is even more moving.
The wholesome encounter was caught on video by Dover resident Elena Duguay Morton, who posted it in the town Facebook group. The reaction has been overwhelmingly positive, with many people commenting that it made their day or brought them to tears.
"It's really cool to see our community come together and love on this man and his family," she told Boston.com. "It just makes you so proud."
Duguay Morton was out with her parents and kids, and their neighborhood friends, Sunday evening. The kids didn't really know what Taps was, she said, but Jane Ann explained a little about it as George got ready. Taps is a signal traditionally played on a bugle that now concludes military funerals and is sounded at memorials and cemeteries, according to the U.S. Department of Veteran Affairs.
"He came out with his cap on and his white gloves…he was really doing it the proper way," she said. "He did the call of attention and played Taps – which was amazing, I don't think I've ever heard a fade out like that. The look on his face was just priceless, it was almost like he was more excited to have them there than they could realize."
Another group walked up as he was playing, and when Duguay Morton's group left, she could hear him playing again from down the street.
How George learned Taps
Jane Ann, 87, told Boston.com George has taken to playing Taps every night at 6 p.m.
"He's almost 95, so it's kind of keeping him going," she said.
Taps has a special place in his heart and history, though. George learned Taps in the Boy Scouts before he quit school and joined the Navy at age, Jane Ann said. He was in the Pacifics through the "big battles" working as a signalman on a minelayer, the USS Terror.
"At one point in Okinawa there was a group of marines who were landing and they got hung up on a reef and they were all shot," Jane Ann said. "They took them all aboard his ship…they had to put them all in bags and a block between their legs so they would sink, and they were looking around for who could sound Taps. He learned it in the Boy Scouts… he did know how to do it but not very much, but they said, 'Sherwood knows how to sound Taps.' So, he did sound Taps while they had the burial-at-sea for these 30 marines. It was quite a thing for 17-year-old."
Over the years, George and a friend, who served as a marine, would visit different cemeteries to play Taps at the gravesites of fallen friends. When his friend couldn't do it anymore, Jane Ann would take George around after she retired. The two have been married for 63 years.
"We don't alert a lot of people when he does it locally at the cemetery because it's good, but he's not perfect like they are today, but he does it and it's fine," Jane Ann said. "He will sound Taps at the Pine Hill Cemetery in Dover on Nov. 11. We wait for the First Parish clock to ring eleven times and I signal him to start – at the Grand Army Republic Monument."
Bringing the town together
Like many who watched the video, Duguay Morton was deeply moved and was happy to add a little more positivity to the town Facebook group.
"I think Dover itself is really passionate about its community," she said. "This instance just moved me so much. I honestly think it was the look on his face when he came out the door, it was just pure happiness and excitement to be able to play for these kids. His face alone just made me happy and inspired me to share that with our community to say, 'Look what we have in our neighborhood.'"
Newsletter Signup
Stay up to date on all the latest news from Boston.com