Health
Everyone With Autism Isn't the Same
'If you know one person with autism, you know one person with autism.'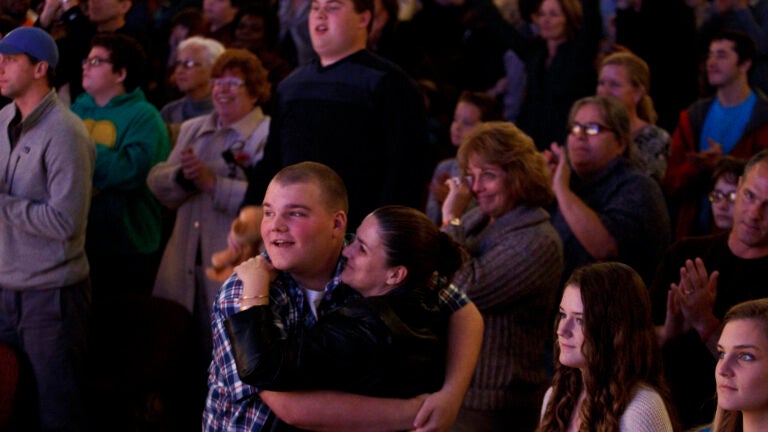 What image does the word "autism'' conjure?
Going off of media portrayals (Max Braverman on Parenthood or perhaps Sheldon on The Big Bang Theory) the general public may think of a person on the spectrum as socially inept, resistant to change and easily overwhelmed by stimuli.
For those who engage with someone with autism on a daily basis, however, that image is far less simple.
With 1 in 68 children being diagnosed with autism, according to the Centers for Disease Control and Prevention, the push for awareness is stronger than ever. April is Autism Awareness Month, and on April 2, cities around the globe participated in #lightitupblue to draw attention to the disorder.
Though the public's grasp on the statistical or behavioral elements of autism may be increasing, a stigma still exists.
To get beyond the label, Boston.com asked those who work, live, or interact with people on the autism spectrum to share stories about the special impact people with autism have made on their lives.
Russ Kenn
Executive director, New England Autism Speaks
"People don't know much about autism itself. They're surprised about how much talent people with autism have, how qualified they are for jobs. The only thing that can set them back is some social skills or office etiquette. That can get in the way, but the more awareness we do, that can be overcome.''
"Don't judge. Everyone has something to offer, and everyone expresses themselves in different ways. And different is certainly not less. The more you take time to get to know someone with autism, I think you learn a lot about communication. It's not only through verbal means. Everyone has a gift to give and sometimes it's not always right on the surface.''
Sue Loring
Director of Autism Resource Center of Central Massachusetts, mother of an adult son with autism
"People have a perception that people with autism can't do anything. But my son understands everything that's going on. Will he comment on it? Not always. But he knows it. Someone earlier made a comment about me being 'addle-brained' or something, and he smirked.
"My tack was to make sure he was given every opportunity to push and push. He's still in need of support as an adult, but he's something of an inspiration to younger parents. They comment on his independence.''
Maureen Lacert
Clinical director of Nashoba Learning Group, special education teacher and behavior analyst
"If you know one person with autism, you know one person with autism. They're all such unique individuals. They're unique in their learning. They're unique in their behaviors. It requires a unique approach in order to best teach any individual on the spectrum.''
"I think what bothers me most is when I hear people say, 'They have no desire to be social.' I think they don't know how to behave as social creatures, but they often want very much to be part of a social main group. They simply don't know how. But once invested and once they have the skillset, they enjoy it. Someone just needs to teach the skill.''
"Work hard to try to read the cues to recognize when they stop understanding your speech. Slow yourself down. Stop maybe engaging with them physically if they bristle. It means it was too much. Read their cues, and pace yourself accordingly.''
"They're such a wonderful group of people. I really wish people would just see that.''
Cornelia Ellwood
Mother of a 14-year-old son with autism
"He's completely changed my life for the better. He's inspired me spiritually, intellectually. He's basically inspired me to grow as a person, because I want to (and feel like I can) connect with him, but in order to do so I have to operate from the highest place I can operate from: with love, with an open mind, with compassion, patience, and tolerance. And when I don't react to him in that way, he lets me know very quickly. It's a fabulous reminder.''
"He has a special interest in movies, and actors, and he dives very deeply into his topics. He has introduced me to topics that I would never have thought about. He sucks me in and engages me.''
Genna Lyons
Program manager for Child Services at Aspire
"I learn a lot from these kids. They catch you whenever you make a mistake. They teach you about things you never even thought about before. They see the world through another lens, and I really enjoy their lens.
"I think this kind of work just makes you see everybody a little bit differently. You realize that just because someone has a different lens or perspective, they're not any lesser. They still have something to offer. It's about bringing that out of them and finding that balance.''
Sue Linehan
Executive board member of Advocates for Autism of Massachusetts (AFAM), mother of a 20-year-old son with autism
"My son happens to be very musically inclined and very good at artwork—that part of the brain —and I think we learned this when he was probably 5 years old. It made us look at it as every person, every child has some sort of talent. Our job as parents is to discover what it is, nurture it, and develop that talent.''
"At the younger ages, you sometimes can't see past the diagnosis. The whole thing is, 'Oh but they're not gonna go to college, they're not gonna get married.' It's all these 'what-ifs?' As you go through life, you realize there are so many other blessings that actually go along with it. Even with a 'typical' child, or whatever that word means, everyone goes through hard spells, has trials and tribulations, but you just gotta live one day at a time.''
"When my son was young, we couldn't go to church for the longest time. Now he has to sit in the front row. He jumps up and down. People who don't know us come over and say, 'You know, this says something special about him, and you guys as parents, and the church.' He just brings joy to everyone. I think he was sent here for a reason.''