Health
How one Watertown family is living with 'very early onset' Alzheimer's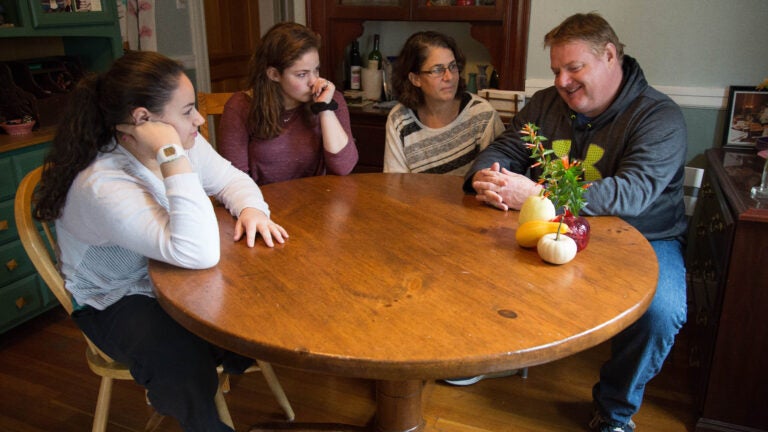 Alfredo Bartolozzi had always been good with money.
It was only after Rhiana Kohl discovered her husband, Alfredo, had "decimated" the family's finances in 2013—bills hadn't been paid, loans were taken out without her knowledge, and tens of thousands of dollars of credit card debt had secretly piled up—that she realized the changes in his behavior over the previous three years could be more serious than she thought.
He'd been agitated, angrier than usual, and had been experiencing short-term memory problems. Months after Kohl found out about the finances, Bartolozzi, a 48-year-old father of two teenage girls, was diagnosed with early onset Alzheimer's, despite not having a family history of the disease.
The Alzheimer's Association estimates about 200,000 people in the U.S. are diagnosed with Alzheimer's before the age of 65.
Bartolozzi couldn't say what led to or when his diagnosis occurred.
"I don't remember," he said. "Let's say my car was going this slow and then all of a sudden all this stuff was going really fast, and I was going left instead of right, and all that. It's very confusing, very scary at times. I don't know, beyond that."
Bartolozzi paused as he spoke, at times struggling to describe his experiences and abruptly changing course.
"And, um. Life's OK. It could be much better," he said. "It's just difficult with my diagnosis. I really have a hard time with it. Sometimes I just take it and put it aside, but when it comes up to this and people want to talk to me and stuff, I get a little upset and confused and what not. It's a good place to be in, great doctors. I like the outdoors very much. We both do. Two great kids."
Alzheimer's is the most common form of dementia, the general term used to describe a range of loss or decline of cognitive ability, from learning and memory to reasoning and judgement. There are about 5.5 million patients in the United States in the dementia stage of the disease, according to Dr. Rudy Tanzi, a professor of neurology at Harvard Medical School and director of the Genetics and Aging Unit at Mass General, where Bartolozzi is a patient.
But if Alzheimer's is thought about as a disease that includes both the dementia and the predementia states, Tanzi said there are "many more" than 5 million.
"It's a much bigger epidemic than we think," he said.
Dr. Mark Albers, a neurologist at Mass General and Bartolozzi's doctor, said that only about 5 percent of Alzheimer's patients are considered early onset. He estimated well over half of early onset patients are between the ages of 50 and 65.
"Alfredo is quite atypical because of the early onset, and then even within the early onset, he's very early onset," Albers said.
Kohl first started noticing changes in her husband's behavior five years ago. Repeated visits to various counselors and doctors resulted in diagnoses of stress, depression, and adult ADHD.
While the traditional symptom of Alzheimer's is memory loss, Albers said there's a significant group of patients, like Bartolozzi, whose first symptoms involve other regions of the brain.
"They could lead to changes in behavioral patterns, social behavior, disinhibited social behavior," he said. "It can be depression as the first manifestation."
Alzheimer's is a progressive disease and Bartolozzi has reached a stage characterized by behavioral symptoms like irritability, agitation, paranoia, and hallucinations. Medications during this stage can provide symptomatic relief from the symptoms but won't slow the disease, Albers said.
Kohl described the progression in her husband as sometimes leveling off for a while, then dropping and leveling off again.
"It's not like all of a sudden he can't do this anymore, it's really more sort of like a percentage," she said.
For example, how often he could answer a question like, "Do you want hamburgers or hot dogs?"
Last year, that ability shifted to be less than 50 percent of the time. Before that, Kohl said he could mostly remember he'd started doing the laundry, and he was OK with problem-solving and decision-making. But then, she said there was a "devastating drop right across the board."
"He's pretty much just in the moment," Kohl said. "He can really only function right then and there."
The family has had to find ways of coping. When the icons on Bartolozzi's phone became too confusing, Kohl and the couple's daughters, Isabella, 15, and Jesse, 13, deleted everything except the message and call app. He still needs help finding his contacts to make a call.
The couple told their daughters immediately about Bartolozzi's diagnosis. Kohl said the girls had already noticed the changes in their father's behavior and the tension between their parents. Jesse thought her parents were going to get a divorce.
"It was really, really hard for me," Isabella said during an interview with her family. "Because my mom worked all the time — she was kind of the working mom and he was the stay at home dad, kind of thing. He would pick me up from school every day all the way through freshman year pretty much. And that after school time with him, that was hard to lose."
Sitting together with their parents in the hours before a school Halloween dance, Isabella and Jesse laughed remembering how their dad taught them to fish and took them for ice cream or bike rides after school.
Before his diagnosis, Bartolozzi worked as a bartender at Donohue's Bar & Grill and at the Watertown Food Pantry. He picked the girls up from school, handled the food shopping, and made dinner.
Now, he can't work. He had to stop driving. He can't coach his daughter's soccer team. His daughters have noticed that their dad is a lot more introverted now, too.
"He really doesn't have much to say to me anymore, which is hard to come [home] and see him, but he's not really there to talk to as much anymore," Isabella said.
Kohl said her husband will often withdraw from his daughters because it's easier, but then struggles with feeling isolated, which Albers said is not uncommon for Alzheimer's patients.
"A lot of times I'm just at home by myself with the dog. And it's difficult," Bartolozzi said, pausing to clear his throat as he teared up. "I just wish I could snap and make it all better. But that's not going to happen. I just hold on to my memories with my kids and hopefully, hope for the best. You never know. Something comes down the pike and they have a different drug or whatever. I'll be right there. Whatever it takes. But I do feel for my two daughters. They kind of mask it a little bit and that's fine."
For now, the family is cherishing the time they have together. Over the winter holidays, Kohl converted the family's home movies to digital. The family got the opportunity to re-watch the Christmas mornings and family gatherings of the past.
"It's tough. It can be pretty hard on me as far as my girls, I'm sure it's hard on them," Bartolozzi said, nudging his wife beside him. "This one is the rock, she's the one that keeps it all together."