Health
The CDC says diseases from ticks, mosquitos, and fleas have tripled in recent years. Here's what Massachusetts residents need to know.
A local health official and an infectious disease doctor break down the report from the Centers for Disease Control and Prevention.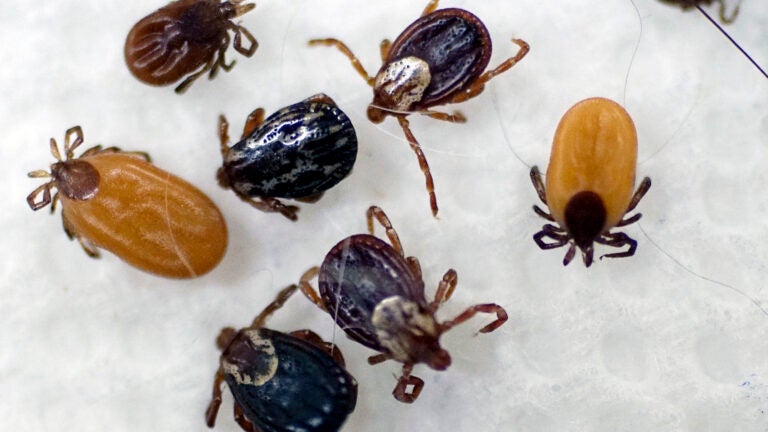 Don't forget your bug repellant as you make your summer plans.
The Centers for Disease Control and Prevention said in a report last week that the number of illnesses caused by mosquito, tick, and flea bites more than tripled in the United States between 2004 and 2016.
"Zika, West Nile, Lyme, and chikungunya—a growing list of diseases caused by the bite of an infected mosquito, tick, or flea—have confronted the U.S. in recent years, making a lot of people sick. And we don't know what will threaten Americans next," CDC Director Robert R. Redfield said in a statement. "Our Nation's first lines of defense are state and local health departments and vector control organizations, and we must continue to enhance our investment in their ability to fight against these diseases."
Local experts began cautioning in early April that ticks alone in particular would be a headache for New Englanders this spring and summer.
To learn more about the risks for tick, mosquito, and flea-borne diseases Massachusetts residents face, we turned to Deputy State Epidemiologist and State Public Health Veterinarian Dr. Catherine Brown and Dr. Linden Hu, associate chief for research in the Division of Geographic Medicine and Infectious Disease at Tufts Medical Center.
Here's what they say Bay State residents should be on guard for as the ticks, mosquitos, and fleas emerge with the warm weather.
Illness from ticks is of the most concern in Massachusetts
Brown said she hopes most residents of the commonwealth are already aware that diseases carried by ticks are a "significant problem" in Massachusetts.
"The CDC findings really aren't new," she said. "They're all based on data that are imported from the different states, and, in Massachusetts, we've recognized for a very long time that tick-borne diseases have been on the rise for decades now."
Every year Massachusetts can be expected to have a "bad tick year," Brown said, given the large number of blacklegged ticks in the state and that a "significant percentage" of the small arachnids are carrying disease.
It's estimated that about 87,000 people a year contract Lyme disease in the state from tick bites, according to The Boston Globe.
The species of tick that carries Lyme disease —  the blacklegged tick (sometimes called the deer tick) — carries at least five different illnesses, according to Brown. Lyme is just the one with the greatest number of cases. The next two most common diseases carried by the blood-suckers are anaplasmosis and babesiosis.
As for the other diseases carried by mosquitoes and fleas that are mentioned by the CDC? She said illnesses from flea bites aren't a problem in Massachusetts, but the state does have to worry about two mosquito-borne diseases.
"We have both West Nile virus and Eastern equine encephalitis — or Triple E," Brown said. "Those are two things we talk about with the public every summer. But if you want to talk about true burden of disease and you compare just flat out the number of cases that we have in Massachusetts, just individual patients that have a disease carried by a mosquito versus numbers of patients that have a disease carried by a tick, the ticks win, unfortunately."
Hu said that while Lyme might be the most prevalent in Massachusetts "by far" of the bite-transmitted diseases flagged by the CDC, he's most concerned about the illnesses that don't have treatment options, even if they're not common in the state.
"Luckily we have treatments for many of these diseases," he said. "The ones that are devastating — the ones we don't have treatments for here in Massachusetts are Eastern equine encephalitis, deer tick virus, which is a new one that is luckily still very rare in Massachusetts but it's increasing, and West Nile virus."
The symptoms residents should look for with tick-borne diseases
Brown said the most common symptoms to watch for with Lyme disease, anaplasmosis, and babesiosis are fever, chills, headaches, and muscle aches.
"Really all of the diseases carried by ticks start out the same way," she said.
More specific symptoms develop for each illness as they progress, but she said each of the diseases start with those four.
"If you know that you have been bitten by a tick or you know you've been spending time outdoors during the months of April through November/December and you develop a fever, headache, chills, muscle aches, it's a good idea to go ahead and contact your health care provider to talk to them about your potential risks," Brown said.
With Lyme disease you may also see a rash around the site of the bite.
"It may or may not look like a classic bullseye," she said. "But that's really the only thing that can help differentiate Lyme disease from some of the other early stages of disease."
Brown said that unless ticks are buried under snow — or the temperature is below freezing — the arachnids can be out and active, meaning the season for ticks in Massachusetts can last from April through November or December.
"Our peak tick season, when we see the largest number of our tick-borne-disease cases, really occurs in May through August," she said.
What you can do to protect yourself
Brown said residents in Massachusetts should not be be afraid to go outside over ticks and the illnesses they can transmit.
"What's appropriate is not fear, but awareness," she said. "Knowing that ticks are in the environment but that there are also tools that people can use that will help people protect [themselves]."
There's a "laundry list" of actions people can take to protect themselves from tick bites, which includes wearing pants and long-sleeve shirts when doing yard work, Brown said.
But the two particular measures recommended by the public health official are using an insect repellent with an EPA-registered active ingredient like Deet and performing a daily tick check after taking a shower or bathing your child.
"The reason for that is that way you can find any tick that has become attached, that you find it quickly and you can remove it promptly," she said. "The shorter the amount of time that the tick has been attached, the less likely it is to have spread disease."
Hu also recommended showering within a few hours anytime you think you've been exposed to ticks.
"If you shower within two hours of walking your dog or gardening, the ticks take a while to attach and bite, and, if you shower early, they just wash right off," he said. "So that's really easy to do. It's been shown in studies to prevent disease."
He also suggested buying clothing that is embedded with Permethrin repellent, which is both anti-tick and anti-mosquito.
"It doesn't work 100 percent, but, again, you don't have to think about it, it doesn't make you smelly," Hu said. "If you buy the commercially embedded clothing, it lasts for 80 washes or so, so something where you don't have to think about it."
How to check for ticks if they're as small as poppy seeds
The CDC recently shared a photo illustrating just how small ticks can be by placing the insects on a poppy seed muffin.
"Can you spot all 5 ticks in this photo?" the federal agency asked.
Ticks can be the size of a poppy seed. Can you spot all 5 ticks in this photo? Learn how to prevent tick bites. https://t.co/ATtrY7YFoS pic.twitter.com/gBm4tw2qmf

— CDC (@CDCgov) May 4, 2018
Hu suggested the best way to check for ticks if you're concerned you won't be able to spot a poppy seed-sized blood-sucker is to run your fingers over your skin and feel for abnormal bumps.
"They do tend to like to hide in the tight areas where either clothing is tight against or the skin folds to make a nice enclosed area for them," he said. "So that is where they tend to feed — like along the belt line and in the groin area, along the scalp and the ear for children. So as you're showering, just take a feel through to make sure you don't feel any unusual bumps."
Brown agreed.
"You're feeling for something very subtle, even as small as a poppy seed, but, if you feel that bump, then you know you should take a closer look at that and see if it's a tick," she said.