Health
5 takeaways from the HUBweek forum on health, wellness, and medicine
From health care policy to marijuana, here's what we learned.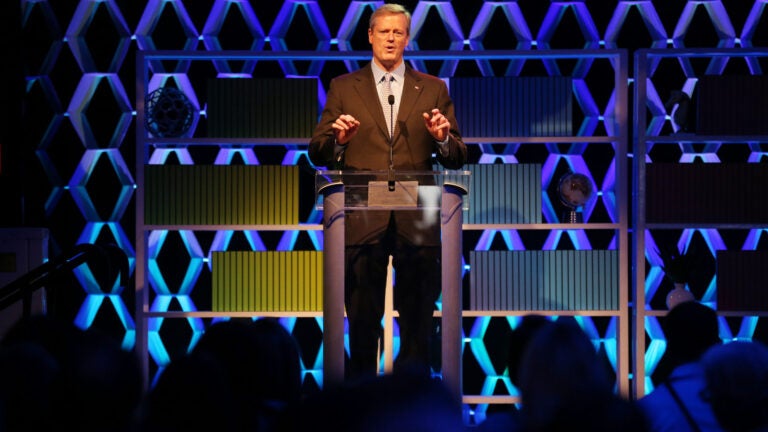 Experts in Alzheimer's, technologies and human performance, and marijuana gathered under a tent on City Hall Plaza at HUBweek on Wednesday to share what they're seeing in their respective fields and what they think comes next.
The day of talks on the future of health, wellness, and medicine is one of three forums being held at the "festival for the future" founded by The Boston Globe, Harvard, Massachusetts General Hospital, and MIT.
From health care policy to the opioid epidemic to the legalization of marijuana, here are five takeaways from the different presentations made at the forum.
1. Gov. Charlie Baker wants to see the federal government 'take a much bigger step and get more involved' in behavioral health and addiction issues.
During a talk titled "Big Picture: The Future of Science and Medicine," Massachusetts Gov. Charlie Baker said he doesn't think addiction and the issues associated with it, including mental health, have gotten the same attention as other medical conditions.
"We are a moving at a very fast pace when dealing with some of the issues around cardiovascular illness and cancer and a whole series of muscular diseases, but there isn't the same attention being applied to some of the issues around behavioral mental health and addiction in the same way," he said. "And I think part of that is because the nature of the tools that are available are not as obvious as they are in some of those other areas, and it's a little harder to figure out what it looks like at the end of the process if you actually see coming up with a new way to either diagnose or treat those kinds of conditions."
He said while there's a lot that can be done at the state level around prevention, education, treatment, and recovery, a big federal investment in tackling addiction and mental health issues could have a "profound" effect.
"These are hard issues, it's a tough space, and it's one where I would love to see the feds take a much bigger step and get more involved," Baker said.
2. Society is heading for a 'tsunami and epidemic of Alzheimer's disease.'
Reisa Sperling, a professor of Neurology at Harvard Medical School and the director of the Center for Alzheimer Research and Treatment at Brigham & Women's Hospital, warned those attending the panel "Alzheimer's Disease: Voices from the Front Lines" that the prevalence of the illness is heading toward epidemic levels.
"We are keeping people alive longer, and we are creating an epidemic of Alzheimer's because it is so age-linked," she said. "The prevalence and actually incidence actually increases by decade. [It] doubles by decade."
One out of nine people over the age of 65 have dementia, a symptom of the disease, she said. Most people live into their 80s and 90s, she said, and about 50 percent of that age group will develop Alzheimer's.
"It is estimated that one out of every three seniors died with dementia and that the vast majority of that is Alzheimer's disease," Sperling said. "So this means it's a critical problem."
It's just the tip of the iceberg, she said.
"We really are as a society heading for this amazing tsunami and epidemic of Alzheimer's disease," Sperling said.
The Alzheimer's researcher said she believes progress is being made in the fight against the disease since experts can now "define the disease in the brain," allowing doctors to see it even before people develop symptoms. There isn't yet a treatment or therapy that can modify the disease, but Sperling said she's hopeful new trials aimed at tackling the illness earlier will yield results.
"Alzheimer's disease is a very formidable opponent, and were going to have to go after it with everything we've got," she said.
3. Pay attention to state politics when it comes to health care policy.
Reproductive rights, the Affordable Care Act, and immigrant health — namely the public charge rule — are just a few of the health care issues that will be on the minds of voters going into the midterm elections in a few weeks, experts said during a panel titled "Health care on the Ballot."
But, they argued, voters shouldn't forget about their local and state politics when it comes to health care policy.
"We have to pay attention to state politics because if something happens at the national level, it's going to be up to each and every state to decide what kind of rights they want to have for their citizens," said Jesse Mermell, president of the Alliance for Business Leadership.
As an example of the importance of state-level policy, she pointed to how Massachusetts activists pushed for the removal of a law from the 1840s that banned abortion in the state when it was announced Supreme Court Justice Anthony Kennedy would retire, concerned that his replacement, the recently confirmed Justice Brett Kavanaugh, could tilt the court to undoing federal abortion protections under Roe v. Wade. If Roe were overturned, a woman's right to choose in Massachusetts would have been in jeopardy because of the archaic law.
Mermell said over the last decade a bill had been introduced every year in the state legislature to repeal the old ban, but it was only "when there was an active threat that people decided to take action."
"This is exactly why state politics matter," she said. "I know we're all focused on the midterms right now and that's what feels a little bit sexier, but if you want your access to reproductive health care or your access to any type of health care protected, you need to vote in your state. What your legislature does, what your governor does, matters."
4. Even as the marijuana industry takes off in Massachusetts, there is concern about replicating the models of the alcohol and tobacco.
The panelists participating in a talk on marijuana titled "Like it or Not, It's Legal" presented a range of opinions and concerns on what the new, legal cannabis landscape should look like in Massachusetts. But there was an agreement that although pot was legalized in the state as the result of a ballot question proposed by a group called "Campaign to Regulate Marijuana Like Alcohol," there should be caution when it comes to replicating the alcohol and tobacco industries with cannabis.
What I found most striking about this panel was the universal concern about over-commercialization among the experts, despite our very different opinions on marijuana and legalization. https://t.co/mMliDah6lD

— Shaleen Title (@shaleentitle) October 11, 2018
Former White House Office of National Drug Control Policy advisor Kevin Sabet said his "biggest worry" when it comes to public health and safety is that marijuana will become "the next alcohol or pharma industry."
"I'm glad that it's been a slow rollout in Massachusetts, actually," he said. "I think that is good. I think that towns and cities need time to figure this whole thing out right."
Peter Grinspoon, a doctor at Massachusetts General Hospital, said he thinks the state has to learn from the "mistakes" of the tobacco and alcohol industries. Marijuana is safer than alcohol and it isn't tobacco, he said, but it isn't harmless.
"I personally don't think there should be any advertising of alcohol, tobacco, or cannabis," he said. "Why on Earth would we advertise things that are unhealthy? There's no reason to advertise them, and I think regulation is really going to be the key to keeping people healthy. Not unreasonable regulation, but common-sense regulation."
Both Sabet and Eden Evins, founding director of the Center for Addiction Medicine and Addiction Research Program at Mass. General Hospital, emphasized that the country's "deadliest drugs" are legal. That's not because alcohol on its own is more deadly than an illegal substance like heroin, but because of the sheer number of users driven by the "commercialization and normalization" of alcohol, they said.
"Commercialization drives use, drives heavy use, and drives harm," Evins said.
Sabet said his worry is that something "more benign like pot" can be taken and turned into something much more dangerous on a population level when its use is encouraged by an industry.
Shaleen Title, a commissioner on Massachusetts Cannabis Commission, said following the "schema for alcohol" has been useful for picturing what legalized marijuana could look like in the state. It helped when it came to answering questions like where the product comes from, how it is tested, what stores may look like, and where it can be used.
"But past that, the comparisons do tend to break down because ultimately alcohol and cannabis are very different substances and we have to start from scratch looking at cannabis when we make our regulations," she said. "So that's certainly something that we've done."
She said local approvals in particular will have the most influence when it comes to deciding what "big marijuana" will look like in Massachusetts.
5. Concussion and CTE researcher Ann McKee has a message for scientists and doctors whose research may be unpopular: 'Believe in yourself.'
When Ann McKee, professor of neurology and pathology at VA Boston Healthcare and Boston University, first got the chance to look at a football player's brain during the course of her research on the degenerative brain disease chronic traumatic encephalopathy, or CTE, which is caused by repeated hits to the head, she said she jumped at the opportunity. She grew up as a football fan, she said during her conversation "Hard Science." 
"It was the intersection of two really strange loves, which was football and the brain," she said of her work studying the effects of concussive and subconcussive hits on the brains of football players and other athletes.
As soon as she saw the first brain, which belonged to a 45-year-old player, she said she knew she had to go to the NFL with her research. She did in 2009, and they "attacked everything," she said.
McKee said she was shocked by the pushback.
"It's depressing. You certainly get out of that meeting and think, 'What did I do wrong? Should I have presented it differently,'" she said.
McKee ended up testifying before Congress, and her work on CTE ultimately sparked rule and cultural changes within the NFL and other athletics. She advised other doctors and scientists whose work may face pushback or be unpopular, in areas such as climate change, to trust themselves.
"Believe in yourself," she said. "I've had many moments where it's hard to go forward, but you look at the parents, you look at the family of individuals that have this disease, and I always felt that I needed to speak for them because they weren't able to speak for themselves."
McKee's advice for researchers working on subjects that might not be "popular" or who might be facing pushback: "Believe in yourself." pic.twitter.com/kYgInl9wGI

— Dialynn Dwyer (@dia_dwyer) October 10, 2018