Health
As teen e-cigarette use climbs in Mass., nicotine addiction worsens
"They think it is all clean."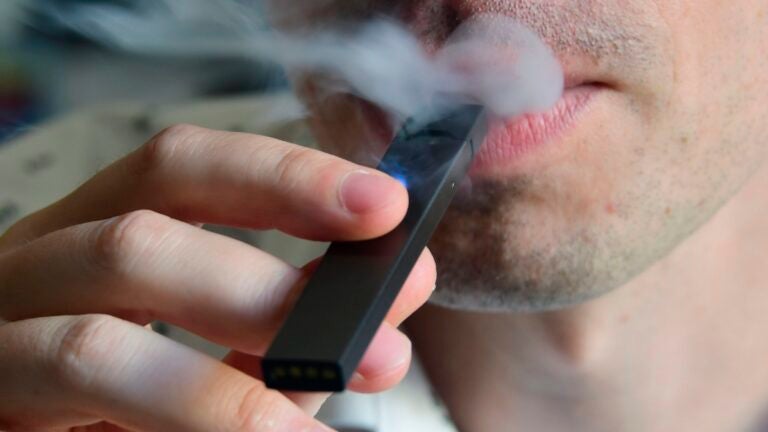 The trouble started about a year or two ago, back when it all seemed like some sort of a joke, says Andrew Valianti, a junior at Triton Regional High School.
It was supposed to be a fad of sorts — a hot trend that would last maybe one school year, if that long at all.
But ask the 16-year-old and his colleagues on the student newspaper these days about how many of their classmates continue to use e-cigarettes, and the statistics behind a growing problem suddenly come to life.
"Because the kids got addicted," Valianti told Boston.com in a recent interview. "The kids who did it for like a month because it was popular got addicted and couldn't stop."
Valianti doesn't "vape" himself, but he helped chronicle what he and his fellow reporters consider a new modern epidemic for their generation. He estimates roughly 80 percent of his friends are hooked, even as new research detailing serious health impacts continues to roll out every year.
"They just kind of accept it, like, 'Well, I'm down the rabbit hole now. What can I do?'"
In Massachusetts, almost half of all high school students have reportedly tried e-cigarettes at least once and nearly a quarter of them say they've used one in the past 30 days, the most recent state data collected in 2015 shows.
The rate is nine times higher than adult users and, according to Monica Bharel, the state Department of Public Health commissioner, essentially mirrors national statistics.
The trend has indeed caught on by storm: In 2011, only 1.5 percent of high school students in the Bay State reported using.
Now, with the accessibility of products with enticing flavors like mint and mango, a decades-long shift away from teenage tobacco use has been effectively reversed, seemingly overnight.
The once dying flame of adolescent nicotine addiction has re-ignited, experts say.
But this time, the burn is much different.
'You have a friend and you can't do anything to help them'
For a while, the bathroom was closed.
One of the boys' bathrooms at Triton had become such a popular vaping lounge for students, it was partly for that reason that administrators decided to keep it off limits for a while, according to Alex Michals, 17, a senior and reporter for the school newspaper.
"It looked like there was police tape covering it," he said.
Sophia Agrella, a junior and fellow reporter, said the girls' bathroom, although left open, was not much different.
"Sometimes it's crazy," Agrella, 17, said. "I'll walk in and there will be a group of probably three to eight girls who will be huddling around … doing it and passing it around when I have to go to the bathroom, and I'm not the only one who feels that way. Everybody acknowledges it."
One of the dispatches on the issue that Valianti and Michals penned even notes some of the posters now hanging in hallways and restrooms, with phrases like "It's easier to wipe your butt than wipe your lungs" or "Strangely enough, some kids come in here to put crap in their bodies."
"People are doing it in their cars a lot more now," Agrella said.
Scott Brennan, Triton's assistant principal and the freshman football team coach, has taken on leading what he describes as a "war" against e-cigarettes — not the students who use them, but rather, the companies he says are pushing the products on teens.
"I caught a couple of my athletes doing this, and the question was, 'Would you smoke a cigarette?' (They said,) 'Absolutely not,'" Brennan said in an interview. "They think it is all clean; there's nothing in it. It's amazing what these companies have done to these kids."
School officials have seen a rise in anxiety-ridden students coming to counselors — a known side-effect of nicotine addiction, according to School Adjustment Counselor Joe Celia.
Lots of students who use regularly have shown growing disinterest in school activities, Brennan said.
In one extreme case, a 15-year-old male student who had missed several days of classes failed all his courses one quarter, Celia said.
"Kids will leave class once or twice a class" to vape, he said.
For one article in the Triton Voice, Valianti and Michals spoke to a student — granted anonymity by the newspaper — who has used e-cigarettes since the seventh grade.
"I think since then I've become an addict. There were points where I told myself 'I'm not addicted to this. I could stop anytime I want,'" the student told the Voice. "But I've come to the conclusion that I can't even go a day without it. With sports and stuff, my breaths have dimmed down to nothing and it feels bad to breathe, like it really hurts."
'This addiction doesn't take a break'
While the impacts of nicotine from traditional tobacco cigarettes have been studied and known for years, e-cigarettes have presented a new kind of challenge for health experts.
Teens who vape — or "JUUL," the name of a popular e-cigarette company many teens have turned into a verb — are getting more nicotine than they would from old-fashioned cigarettes, according to Dr. Jonathan Winickoff, a pediatrician at Massachusetts General Hospital.
Now, there are even greater concerns surrounding the chemical's impact on their developing brains.
Winickoff, also a professor at Harvard Medical School where he researches the impacts of tobacco on children, told Boston.com some of his addicted patients vape the nicotine equivalent of smoking two packs of cigarettes in a day.
How?
"For one, it's a lot easier to conceal," he said. "Kids are doing it in school. They couldn't smoke a cigarette in school anymore. Those days are behind us. But they can JUUL."
The secrecy of the habit is additionally aided by the odorless aerosol emitted instead of the distinct aroma of tobacco smoke and its relatively subtle trash footprint, Winickoff said. (Cigarette butts, after all, need to be thrown away.)
But a crucial piece lies in how the products were engineered.
According to Winickoff, e-cigarettes commonly contain benzoic acid, an additive that lowers the pH of the aerosol. This essentially bypasses triggers in the brain that would otherwise identify a high pH level as a dangerous substance, he said.
"You're able to vape and vape and vape taking hit after hit after hit without any consequence of your brain saying this is a dangerous substance," he said.
Winickoff is also quick to point out that the nicotine level in e-cigarettes is extremely high and, in the United States, surpasses levels that are outlawed in Europe, where restrictions cap the nicotine at 20 milligrams per milliliter of fluid.
JUUL products in the U.S., for example, contain either 35 or 59 milligrams per milliliter. There are no nicotine-free options for customers, the company's website says.
For teens, the nicotine addiction takes hold as "classic drug behavior," Winickoff said.
When they're craving it, they can lash out at those around them, he said, adding that the nicotine can open addiction pathways in the brain. Mood disorders, anxiety, depression, attention span problems, and memory issues are also usually in tow.
According to Bharel, nicotine can harm brain development up until age 25.
"There are a few things that are extremely clear: That e-cigarette and vaping products are unsafe for kids, teens, and young adults — period," she said.
Some teens will steal from friends and family to support the habit, Winickoff said. He's seen scenarios where they've dealt to classmates to make a few extra dollars.
"A couple kids who I have helped off JUUL, their mood improved and their relationships with their parents improved afterwards — and it's not just a coincidence," Winickoff said.
Michals, one of the Triton student reporters, said he knows about 10 people who were able to ween themselves off.
While he, Valianti, and Agrella don't vape, they've all seen the impact.
"It was hard for them and takes a long time … it was not a pretty process," Michals said.
'A single store can sell to an entire high school'
At Triton High, the conversation on vaping has evolved over the past year.
According to Brennan, students who are caught using e-cigarettes on campus must attend detention one day a week for six weeks.
But the focus is education, he said.
The mandatory sentence includes a once a week educational class about the health impacts of vaping, where the priority is making sure students are aware of the facts about the science and industry of e-cigarettes, he said.
The school's approach shifted away from punitive measures after Brennan collected input from the student reporters covering the issue, he said.
Activities students complete in the classes include making anti-vaping posters to display in school and taking field trips to elementary schools, where they share their experiences and information with their younger counterparts, according to officials.
"When kids find our that they're being targeted (by companies) and they find out the facts, I think they think about it," Celia said. "I think they ponder."
"Once kids become aware, they start to reflect on that behavior," he added.
Harsher punishments follow for each subsequent time a student is caught using an e-cigarette, Brennan said. A second offense comes with a $100 fine — the same as for tobacco and other drugs — and another six detention classes. A third offense means a student is suspended, he said.
The initiative has seen some success.
"What we've been finding since we started the program is less kids are bringing it into the school," Brennan said. "The juniors, seniors, they keep it in (their) cars."
For Winickoff, who has pushed for higher tobacco purchasing age laws as co-founder of the national Tobacco 21 movement, there are a lot of options to curb the rise of adolescent vaping.
Several municipalities in Massachusetts have banned retailers from selling flavored cigarettes — including e-cigarette cartridges — which helps make the products less appealing to younger customers, Winickoff said.
Local officials must also strictly enforce the state law approved last year prohibiting tobacco sales to people under the age of 21, he said.
"We've seen that a single store can sell to an entire high school," Winickoff said.
"I think there, we have some hope, but towns have to do their part," he added.
Last year, state Attorney General Maural Healey announced her office was probing JUUL and online retailers about how their products may have been marketed and sold to underage users.
Although JUUL denied wrongdoing, Bharel said it's hard to believe companies aren't courting teenagers and young adults.
"They're bright. They're colorful. They're talking about food and candy. These ads are coming up in places where youth spend a lot of time, like social media," she said.
In a statement to Boston.com Monday, JUUL said its "committed to preventing youth access" to its products.
"No young person or non-nicotine user should ever try JUUL," the company said. "We cannot fulfill our mission to provide the world's one billion adult smokers with a true alternative to combustible cigarettes if youth use continues unabated. That is why we have taken the most dramatic and aggressive steps of any other manufacturer in the industry to prevent underage use with the JUUL Labs Action Plan."
The company rolled out the action plan late last year, which included pulling certain flavored products from retailers and boosting age-verification efforts for its online sales.
Winickoff thinks manufacturers should ultimately have to bear the cost of addiction.
"They should have to pay the cost of treating those kids and it's very expensive," he said. "It's counseling. It's nicotine addiction therapy. It's a long-term problem."
But what specific health problems can come from e-cigarettes over time aren't currently exactly clear.
There is widespread concern that e-cigarettes contain carcinogens, and that vaping could lead to increased rates of asthma and cancers down the road, Winickoff said.
Statistics show that kids who vape are also more likely to try traditional cigarettes later in life, according to data from the Food and Drug Administration.
But Winickoff, for now, put it all in simple terms: "For the teenager who would otherwise be breathing clean air, there is no comparison: This is a bad deal for your lung health."