Health
A woman with EEE has died in Massachusetts. Here's what to know about the rare virus.
"We are seeing the most intense level of EEE activity that we have in several years."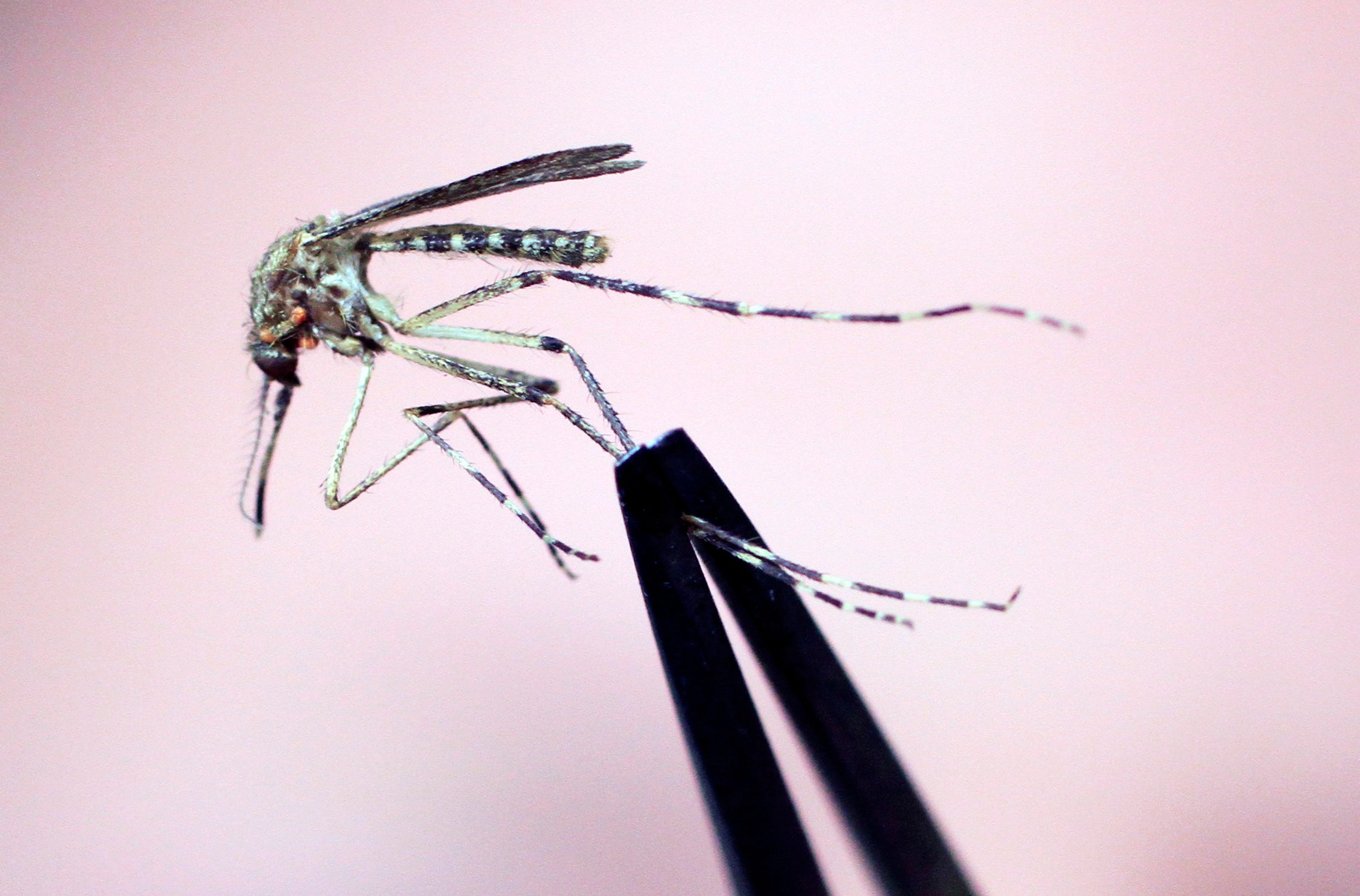 A woman who was among four people in Massachusetts who had contracted the rare, mosquito-borne Eastern Equine Encephalitis virus, or EEE, this month has died.
Laurie Sylvia passed away while receiving treatment for the infection at Tufts Medical Center, a hospital spokesperson confirmed to Boston.com Monday.
Tufts has not released additional information about the case.
EEE, which can trigger brain swelling and other symptoms, occurs sporadically in the Commonwealth in outbreaks every 10 to 20 years on average, according to the state Department of Public Health, or DPH.
"We are seeing the most intense level of EEE activity that we have in several years. The largest area is in Bristol and Plymouth Counties with a second focus of activity in parts of Worcester and Middlesex Counties," Public Health Commissioner Monica Bharel said in a statement last week. "We are urging people across the state to remember that the peak time for transmission of mosquito-borne illness extends through September here in Massachusetts."
This summer's outbreak is the first locally in seven years, leaving dozens of communities at a high or critical risk as state officials warn residents to take caution when heading outdoors.
So far this year, state officials have found EEE in 333 mosquito samples, many from species that are capable of spreading the virus to humans, they said.
Here's what we know:
What is EEE?
EEE is a rare virus that can cause brain infections, or an encephalitic illness, according to the Centers for Disease Control and Prevention.
The virus spreads through infected mosquitos that are often found in and around hardwood, freshwater swamps, DPH reports.
About a third of people who have EEE nationally die from the disease, although some victims can contract only a systemic infection, which "has an abrupt onset and is characterized by chills, fever, malaise, arthralgia, and myalgia," the CDC says on its website.
"The illness lasts 1 to 2 weeks, and recovery is complete when there is no central nervous system involvement," the website says.
However, in other cases involving encephalitic symptoms, patients can suffer from "fever, headache, irritability, restlessness, drowsiness, anorexia, vomiting, diarrhea, cyanosis, convulsions, and coma," according to the agency.
"Death usually occurs 2 to 10 days after onset of symptoms but can occur much later," the CDC says. "Of those who recover, many are left with disabling and progressive mental and physical sequelae, which can range from minimal brain dysfunction to severe intellectual impairment, personality disorders, seizures, paralysis, and cranial nerve dysfunction. Many patients with severe sequelae die within a few years."
According to DPH, very few victims completely recover.
There is no vaccine for EEE.
In Massachusetts, the state experiences an outbreak once in a decade or two, with each outbreak lasting two to three years, according to DPH. Most recently, nine cases were reported between 2010 and 2012, during which four people died.
The disease, though, is indeed rare. First identified in the state in 1938, EEE has only been recorded less than 100 times since then. Most cases — over 60 percent of them — are reported in Plymouth and Norfolk counties, DPH said.
What do we know about this year's reported cases?
Four people, a goat, and three horses in Massachusetts have tested positively for EEE this month, according to state officials.
On Aug. 10, DPH reported a man over the age of 60 from southern Plymouth County was the first human case the Commonwealth had seen since 2013.
Later, on Aug. 16, the department announced it had confirmed EEE in a man from eastern Worcester County between the ages of 19 and 30 and in a goat in Bristol County.
Last week, on Aug. 23, officials said a man over the age of 60 who was exposed to EEE in northern Franklin County had contracted the virus, as well as two horses: one in Mendon and another in Uxbridge.
And on Sunday, DPH confirmed a case involving a woman over the age of 50 from southern Bristol County, now known to be Sylvia.
A Fairhaven resident and loving mother and grandmother, Sylvia was remembered for her sense of humor and her "life of the party" spirit in a Facebook post written by her daughter, SouthCost Today reports.
"She was such a beautiful soul. I don't know where to go from here," Jen Sylvia wrote. "I just don't understand how such a beautiful person could be taken from me so soon. I wasn't done."
Ann Scales, a DPH spokesperson, told Boston.com Monday the outcome of each case recorded is not reportable to the department. Therefore, each one becomes a private medical matter and DPH does not have updates regarding other EEE patients, according to Scales.
Another horse tested positive for EEE in Methuen on Monday after dying on Friday, officials said.
What are officials doing?
With this year's confirmed cases, two dozen towns and cities in Massachusetts have been designated as being at "critical" risk for EEE, according to DPH statistics.
An updated map released Monday showed another two dozen are considered at "high" risk and approximately 54 communities are at "moderate" risk.
In Methuen, which was automatically elevated to "critical" status after the deceased horse tested positive, the city's emergency management team met Monday afternoon to discuss how officials would handle the situation.
City officials advised residents "to limit outdoor exposure after sundown." "Residents should strongly consider [canceling] or rescheduling any planned outdoor activities until further notice," officials continued.
"We are taking all precautions against EEE," Mayor James Jajuga said in a statement after the meeting. "It is not common for a community in Essex County to face this level of concern for the virus, and we hope all residents read and follow these vital safety guidelines."
Aerial spraying for mosquito control was slated to begin Monday night in parts of Middlesex and Worcester counties, according to state officials.
Aerial spraying for mosquitoes in parts of Middlesex & Worcester Counties scheduled between 7:30pm-4:30am tonight. Spraying is weather dependent & schedules may change. No special precautions recommended for those in spray areas. Latest info: https://t.co/NIEd9Wo1Wg @MassDeptAgr pic.twitter.com/iYeO9ouqNx

— Mass. Public Health (@MassDPH) August 26, 2019
The Massachusetts Department of Agricultural Resources (MDAR) has already carried out two such operations in Bristol and Plymouth counties this month, with the second as recently as last week.
Scales said, however, that DPH does not reduce risk levels after a city or town is deemed at a high or critical risk, even if a flyover is conducted.
"The reason is, although aerial interventions are anticipated to help reduce the risk, they will not eliminate it and it also serves as a reminder for residents and communities to take all appropriate precautions to reduce mosquito bites," she said in an email.
What are some tips for reducing the risk of EEE?
According to the DPH, there are several ways to protect yourself from the risk of EEE:
Use insect repellent when outside: "Use a repellent with an EPA-registered ingredient (DEET, permethrin, picaridin, oil of lemon eucalyptus) according to the instructions on the product label," DPH says on its website.
Avoid being outdoors during peak mosquito times: Mosquitos are active mainly between dusk and dawn, so it's a good idea to try to stay indoors whenever possible during those hours.
Wear clothes that cover your skin: Long-sleeved clothing and socks will help reduce your chances of getting a mosquito bite.
Make sure your screens are set: Your window and door screens should be firmly attached and free of holes to help block out insects.
Drain standing water: Rain gutters, puddles, bird baths — look out for those places and others where water pools around your property and be sure to drain them out. Mosquitos lay eggs in standing water.
"As aerial sprays cannot completely eliminate the risk of EEE transmission, we ask the public to follow the personal protection practices suggested by DPH," MDAR Assistant Commissioner Ashley Randle said in a statement last week.