Health
What to look for when buying bug spray
Keep these things in mind when stocking up on mosquito repellant.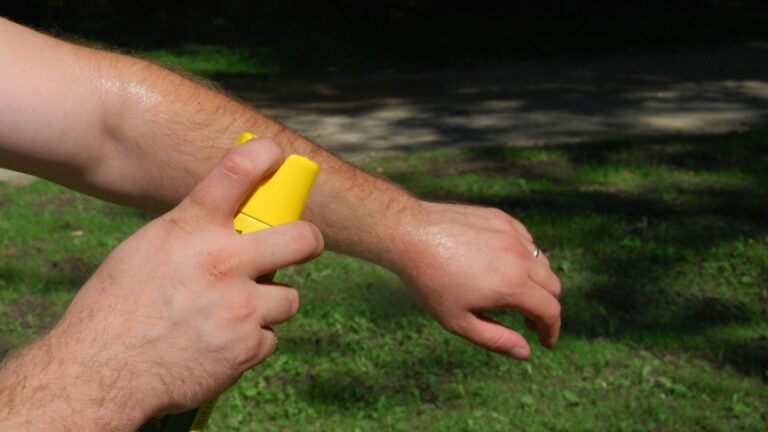 Summer's end may be coming soon, but mosquito season isn't over yet.
Massachusetts is currently facing its first outbreak of Eastern Equine Encephalitis, or EEE, since 2012. This month, state officials confirmed four people had contracted the rare and deadly mosquito-borne virus, elevating two dozen communities and 24 others to "critical" and "high" risk levels, respectively.
The infection, which can trigger brain swelling, fever, and coma, took the life of a Fairhaven woman earlier this week.
"We are seeing the most intense level of EEE activity that we have in several years. The largest area is in Bristol and Plymouth Counties with a second focus of activity in parts of Worcester and Middlesex Counties," Public Health Commissioner Monica Bharel said in a statement last week. "We are urging people across the state to remember that the peak time for transmission of mosquito-borne illness extends through September here in Massachusetts."
The state Department of Public Health is now urging the public to take precautions, including limiting time spent outdoors, wearing long-sleeved clothing, and, of course, wearing bug repellant.
So what should you look for when you buy a can of bug spray?
Here's what state officials say you should keep in mind:
Check the active ingredients in each repellant
When you're comparing sprays and brands, you should check out the active ingredients listed. DEET, permethrin, and picaridin all protect against mosquitoes, though each comes with their own set of factors to consider:
DEET: "Products should not be used on infants under 2 months of age," DPH says on the state website. "Children older than two months should use products with DEET concentrations of 30% or less." Repellants can contain up to 100 percent DEET and higher concentrations mean longer protection time, so be sure to read the fine print.
Permethrin: According to DPH, permethrin products are to be used on clothing, shoes, and camping gear. They should not be used on skin. "Apply the permethrin to your clothes before you put them on and follow the product's instructions," the department says.
Picaridin: Available in the United States since 2005, repellants containing picaridin can be used both on skin and clothing to repel insects, according to the National Pesticide Information Center. "There are currently no data to suggest that children have increased sensitivity specifically to picaridin," the center says on its website.
Oil of lemon eucalyptus and IR3535 can be as effective as 'low concentrations of DEET'
Oil of lemon eucalyptus, a plant extract that's been chemically synthesized, and IR3535 can be as effective as low concentrations of DEET, DPH says.
However, compared with DEET, protection from oil of lemon eucalyptus does not last as long, Poison Control reports. DPH warns that repellants made with the extract should not be used on children younger than 3 years old.
Look for active ingredients that are registered with the EPA
Ann Scales, a DPH spokesperson, told Boston.com Wednesday the most important thing consumers should think over is choosing a repellant that contains an EPA-registered active ingredient.
"Manufacturers of products that are EPA-registered have had to provide data proving that they are both safe and effective," Scales said in an email. "Although it is very tempting to use something termed 'natural,' most of those products are not EPA-registered and have not had to provide any evidence of either efficacy or safety."
And as for when mosquito season will end, expect the pesky insects to hang around until the first hard frost.