Health
More teens vape in New Hampshire than in any other state, survey finds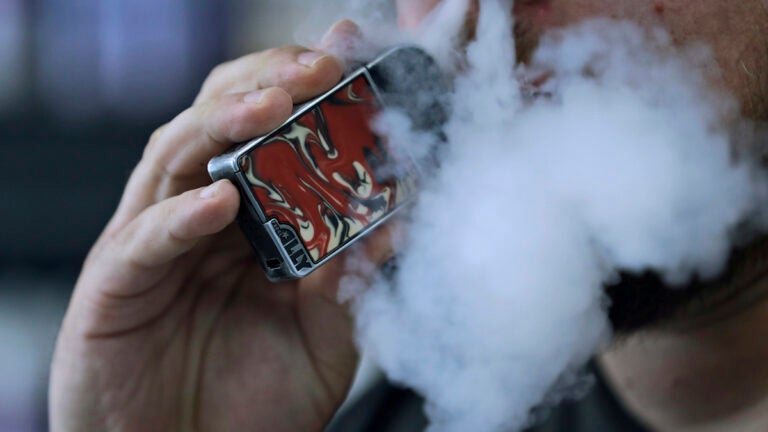 More high school students in New Hampshire use e-cigarettes than teens in any other state surveyed by the Centers for Disease Control and Prevention.
Four percent of respondents in the Granite State for the High School Risk Behavior Survey — with the most recent data from 2017 — said they vaped daily in the 30 days leading up to the survey, results show.
The number far surpasses the national rate of 2.4 percent and narrowly eclipsed Arizona and Colorado, where 3.7 percent of teenagers surveyed in each state reported using e-cigarettes every day.
Results from New Hampshire's neighboring states show Massachusetts, Vermont, and Maine reported rates of 2.1, 1.8, and 1.7 percent, respectively.
However, data was not available for several states, including Alabama, Connecticut, Florida, Georgia, Indiana, Minnesota, Mississippi, New Jersey, Ohio, Oregon, South Dakota, Washington, and Wyoming.
New Hampshire Sen. Maggie Hassan referenced the findings while questioning Mitch Zeller, director of the Center for Tobacco Products at the Food and Drug Administration, during a Senate Health, Education, Labor, and Pensions Committee hearing Wednesday.
Lawmakers were seeking to glean information about how federal agencies have responded to the fast-moving national outbreak of lung illnesses associated with vaping, as well as the rising use of e-cigarettes among adolescents and teens.
"Millions of children are nicotine dependent because of e-cigarettes, and the American Academy of Pediatrics estimates that only four percent of those kids are going to successfully quit," Hassan said. "That is a stunning statistic."
CDC officials said last week vitamin E acetate — an additive sometimes found in THC vaping products — appears to be a "strong culprit" in the reported illnesses. The agency could not specify whether legal products on the market are safe though.
As of Wednesday, 2,172 lung injury cases associated with e-cigarettes and vaping products had been reported to the CDC from 49 states, Washington, D.C., and two U.S. territories. Forty-two deaths have been reported in 24 states and in the nation's capital.
At Wednesday's hearing, Hassan questioned Zeller about how the FDA communicates with the e-cigarette company, JUUL, and how the agency will ensure manufacturers comply with an anticipated federal ban on flavored vape products.
Zeller said it's difficult to discuss a policy still being crafted. But, speaking hypothetically, the FDA would "be very concerned and would look at whatever authorities we have to take action" if a company were to simply change the name of a product to skirt the ban, he said.
Hassan told him the FDA must act soon. She noted it's been two months since the Trump administration announced it planned to roll out a ban.
"I understand the deliberate process argument, but let me be clear: What you are hearing from everybody up here is we have children who are getting hooked on these products," Hassan said. "There has been a lot of delay. We are looking for a strategy, and we are looking for you guys to move through your deliberations. You've had plenty of time already; kids and people — Americans all over this country — are getting hurt."