Health
A 5th person has died from a vaping-associated lung injury in Massachusetts
The patient was a man in his 40s from Suffolk County who reported vaping THC, officials said.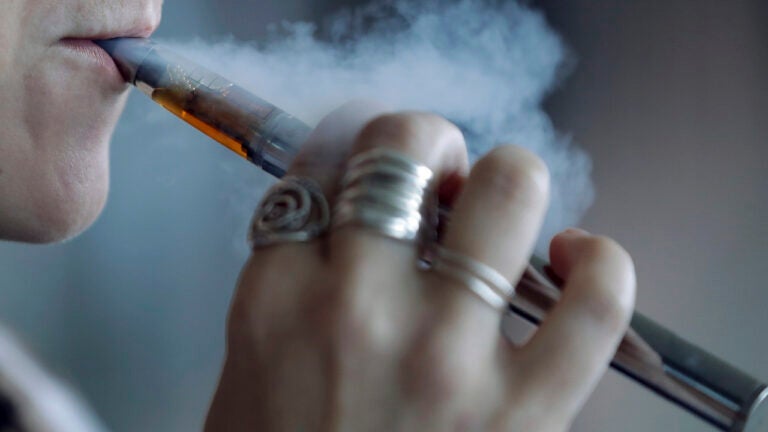 A man in his 40s from Suffolk County is the fifth person to die from a vaping-associated lung injury in Massachusetts, state health officials announced Wednesday.
The patient, who was not identified, reported vaping tetrahydrocannabinol, or THC — an ingredient found in marijuana, according to a press release from the Department of Public Health.
"My condolences go out to the family of this patient who has died from a vaping-associated lung injury,'' Public Health Commissioner Monica Bharel said in a statement. "This tragedy reminds us of the dangers of vaping and the reasons we strengthened our laws regarding vaping products."
The case is one of 46 confirmed cases of e-cigarette or vaping-associated lung injury (EVALI) DPH has reported to the U.S. Centers for Disease Control and Prevention since Sept. 11, when health officials began mandating clinicians in the commonwealth to report any "unexplained lung injury," the department said.
In total, DPH has identified 127 cases of EVALI. Eighty-one probable cases have also been reported to the CDC, according to the department.
Of the reported cases, there is a nearly 50/50 split between male and female patients, with 65 cases involving men and 62 involving women, officials said. Fifty-six percent of patients were under the age of 30, and 44 percent of patients said they vaped only nicotine, 43 percent said they vaped only THC, and 31 percent reported vaping both THC and nicotine, according to DPH.
A man in his 70s from Middlesex County who reported vaping THC became the fourth person to die from a vaping-associated lung injury in the state in January.
A man in his 50s from Worcester County died in November after he said he vaped both nicotine and THC. Two women, one in her 40s from Middlesex County and another in her 60s from Hampshire County, both vaped nicotine and died from the injuries in October, officials said.
Independent testing labs hired by state officials to test products manufactured by licensed marijuana establishments and medical marijuana treatment centers for the presence of vitamin E acetate — considered a "chemical of concern" by the CDC — have "not found detectable levels" in any products to date, DPH said.
New regulations passed late last year have limited the sale of flavored nicotine vape, e-cigarette, and tobacco products in Massachusetts.