Health
What to know about the coronavirus in Massachusetts
Two people in the Bay State have tested positive for the novel virus known as COVID-19.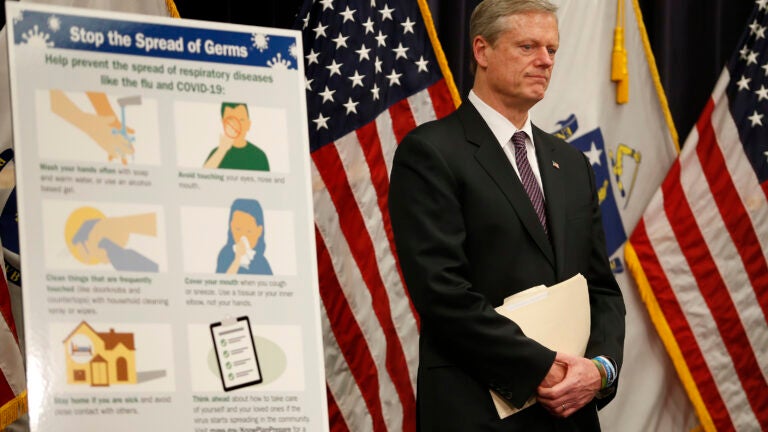 Public health officials in Massachusetts announced Monday that a second case of coronavirus, the novel respiratory illness that has spread rapidly around the globe in recent weeks, had been found in a Bay State resident.
The virus has been diagnosed in six individuals in New England, with residents also testing positive in New Hampshire and Rhode Island.
Below, what you need to know about the virus, COVID-19, in Massachusetts.
What officials are saying about risk in Massachusetts
The risk to residents in Massachusetts of contracting the coronavirus remains low, officials said during a Wednesday press conference.
The Massachusetts Department of Public Health is in contact "daily" with the U.S. Centers for Disease Control and Prevention as well as other federal and regional agencies as the outbreak evolves nationally.
"We want you to know that Massachusetts is prepared for this potential outbreak," officials wrote on the department's website. "Massachusetts public health departments and our world-class health care providers are well-versed in emergency preparedness and our healthcare workers, institutions and public health partners across the Commonwealth are constantly training for the possible emergence of diseases."
As of Feb. 28, the state's public health laboratory got approval to test patients for COVID-19, so clinicians who have patients exhibiting symptoms of the coronavirus, who meet criteria from the CDC, can request authorization from the state to submit specimens for testing. Tests take about 42 to 72 hours.
"We understand the concern this new virus is causing, and our state's ability to quickly test for the virus is a positive development," Public Health Commissioner Monica Bharel said in a statement on Monday.
Nationally, the CDC says the immediate health risk from the coronavirus to the general public, who are unlikely to be exposed to the virus, is still considered low. Risk for exposure to the virus goes up if you travel in areas where there is widespread community transmission, like China, Iran, Italy, Japan, and South Korea, or if you have close contact with an individual who is confirmed to have the virus. The CDC is currently advising travelers to avoid all nonessential trips to the five countries where there is widespread community transmission. The agency is also advising that anyone returning from travel to China, Iran, Italy, or South Korea stay home and monitor their health for 14 days after re-entry to the United States.
"This virus is NOT currently spreading widely in the United States," the CDC says. "However, it is important to note that current global circumstances suggest it is likely that this virus will cause a pandemic. This is a rapidly evolving situation and the risk assessment will be updated as needed."
Massachusetts Gov. Charlie Baker announced Wednesday that the state is urging all universities, colleges, and high schools to cancel any international programs or trips "at this time."
"Taking this precaution will help protect both the students and the Commonwealth as we are home to such a large number of colleges and universities," the governor said.
What we know about the diagnosed cases in Mass.
Case 1: The first case of coronavirus in Massachusetts was confirmed in early February in a Boston man. The man, in his 20s, is a student at University of Massachusetts, Boston, and had returned from a trip to Wuhan, China, where the outbreak of the virus originated in December. The student went to a medical clinic the day after his return to Massachusetts and has remained in self-quarantine as he recovers from the illness. Those who had close contact with him were notified and were monitored by health officials for symptoms.
Case 2: The second case of COVID-19, a presumptive positive, was diagnosed in a Norfolk County woman in the first days of March. The woman, in her 20s, had recently returned from a trip to Italy with a school group, where there is widespread community transmission of the coronavirus. The woman is recovering at home, and her test results have been sent to the CDC for confirmation.
What we know about the monitored cases
Massachusetts public health officials said Wednesday they have tested 20 state residents since January, including the two positive cases.
Health officials say as of March 3, 719 people have been subject to quarantine in Massachusetts due to concerns about the coronavirus. Of that number, 470  have completed the self-monitoring, and 249 remain in quarantine. Individuals in self-quarantine are required to be in daily contact with their local board of public health, state officials say.
School officials in Newton and Bellingham announced this week that students and chaperones who recently returned from class trips to Italy are staying home as a precautionary measure. In Newton, 19 Newton North High School students and two chaperones are not returning to school out of "an abundance of caution." In Bellingham, 15 high school students and two teachers are staying home.
Monitoring extends over a 14-day period, and, if there are no symptoms of the coronavirus after that time, the individual is considered to be cleared and to not pose a risk of infection to others.
"How long someone is actively sick can vary so the decision on when to release someone from isolation is made on a case-by-case basis in consultation with doctors, infection prevention and control experts, and public health officials and involves considering specifics of each situation including disease severity, illness signs and symptoms, and results of laboratory testing for that patient," health officials said.
What Mass. officials want you to know about prevention
There is currently no vaccine or antiviral treatment for COVID-19, so all medical care for those who have contracted the virus is supportive and aims to help relieve symptoms. The virus, like the flu, spreads mainly through respiratory droplets that are produced when the infected person coughs or sneezes. Symptoms may appear between 2 and 14 days after being exposed. They include fever, cough, and shortness of breath.
According to the CDC, the coronavirus is thought to largely spread between people who are in close contact, within about 6 feet, but it may be possible to get COVID-19 from "touching a surface or object that has the virus on it and then touching their own mouth, nose, or possibly their eyes."
"The health risk to Massachusetts residents remains low and at this time we are not recommending that people wear masks when they are in public," officials said Monday. "Masks can be useful in some settings, such as a clinic waiting room, to prevent someone who has a respiratory illness from spreading it to others. There is no hard evidence that wearing a mask protects the wearer outside of the healthcare setting."
During a press conference Wednesday, MBTA General Manager Steve Poftak said out of coronavirus concerns the transit agency is "ramping up" its process for disinfecting vehicles and stations in the system. Starting Wednesday, Poftak said all "contact areas" in MBTA stations, such as handrails and fare equipment, will be cleaned every four hours. By the end of the week, Poftak said a protocol will be in place where every MBTA vehicle — buses, subway cars, and paratransit — will be disinfected every day.
Massachusetts officials are advising residents to employ many of the same steps taken to prevent the spread of the flu and colds to protect themselves from coronavirus:
—Wash hands often with soap and warm water for at least 20 seconds.

—Avoid touching your eyes and face.

—Clean things that are frequently touched (like doorknobs and countertops) with household cleaning spray or wipes.

—Cover coughs and sneezes with a tissue or the inside of your elbow.

—Stay home when feeling sick.

—Get a flu shot.
"Those who have recently traveled to any countries of high level transmission (China, Italy, Iran, South Korea, Japan as of March 2nd, 2020) and who have symptoms of respiratory illness and/or fever or individuals who have come in contact with someone who meets these criteria should contact their local board of health, health care provider, or our Massachusetts State Epidemiology line at (617) 983-6800," the department of public health says.
What would you like to see in Boston.com's coverage of the coronavirus? Let us know at [email protected].
Information from the Associated Press was used in this report.