Health
Massachusetts has 8 coronavirus cases. Here's what we know about them.
Five presumptive positive cases are associated with a Biogen employee meeting in Boston last week, officials said.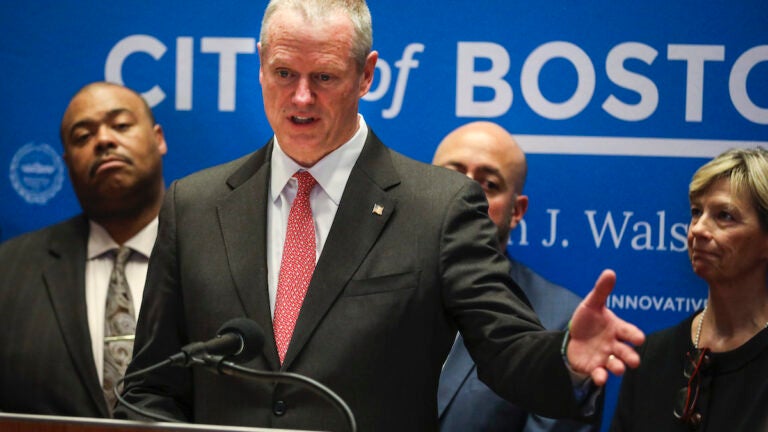 The number of coronavirus cases in Massachusetts is continuing to grow.
State officials Friday announced five new cases of COVID-19, all involving attendees of a meeting the Cambridge-based biotech company Biogen held at the Long Wharf Marriott hotel in Boston last week.
At a press conference, state Secretary of Health and Human Services Marylou Sudders said three of the people diagnosed live in Boston and two live in Norfolk County.
"All of these individuals are recovering at home or are at home without symptoms," she told reporters.
A total of seven presumptive cases and one confirmed case of the novel coronavirus have been recorded in Massachusetts, as of Friday afternoon.
The latest cases come a day after Biogen announced three people — two who live in the European Union and a man who lives in Tennessee — tested positive for the coronavirus after attending that same meeting. The company has mandated that all meeting attendees, with or without symptoms, work from home for two weeks, Biogen said in a statement Thursday.
A presumptive positive case means a person tested positive for the virus in a state-conducted test. A case is confirmed once the findings are verified by the U.S. Centers for Disease Control and Prevention.
Gov. Charlie Baker continued to urge people to take precautions to prevent the spread of the virus by washing their hands, covering their coughs and sneezes, and staying home from work when feeling ill.
Massachusetts remains at low risk, but officials are "planning and preparing for the potential for more cases to develop here," he said.
"I think we all know that this is stressful for people," Baker said. "But health experts have advised that a virus like this is not deadly for the vast majority of people who may get it."
Here's what we know about the cases reported so far:
Boston
Three presumptive positive cases: The city's chief of Health and Human Services, Marty Martinez, said Friday that three Boston residents — two women and one man, all in their 40s — have been diagnosed as presumptive positive cases and were all attendees of the Biogen meeting.
All are at home "self-isolating," Martinez said. Two of the people have symptoms and one does not.
"They were identified by Biogen as people who had been in close contact with one of the earlier confirmed cases that had been identified," he said. "Due to their contact and symptoms, they were tested for the virus and have tested positive."
Martinez said officials were tracing who the three people were in contact with over the last two weeks. The city's infectious disease staff is also meeting with the Long Wharf Marriott "to mitigate the risk and to work with them in cleaning their facility and contacting and engaging with employees," he said.
That work includes reviewing cleaning procedures and educating hotel staff on symptoms, how COVID-19 is spread, and how workers can protect themselves, he said. The hotel has had a deep-cleaning protocol plan in place for the last six weeks as well, he said.
"It's important to note that this is not an example of community transmission as the source of this transmission is known and is connected to a confirmed case of the virus and close contact with the patient," Martinez added.
He stressed that the virus is not airborne, but instead spreads through close-contact encounters.
Update: Biogen released the following statement Friday night:
"We recognize that this is a difficult situation for our colleagues and their loved ones. We are actively working with all relevant departments of public health and hospitals to prioritize the well-being of the people who may have been exposed to COVID-19.
We have informed employees who attended the management meeting and are symptomatic that, if they haven't already, they will be contacted by the public health authorities to be tested and they must quarantine themselves. Additionally, these employees are being asked to isolate from the people they live with (e.g. family members, loved ones or roommates) until further notice, and these close contacts must also be quarantined until further notice.
For meeting attendees who are not showing symptoms, individuals are being asked to stay in quarantine until further notice, and the people they live with should avoid social interaction and work from home.
All other office-based Biogen employees and contractors in Massachusetts, Research Triangle Park, North Carolina and Baar, Switzerland are being asked to work from home until further notice.
"Our thoughts are with our colleagues and those who are impacted."
The Marriott did not immediately return a request for comment Friday afternoon.
One confirmed case: A UMass Boston student, a man in his 20s, was the first and is the only confirmed case so far in Massachusetts. He returned from Wuhan, China, and sought medical attention the following day. His diagnosis was announced in early February.
Mayor Marty Walsh said Friday the man is "doing well and continues to self-isolate in his off-campus dorm."
"Close contacts of his may have been exposed to the virus and … the signs and the symptoms are being monitored there," he added.
Walsh stressed the city is working closely with its state and federal counterparts to provide resources to hospitals and information to the public about the virus. Officials plan to increase the number of 311 phone lines to handle more calls with questions about COVID-19, he said.
"Our utmost priority is making sure residents are safe and healthy in the City of Boston and get information so they have the information that they need to move forward," Walsh said.
Norfolk County
Three presumptive positive cases: Three people in Norfolk County have been diagnosed with COVID-19 to date, Sudders said.
Two of the cases are people — one in their 30s, the other in their 40s — who attended the Biogen leadership meeting, she said.
On Monday, the state Department of Public Health announced a woman in her 20s from Norfolk County had recently traveled to Italy with Saint Raphael Academy in Rhode Island and tested positive for the virus.
All are either recovering at home or are at home without symptoms, Sudders said.
She declined to say what towns the people live in, however, Wellesley school district officials announced Friday that a parent whose children attend Upham Elementary School and Wellesley Middle School had been diagnosed.
"It's important to know that these children are showing no symptoms and are healthy," Superintendent David Lussier wrote to the school community. "Out of an abundance of caution, we have made the proactive decision to release students early at Upham and WMS in order to fully clean and sanitize both buildings."
Lussier said the district is working closely with the Wellesley Health Department and local officials.
Middlesex County
One presumptive positive case: A woman in her 60s who lives in Middlesex County tested positive after returning from a trip to Europe that included a visit to northern Italy, Sudders said.
"She was symptomatic, did not require hospitalization, and is recovering at home," state Department of Public Health officials said in a statement Thursday.
What to know about testing
According to Sudders, the state has enough test kits to test 40 to 50 people per day. Results can be returned within 24 hours.
Monica Bharel, the state's commissioner of public health, said Massachusetts has requested and received additional test kits from the CDC for use in the state lab.
The lab is currently the only facility authorized to conduct coronavirus tests, but the federal government is slated to allow other labs to do so soon, Bharel said.
Responding to questions about whether hospitals have been overburdened by coronavirus-related protocols, Bharel said individuals who suspect they may have COVID-19 should call clinics and hospitals before their arrival so the facilities can prepare.
"We have increased our capacity at our lab over this week to be able to do the testing, and I'm confident when other sites are able to do testing that'll increase our capacity as well," she said.
Sudders said on Thursday the state formally requested "personal protective equipment from the national strategic stockpile" and officials are anticipating to hear back soon.
"We continue to prepare and plan as the evolving nature of this illness changes," she said.
Watch the full press conference:
https://www.youtube.com/watch?v=D-2URE3biP0