Health
An updating overview of coronavirus in Massachusetts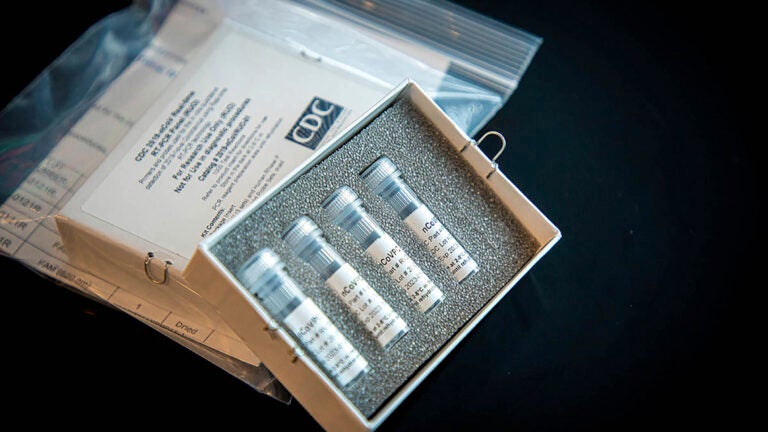 Below, what you should know about the status of COVID-19 in Massachusetts, based on the latest statistics and information available from state public health officials:
Confirmed and probable cases: 121,707
Deaths from the virus: 8,751
Patients tested: 1,337,606
Sex
Female: 66,221
Male: 53,612
Age
<19: 7,665
20-29: 18,091
30-39: 18,588
40-49: 17,201
50-59: 19,104
60-69: 15,275
70-79: 9,971
≥80: 15,548
Cases by county:
Barnstable County: 1,803
Berkshire County: 667
Bristol County: 9,408
Dukes County: 66
Essex County: 17,930
Franklin County: 411
Hampden County: 7,637
Hampshire County: 1,184
Middlesex County: 26,565
Nantucket County: 37
Norfolk County: 10,682
Plymouth County: 9,288
Suffolk County: 22,017
Worcester County: 13,686
Unknown: 326
Monitoring and self-quarantine:
*These numbers are updated every Wednesday by state health officials.
Individuals currently under monitoring/self-quarantine: 2,852
Individuals who have completed quarantine: 72,919
Total number of people subjected to quarantine: 75,771
The decision to release someone from self-isolation is made on a case-by-case basis in consultation with doctors, infection prevention and control experts, and public health officials, according to the state, factoring in elements including disease severity, illness signs and symptoms, and results of laboratory testing for that patient:
Current CDC guidance for when it is OK to release someone from isolation is made on a case by case basis and includes meeting all of the following requirements:

– The patient is free from fever without the use of fever-reducing medications.
– The patient is no longer showing symptoms, including cough.
– The patient has tested negative on at least two consecutive respiratory specimens collected at least 24 hours apart.

Someone who has been released from isolation is not considered to pose a risk of infection to others.
Symptoms:
The symptoms associated with COVID-19 range from very mild, including no reported symptoms, to very severe, including death. The CDC says older people and people of all ages with severe underlying health conditions, such as heart disease, diabetes, or lung disease, are at higher risk of experiencing serious complications from coronavirus.
The virus is thought to spread mainly person-to-person through respiratory droplets produced when an infected person coughs or sneezes, similar to the flu. There is currently no vaccine to prevent COVID-19, and the only treatment is supportive, to help relieve symptoms.
The CDC says the following symptoms may appear two to 14 days after exposure to the virus:
Fever

Cough

Shortness of breath
The CDC states you should contact your doctor if you:
Develop symptoms, and have been in close contact with a person known to have COVID-19

or 

have recently traveled from an area with widespread or ongoing community spread of COVID-19.
An individual's risk for COVID-19 is tied to their recent travel history and the travel history of their immediate contacts.
"If you have recently traveled to any countries of high level transmission and have symptoms of respiratory illness and/or fever or if you have come in contact with someone who meets these criteria, you should contact your local board of health, health care provider, or our Massachusetts State Epidemiology line at (617) 983-6800," state health officials say.
View the CDC's latest risk assessments for travel here.
Prevention:
State health officials are advising the following steps, also taken to protect against colds and the flu, to help prevent the spread of COVID-19:
– Wash your hands often with soap and warm water for at least 20 seconds.
– Avoid touching your eyes, nose and mouth.
– Clean things that are frequently touched (like doorknobs and countertops) with household cleaning spray or wipes.
– Cover your mouth when you cough or sneeze. Use a tissue or your inner elbow, not your hands.
– Stay home if you are sick and avoid close contact with others.