Health
UPDATED: Here's how Boston-area hospitals are altering their policies to combat the new coronavirus
From limiting visitors to special testing tents to a warehouse of "pandemic product," many Greater Boston hospitals are gearing up to fight the sickness.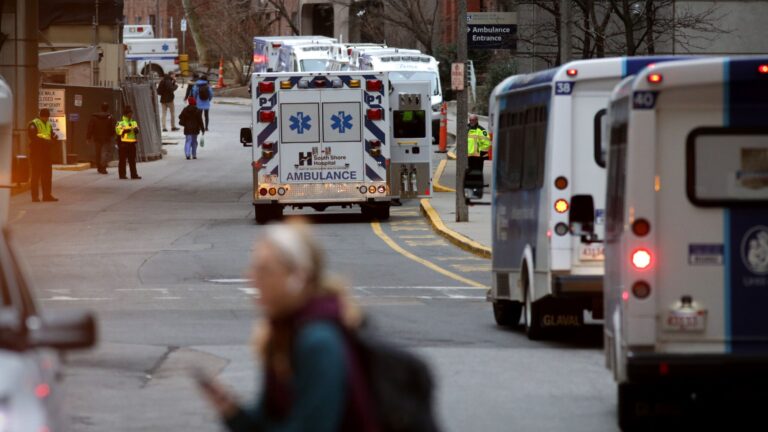 Amid growing Coronavirus cases in Mass., hospitals in the greater Boston area brace for the virus' spread. 
Many have been adjusting their policies, conducting additional visitor screenings, and limiting the number of people allowed to visit. 
Here's a rundown of how hospitals have temporarily changed their policies and how they're preparing to treat COVID-19. 
Massachusetts General Hospital 
On March 15, Mass General activated its Hospital Incident Command System in response to the ongoing pandemic. 
The hospital at 55 Fruit St. is now screening all visitors, including patients, business associates, vendors and any other non-employee stopping by the facility. 
Anyone who has returned from visiting one of the countries with widespread local transmission of the novel coronavirus "are kindly asked to defer their visits to the facility for 14 days from arrival," officials wrote on their website. 
MGH is also asking people not to come to an urgent care clinic or emergency room unless instructed to do so.
The hospital updated its policies and is now limiting one visitor per patient. No one under 18 is allowed to visit. 
While asking people not to come in, officials said Mass General's virtual health care team has been working to develop new tele-health options for patients. 
"We hope to have a suite of resources available to help with the response in the coming days and weeks," officials there said. 
NBC News reported that the hospital is waiting to broach its warehouse filled with hundreds of boxes labeled "pandemic product," containing emergency equipment like IV fluid, medical gloves and protective gowns. 
"We are trying to hold out as long as we can to tap into that warehouse, because we think there's a chance we will see sustained transmission in the community," Dr. Paul Biddinger, chief of the division of emergency preparedness at Mass General, told the station. 
Resources at the hospital, like N95 respirators and protective masks that filter out airborne particles, are already in short supply, according to NBC's report. 
Meanwhile, a health care professional at Massachusetts General Hospital learned Sunday they tested positive for COVID-19, the hospital said in a statement.
The MGH employee is at home in isolation and "doing well," officials said.
Boston Medical Center
Any patients at risk for the novel coronavirus will be put in a private room, BMC officials said. Masks will also be provided for both the patient and care team.
As of March 11, people under 18 will not be allowed to visit any patient, visitors have been limited to one per patient, and no visitors are allowed into the post-anesthesia care unit. 
Beginning tomorrow AM, a number of new policies will be in effect related to visitors👩‍👦‍👦 & campus entrances🏥. We ask for your cooperation in helping us increase the safety of our entire community. Review✅the updates at https://t.co/fxPyfLk5FB & https://t.co/kYIQhpj0ov #COVID19 pic.twitter.com/LcTMVajT4m

— BostonMedicalCenter (@The_BMC) March 12, 2020
"Staff has undergone training for possible cases of COVID-19, and BMC regularly conducts staff drills and training for infectious diseases," the hospital wrote on its site. 
People are no longer able to enter through the Yawkey main entrance and Yawkey Mass Ave. entrance.
Officials have asked all patients with non-urgent appointments to call the hospital and reschedule.
BMC has also erected a virus testing tent as another potential testing location. Though for now, officials said it's being used for drills.
A tent has been set up in the Shapiro driveway to prepare for potential scenarios related to #COVID19 as the situation rapidly evolves. While the tent is currently only being used for drills, it could be used as a testing location or additional ED space should we need it. pic.twitter.com/SKv5GlNm5z

— BostonMedicalCenter (@The_BMC) March 11, 2020
Tufts Medical Center
As of March 13, the hospital at 800 Washington St. sent an alert saying adult patients are not allowed any visitors at this time. Officials have also asked anyone who is sick not to visit. 
The hospital released updates to Twitter on March 12, saying they've been calling patients to reschedule all non-urgent appointments.
"This move will also conserve vital resources needed to provide optimal care to those who ultimately need it most," officials wrote in a Tweet. "During this time, the Medical Center will be open and ready to care for all who are ill, hurt or otherwise require inpatient, surgical, ambulatory and emergency care that cannot be delayed."
We have begun calling patients to reschedule their non-urgent appointments & believe this will reduce the potential of incidental infection of our patients & staff. This move will also conserve vital resources needed to provide optimal care to those who ultimately need it most.

— Tufts Medical Center (@TuftsMedicalCtr) March 12, 2020
People visiting the clinic are now only able to enter through the level three garage entrance, the emergency department entrance, and the plaza level entrance at Floating Hospital.
For the safety of our patients & employees, beginning today, access to the Medical Center for patients and visitors will be restricted to only the Level 3 garage entrance, Emergency Department entrance (830 Washington Street), and the Plaza Level entrance of Floating Hospital.

— Tufts Medical Center (@TuftsMedicalCtr) March 12, 2020
Brigham and Women's Hospital
Brigham Health officials released a statement over the weekend saying one of their healthcare workers has tested positive with COVID-19.
"The Brigham Health community has been preparing for this eventuality and has taken every precaution to protect our patients, their loved ones and our staff during this unprecedented pandemic," officials said.
On March 14, the hospital at 75 Francis St. began limiting patients to one healthy visitor per day. All visitors will be screened upon arrival and anyone exhibiting symptoms will be asked to go home. 
Visitors under 18 are no longer allowed.
In other changes, the hospital will be updating its emergency department and ambulatory screening protocols to quickly detect patients with possible COVID-19. 
This goes hand-in-hand with an update in the facility's screening tools and ability to flag patients who may have the virus. 
Officials are also reportedly conducting drills and planning for an influx of COVID-19 patients, according to their site. 
The hospital told Channel 7 News that they have set up special coronavirus testing tents outside to examine individuals who have either been exposed to someone with the coronavirus or who meet specific CDC criteria, according to the hospital.
Coronavirus testing tents set up outside Boston hospital https://t.co/mYlHkZDr7r #7NEWS pic.twitter.com/ByNiIREMJh

— 7News Boston WHDH (@7News) March 9, 2020
South Shore Hospital
The Weymouth health center at
55 Fogg Road is restricting visitors to just
one primary caregiver as specified by the patient, according to the updated protocols listed on the facility's
website
. 
Those primary caregivers must be over the age of 18 and free of fevers, coughing, sore throat, sneezing, vomiting, or diarrhea for at least 48 hours prior their visit. 
They must also wash their hands frequently, wear a mask or other protective equipment if asked to do so during their visit, and head directly home after leaving the patient instead of stopping at other public areas. 
Anyone under 18 is not allowed to visit the hospital at all, officials said. 
Kim Dever, vice president of medical affairs, reminded everyone in a video released last Thursday that the restrictions are only temporary.
"Given the nature of the season of infectious diseases, we have decided that it is time to put some temporary restrictions on the visitors that are coming into our organizations," Dever said. "We do encourage you to talk to your health care team or your health care provider around this, but our main focus is always the health, wellness, and safety of our patients, our staff, and our visitors."
In a tweet on March 13, officials encouraged those with loved ones in the hospital to check in via phone call or video chat platforms like FaceTime.
We know it's difficult to have a loved one in the hospital with restrictions in place. But it's critical to the safety of the entire community as this situation evolves.

— South Shore Health (@southshorehosp) March 13, 2020
The Dana-Farber Cancer Institute
The clinic at 450 Brookline Ave. will be officially screening patients with multiple questions before, after, and during their visits. 
All adult patients coming in for appointments are now allowed one other adult family member or caregiver, but similar to South Shore, no one under the age of 18 can accompany a patient.
"We understand that this change may be disruptive," officials wrote in their updated policies. "However, limiting visitors is one way to reduce the risk of infection to cancer patients from the general population."
Spaulding Rehabilitation Network
Beginning Tuesday, March 17, no visitors will be allowed in any Spaulding facility.
"This is being done as a difficult but necessary step to protect our patients, one of the highest risk and vulnerable groups, and to protect our staff who need to remain healthy in order to be able to deliver care," officials said in a March 16 press release. "In addition, patients will not be allowed out of the facility to meet any visitors. Only clinically appropriate and urgent medical travel will be allowed with the approval of Spaulding site administrative leadership and clinical leadership."
They said healthcare teams will work with patients to connect with their families digitally.
Massachusetts Eye and Ear
The healthcare facility released a statement over the weekend saying one of their workers tested positive for COVID-19.
"As Coronavirus spreads across the globe, it has become inevitable that health care workers will be exposed," they said. "Mass. Eye and Ear is reaching out to patients and fellow staff who may have come in contact with this individual, who is at home and isolated."
The hospital said they have been prepared for this and have taken "every precaution possible to protect patients, providers and staff, including use of personal protective equipment, reducing non-urgent patient visits, limiting visitors, and implementing social distancing for essential staff. "
Now, healthcare providers are asking anyone experiencing COVID-19 symptoms with a  non-urgent scheduled appointment to reschedule before coming into the facility.
All visitors — including business associates, vendors, and other non-employees — will be screened before meeting with patients and no visitors under 18 are allowed.
Patients are also only allowed one visitor.
For more information on the new coronavirus, head to the Massachusetts Department of Public Health's website. 
As of now, there's been no indication how long these changes and restrictions will last.