Health
Harvard shutdown causes strain for low-income students
"At the moment, my mom and I are without a home."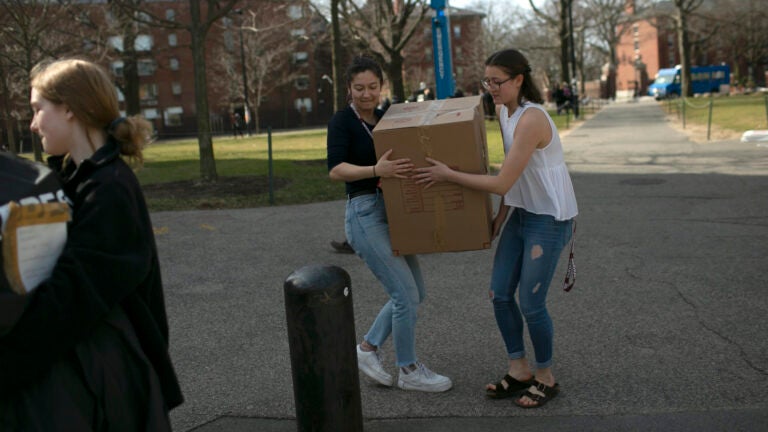 close campus and move classes online amid the coronavirus outbreak, Jordan Barton was left with a lot of questions. He's a first generation, low-income student from rural Texas, and thanks to an on-campus job, he saved enough to cover the emergency move. But he said it cost him. 
"For me, that's a lot of money and security gone. That was money that I was counting on for other things gone. It's stability and housing that I was expecting to have for another several weeks — gone."
Harvard announced Tuesday that, effective March 10, all classes would move online, and students would need to move out of their on-campus housing by Sunday, March 15 at 5 p.m.
Several other Massachusetts colleges have followed suit, suspending in-person classes and asking students living on campus to relocate. Barton founded Harvard Undergraduates for Decent and Urgent Accommodations. The group is attempting to advocate for the student body, in particular low-income and international students who either do not have the resources to move, or would be put at increased risk by moving home. 
Primus, Harvard's first-generation student union, also released a statement Tuesday night calling on Harvard to address the unique challenges that students in under-resourced communities will face in attempting to vacate campus on short notice. 
"While many students can handle unexpected costs, this sudden change in housing highlights the large disparity within our student population concerning students' access to disposable wealth and the resources necessary to evacuate and move off-campus," the statement reads.
"Speaking from personal experience, I was shocked to hear the news," Primus president Alejandra Iglesias said. "Having gone through homelessness in high school, my mom and I have plenty of moving experiences. This one seemed to hurt the most. … At the moment, my mom and I are without a home; we are staying with a family friend temporarily."
Low-income undergraduates aren't the only ones in jeopardy. The Harvard Graduate Student Union has also sent a letter to the administration, urging them to ensure stipend and salaried workers would still be paid during the campus closure.
Nilima Abrams, 36, is a graduate student who also works at the Harvard Business School. She relies on her HBS income to help pay rent. Although she said her supervisor has been working with her directly to try to shift her to paid time off or administrative work, there is no way to guarantee her income won't be impacted. 
"It's more of the uncertainty. Do I start looking for other jobs? Do I try to do my schoolwork? Do I just roll with it?" said Abrams. 
Rachel Sandalow-Ash, a third-year law student on the board of the Harvard Graduate Students Union, is concerned about health care coverage.
"One concern that a lot of people have raised is that our students' health insurance plan only covers six specialist visits outside the Harvard University Health System," Sandalow-Ash said. "But now we're going to have all these people who don't have access to the Harvard University Health System — they won't be on campus, or in Boston. So there's a lot of uncertainty right now about what people's health coverage is going to look like during this."
Barton stressed that, while Harvard's response to the crisis has had issues, the community has been supportive. "We have students, alumni, and so many other people compiling resources offering space and housing … in a way that is just entirely unexpected."
Readers interested in supporting Harvard students who are losing their housing can donate to the campaign set up by the First Generation Harvard Alumni in collaboration with Primus, or volunteer to host students or store belongings.