Health
What you need to know about maintaining your mental health during the COVID-19 outbreak
"We're at really high risk for a lot of people feeling very lonely right now."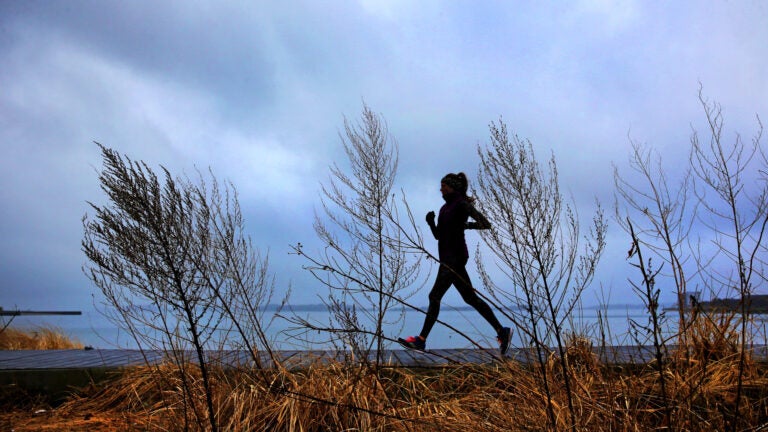 The COVID-19 pandemic is disrupting lives and routines around the world. 
During this time of great upheaval and uncertainty, experts are warning that while you're taking taking the important measures to help prevent the spread of the novel coronavirus in your community — through hand-washing and social distancing — you shouldn't forget about your mental health. 
To learn more about how to handle the stress and anxiety sparked by the COVID-19 crisis, we spoke with Jennie Kuckertz, a clinical fellow in psychology at Harvard Medical School and McLean Hospital. 
Kuckertz told Boston.com that experiencing anxiety is both natural and helpful for what the world is experiencing right now with the coronavirus. 
"Our anxiety response is part of this larger biological system we have pre-programmed into our brain, and it functions as an alert system that helps us stay vigilant and respond to potential dangers," she said. "So in this situation, some anxiety is going to help you wash your hands and be mindful of staying home and postponing social gatherings. So it's OK to sit with some of the anxiety."
Having some anxiety right now means your "alert system" is working well and you're likely going to take steps to keep yourself safer, Kuckertz said. But there is an "optimum level of anxiety for any situation." 
With the current pandemic, she said, it's easy to see how extremes at either end — being so unconcerned you disregard public health directives, and being so worried you panic-buy toilet paper — are being expressed. 
"There is definitely such a thing as being too anxious or too panicked," Kuckertz said. 
Panic-buying is an example of the anxiety-alert system going into overdrive, which does not help society or the individual experiencing it. 
"If we have lots and lots of toilet paper and canned goods stacked up in our living room, that's a cue that we're looking at all the time and it's a reminder of, 'We're in danger, the apocalypse is coming, and we're not safe,'" Kuckertz said of one of the impacts to the individual. "And it's going to be really hard not to panic and to have any sense of normalcy when we have those cues around us."
Below, five questions and answers about why you should be mindful of your mental health in the midst of the coronavirus outbreak and steps you can take to manage anxiety.
Why should you pay attention to your mental health during the COVID-19 pandemic?
"It will be important for people to think about their mental health because things are really hard for a lot of people right now," Kuckertz said. 
Not only are routines "massively disrupted" with the widespread closure of schools and directives to practice "social distancing," there is a flood of information about the crisis constantly within reach on the internet and on television.
"This is taking up a lot of space in conversations," Kuckertz said. "And in our social media feeds it seems like we're really not getting a lot of information or having a lot of conversations that aren't about COVID-19. What that does is that introduces a lot of uncertainty into people's lives and uncertainty is a huge driver of anxiety." 
While you should be prepared to "sit" with some of the natural anxiety you're experiencing, the psychology fellow said focusing on what you do have control over — such as your routines, staying connected to people, and taking the public health precautions, like washing your hands and physical distancing from others, will help you maintain and promote your mental health. 
What steps can help promote mental health and reduce anxiety?
Set a media diet
It is important to stay engaged and know what's happening around you with the outbreak, so you can can adjust your behavior to stay safe and protect others, Kuckertz said. But that doesn't mean you need to be glued to your phone or TV all day. 
"That can be sort of overwhelming or paralyzing to people," she said. "I would set a media diet as maybe reading the news when you wake up and maybe at 5'o'clock you watch 30 minutes of TV. But stick to a couple of trusted sources."
Keep to a routine
You may be working at home, but that doesn't mean all routine should go out the window. Kuckertz recommends keeping it as normal as possible. 
"This includes when you're waking up and going to bed, when you eat, what time you're working if you're working remote, your workout schedule," she said. "Of course, that's going to be hard because people have kids at home and there are going to be interruptions. So we have to be compassionate with ourselves that we're not going to be perfect."
Kuckertz says keeping routines as normal as possible also applies to conversations. 
"When you're calling mom on the phone or you're talking to grandma or your kids, talk about other things that you're doing," she said. "What you made for dinner, how is stuff at work, even if you're working remotely, what your kids did — the fort that they made. Because we want to keep in mind that even though our routine is altered, life is going on."
Stay connected
The Harvard fellow said she's not a fan of the term "social distancing" for the practice of keeping six feet from people, and limiting your in-person gatherings and interactions to only those that are essential. 
"Because what we're really talking about is physical distancing, but not social isolation," Kuckertz explained. "I think that staying connected is more important than ever and we have a lot of ways to do that."
With technology, there are so many ways to connect with classmates, family members, friends, and co-workers, she said. Those social interactions, even with physical distancing, are still something we have control over and are really important to maintain, she emphasized. 
"We're at really high risk for a lot of people feeling very lonely right now," she said. 
If you have the time and resources, this is an especially important time to reach out to those who are at higher risk of severe illness from COVID-19, she said. 
"Pick up the phone and call your aunt who's in a nursing home, talk to grandma who may be living at home," Kuckertz said. "Call them, see how they're doing, and let them know that you're thinking of them and you're looking forward to seeing them when all of this passes over. It's important for people who are more vulnerable to know that they're not forgotten about and to recognize that they may have a little less physical social contact than usual because it's harder for people to visit them right now."
Why is it important to address loneliness – are there health impacts of experiencing isolation?
Kuckertz warned that there are a number of health implications associated with loneliness. The feelings of isolation and loneliness are drivers for depression, substance use, and substance abuse, she said. 
"It's hard right now when people feel isolated and their routines are very off," she said. "Loneliness — which is natural, I think, for a lot of people right now — can, combined with an irregular routine, slip into depression. That's what we see if people are spending a lot of time sleeping during the day, potentially, or having a hard time sleeping, having a hard time eating regularly, and really not feeling very motivated or hopeful."
If you are someone who is struggling with depression or a substance use disorder, Kuckertz recommends reaching out to your support system as much as possible. If you have a therapist, let them know what's going on. There are remote mental health services and resources available and many therapists are seeing their patients remotely, she said. 
"I think that we all have appropriately been focused on the immediate health implications of coronavirus in terms of hospital capacity and testing, but I do think that there's going to be some downstream and longer-term health effects of coronavirus, in terms of potentially treating folks for depression and substance use disorders or exacerbated conditions that people already have," she said. 
How can we 'stay sane' while self-quarantining and practicing social distancing at home?
Being at home may be particularly challenging if your living situation has suddenly become crowded with multiple household members staying home, between work and school and college closures, Kuckertz acknowledged. 
"Not everyone has the luxury of really being able to spread out in their house," she said. 
She recommends people take a moment to go outside — while following the guidelines from state and public health officials of keeping six feet away from other people — to ride your bike or take a walk to get fresh air and space. 
"If you have a lot of people in a crowded space for a long time, it not only increases anxiety, but also irritability — and that's not a great situation for maintaining routine and appropriate support of social connectedness," she said. "So take a break. Take a walk."
Establishing clear guidelines for a routine in the house will help too, Kuckertz said. 
If there are hours when the TV will be on or when work phone calls need to take place, take the time to negotiate and communicate the individual needs for people in the house.
"Uncertainty is extremely hard for people to cope with and I think it can lead us to feel desperate to do things that make us feel more in control — or we can become very depressed and hopeless," Kuckertz said of balancing the long-term unknowns related to the pandemic. "It can also lead us to dismiss threats entirely, because they're uncomfortable and we can't predict them. Sometimes we dismiss them because it makes us feel a little bit better. So I think we do have to acknowledge that we do have to sit with the uncertainty."
Focus on one day at a time, she advises. That's where setting a schedule at the beginning of the day can be really helpful for everyone.
"Of course, that's hard when you have kids," Kuckertz said. "But if there's two parents who are working from home, try to coordinate who's taking care of the kids when, when you're going to take breaks, when you're going to eat lunch, what you're going to do at the end of the day. I think that having that schedule as something to stick to can help people cope with the longer term uncertainty, because it's not that they're sitting around in limbo, they're actively living their life. Even if they're unsure when their old routine is going to kick back in."
What's the best way to help kids who may be stressed or anxious with all the rapid changes to routine?
Kuckertz said it's important for parents to remember that they are their child's number one role model and the filter through which kids interpret the world. 
"I'd recommend that parents take time to talk to kids about what's happening and to answer their questions realistically, but not to exaggerate the threat because kids do tend to latch onto information and have an imagination that can really run wild with some of this," she said. "Parents can teach their kids good hand-washing practices and let them know that all the adults in their life are working hard to keep them safe."
Kids are sensitive to how the adults in their life are reacting, she said. So if you are constantly watching the news or talking about how bad things are or how the situation is being mismanaged, your child is going to feel more unsafe, the Harvard fellow said. 
This is, again, where maintaining as much normal structure as possible remains important. 
"Getting them outside in the yard or for a walk is good," Kuckertz said of preventing undue anxiety and stress. "Having something fun planned at the end of the day when they get through their school work and talking to them about regular stuff that's not just the coronavirus. That's going to help kids stay connected and a little bit more grounded to their regular life, but it's also really going to help them readjust when the threat goes down."
---
Get Boston.com's e-mail alerts:
Sign up and receive coronavirus news and breaking updates, from our newsroom to your inbox.