Health
Local crafters work to alleviate mask shortage for coronavirus healthcare workers
"This is a situation where those one or two masks never mattered more."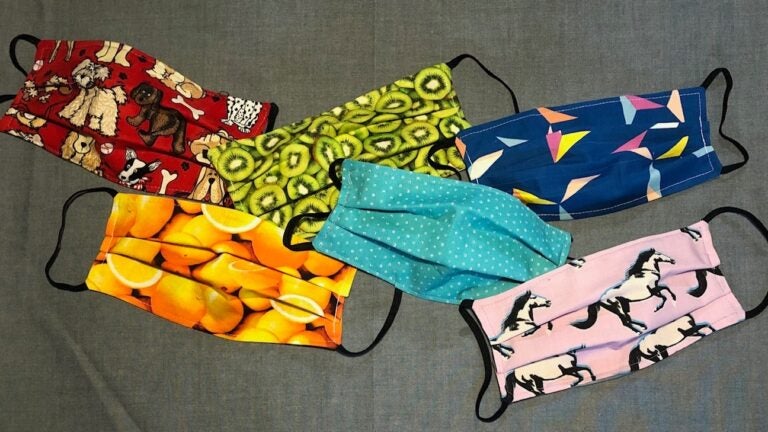 led to a shortage of protective medical masks in Massachusetts. Hospitals and healthcare centers across the region are asking for the public's help. MelroseWakefield Healthcare, Emerson Hospital, Dartmouth-Hitchcock Health, and Cambridge Health Alliance, have put out calls for medical mask donations. Massachusetts General Hospital even asked for those with 3D printers to make masks.
During a Monday press conference, officials said the state had "confirmed" millions of mask and swab orders. Meanwhile, local crafters are tapping their skills and networks to aid in homemade mask donations.
The Boston Area Mask Initiative Facebook group launched on Sunday and has since received 2,400 requests from medical workers, according to organizer Stephanie Cave. Within one day, the group, which partners with with Harvard Medical School's volunteer COVID-19 response team, received a couple hundred mask donations. Cave expects donations to ramp up over the course of this week. 
"No amount of participation is too small," Cave said. "If people are thinking, 'I can only make one or two masks,' this is a situation where those one or two masks never mattered more. We really value anyone's time and energy that they have to put into this project."  
Stitch House Dorchester, founded by Boston City Councilor Annissa Essaibi-George, organized a Sew-A-Long on Sunday, where dozens of viewers congregated via Facebook Live and Zoom to sew medical masks. Essaibi-George estimated that the group produced a few hundred masks, and plans to host another virtual Sew-A-Long for Friday, March 27.
"This is something that you can do while you stay at home, and you can play a role in," Essaibi-George said. "These masks won't be used to care for the most critical patients. They can be used in less critical care units, to free up equipment for those more critical patients."
Individual hospitals have slightly varied recommendations for constructing homemade masks, but generally ask to use 100 percent cotton, include double layers with a pocket for a filter, and use ¼ inch elastic or cotton ties to be secured around the ears. The fabric should be washed and dried before cut and sewn to prevent shrinking. Online tutorials from the Boston Area Mask Initiative, Cambridge Health Alliance, and MelroseWakefield show volunteers how to construct the masks. 
"If you aren't someone who's comfortable sewing, just support someone who is," Gather Here owner Virginia Johnson said. "We want to make sure these masks are stable, that they can last through multiple washings and sterilizations." 
Homemade masks can be donated at the following locations: Sullivan's Pharmacy, 1 Corinth St., Roslindale; Dorchester Stitch House, 846 Dorchester Ave., Boston; Gather Here Stitch Lounge at 1343 Cambridge St., Cambridge. Organizations in need of masks can request support from the Boston Area Mask Initiative.
<hr>
<h2>What are the symptoms of coronavirus, and how is it treated?</h2>