Health
What you need to know about the state's COVID-19 PPE procurement and donation program
The new portal streamlines the process for individuals and companies hoping to sell or donate personal protective equipment.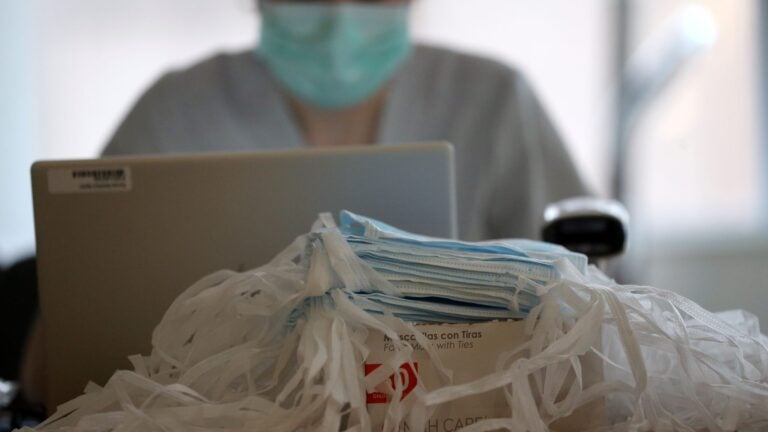 To help the ever growing need for personal protective equipment, the Baker-Polito Administration has established a PPE procurement and donation program on the state's website, dedicating an online portal to compiling and facilitating the sale of COVID-19 resources. 
"By harnessing the capabilities of Massachusetts' skilled manufacturers, we'll be able to get gear into the hands of our frontline workers faster," Governor Charlie Baker said in his Monday briefing. "We still have much work to do to secure more supplies from both the national stockpile and from other supply chains, but we've always been impressed with the ingenuity of our residents and businesses and this outbreak, undoubtedly stressful for all, has shown once again that people can step up in imaginative, creative ways."
Today, our administration announced an online portal where individuals and companies can easily donate or sell personal protective equipment and volunteer to support the COVID-19 outbreak here in the Commonwealth.

🔗Details: https://t.co/QHsuGtfTTK pic.twitter.com/6pFqORQAQs

— Charlie Baker (@MassGovernor) March 29, 2020
The portal directs anyone who's looking to sell PPE, adapt their business to produce PPE, or donate PPE, to fill out and submit a digital form. 
Currently, the Massachusetts Emergency Management Agency is primarily collecting donations of surgical or procedure masks, N95 or N99 respirator masks, face masks with integrated shields, powered air-purifying respirators (PAPRs), gloves, goggles, protective gowns, shoe covers, head covers, hand sanitizer, and sanitizing wipes. 
A fourth form is dedicated to health professionals who want to volunteer in the community, and since launching the portal, Baker said more than 1,800 people have registered to volunteer.
After potential volunteers fill out the form, the Massachusetts Medical Society will help match them with specific communities or health care providers based on their skillsets and immediate need.
As of now, Baker said Mass. needs respiratory therapists and public health nurses the most.
We're constantly amazed by how residents of the Commonwealth come together in times of need, whether it's individuals or companies/organizations stepping up to do what they can. Here are some helpful resources on how you or your company can help chip in (thread):#COVID19MA

— Mass. HHS (@MassHHS) March 30, 2020
"Massachusetts has already received generous donations from countless organizations, and by launching this portal we'll make it easier to streamline these offers and quickly distribute supplies to those in need," Governor Charlie Baker said in a news release. "We also need more volunteers to help support our response to this unprecedented public health emergency, and urge people to sign up to lend a hand.
"Our administration will continue making every effort to secure supplies from all possible resources to support our front line workers during these tough times," he said.